---
COMMENT
---
Replacing Neymar was never going to be easy for Barcelona. Brazil were unable to do it at the 2014 World Cup, and suffered one of their most embarrassing defeats ever, getting smashed 7-1 by Germany in the semi-final after the forward picked up an injury in the previous round. Neymar is the kind of generational talent that can dictate matches on his own and has already proven his worth to PSG following his world-record transfer.
That historic deal left Barca with €222 million burning a hole in their pockets and in need of a marquee signing to appease the fans following the underwhelming acquisitions of Paulinho, Nelson Semedo and Gerard Deulofeu.
The hunt for Neymar's successor at Camp Nou has played out publicly, with some of football's best and brightest being linked with a move to La Liga. Two names, however, sit above all other transfer targets: Philippe Coutinho and Ousmane Dembele.
But Liverpool will not budge on the Brazilian, despite the 25-year-old putting in a transfer request. Borussia Dortmund, on the other hand, are ready to sell Dembele, especially after the player went AWOL from training, but have given the Blaugrana a deadline to meet their asking price.
It may not be Barcelona's ideal scenario but only signing Dembele could prove perfect in the long-run for the five-time European Cup champions. The France international is five years younger than the Liverpool attacker and has shown more at 20 than Coutinho did at the same age.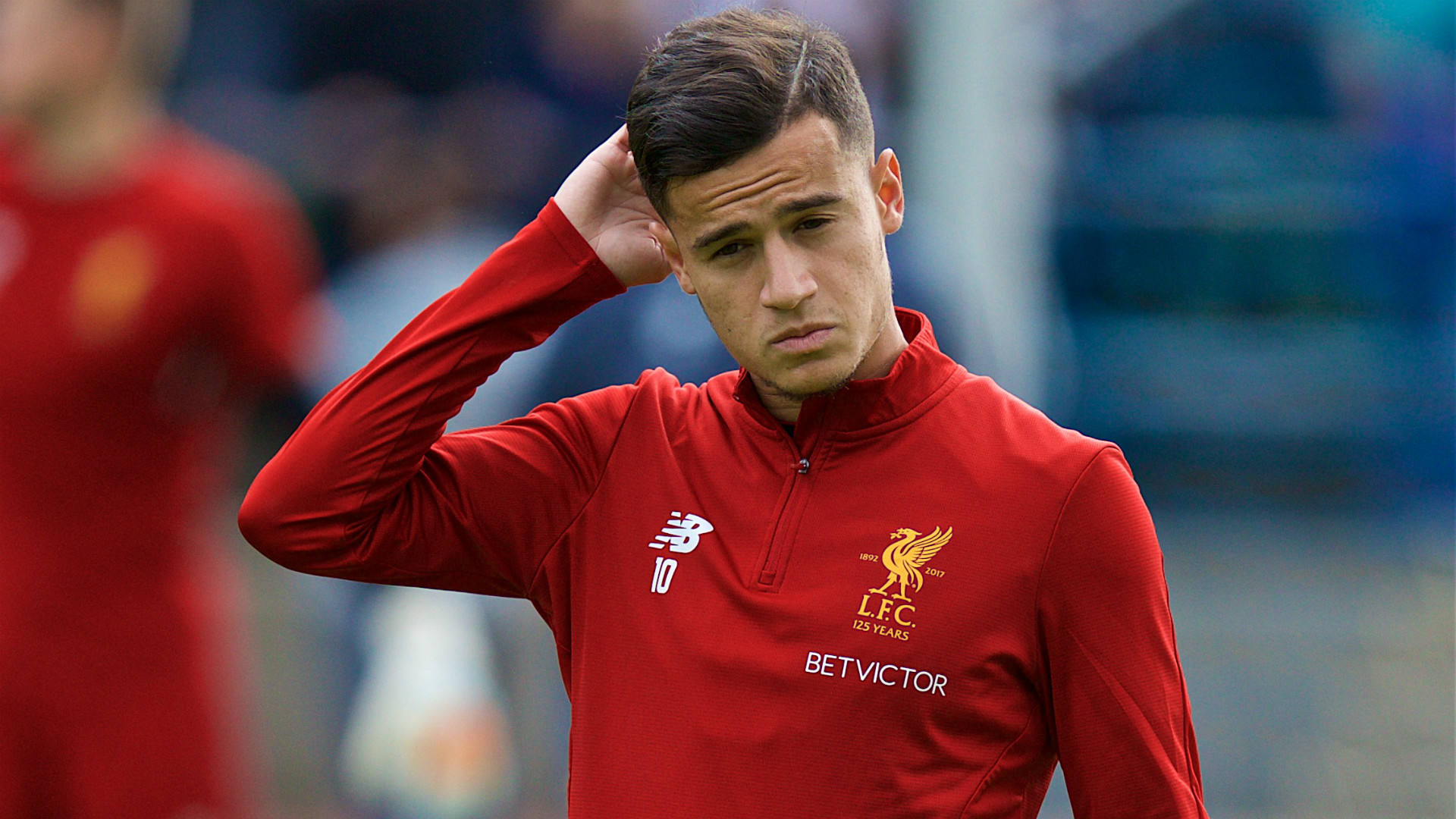 After moving from Vasco da Gama in Brazil to Europe, Coutinho joined Inter where then-manager Rafael Benitez referred to him as "the future of Internazionale." He failed to shine in Serie A, though, and was loaned to Espanyol, where he showed glimpses of the player he would eventually become. When Liverpool signed him in 2013, Coutinho was 20 and the £8.5m outlay by the Reds was seen as a gamble. It has since paid off spectacularly.
Meanwhile, Dembele's €15m move to BVB from Rennes was seen as a clever move for the Bundesliga side, who beat off competition from Manchester City, Manchester United and even Liverpool to sign the wonderkid. As an 18-year-old, Dembele had flourished in Ligue 1, scoring 12 goals in 26 games, with his 57.14 per cent shooting accuracy higher than Neymar ever had in four seasons at Barcelona.
BVB CEO Hans-Joachim Watzke was full of praise for the teenager when he arrived in Dortmund, expressing his delight at signing one of the most promising players in world football: "I am very pleased with this transfer. He's an extraordinary player. He burns with curiosity and creativity."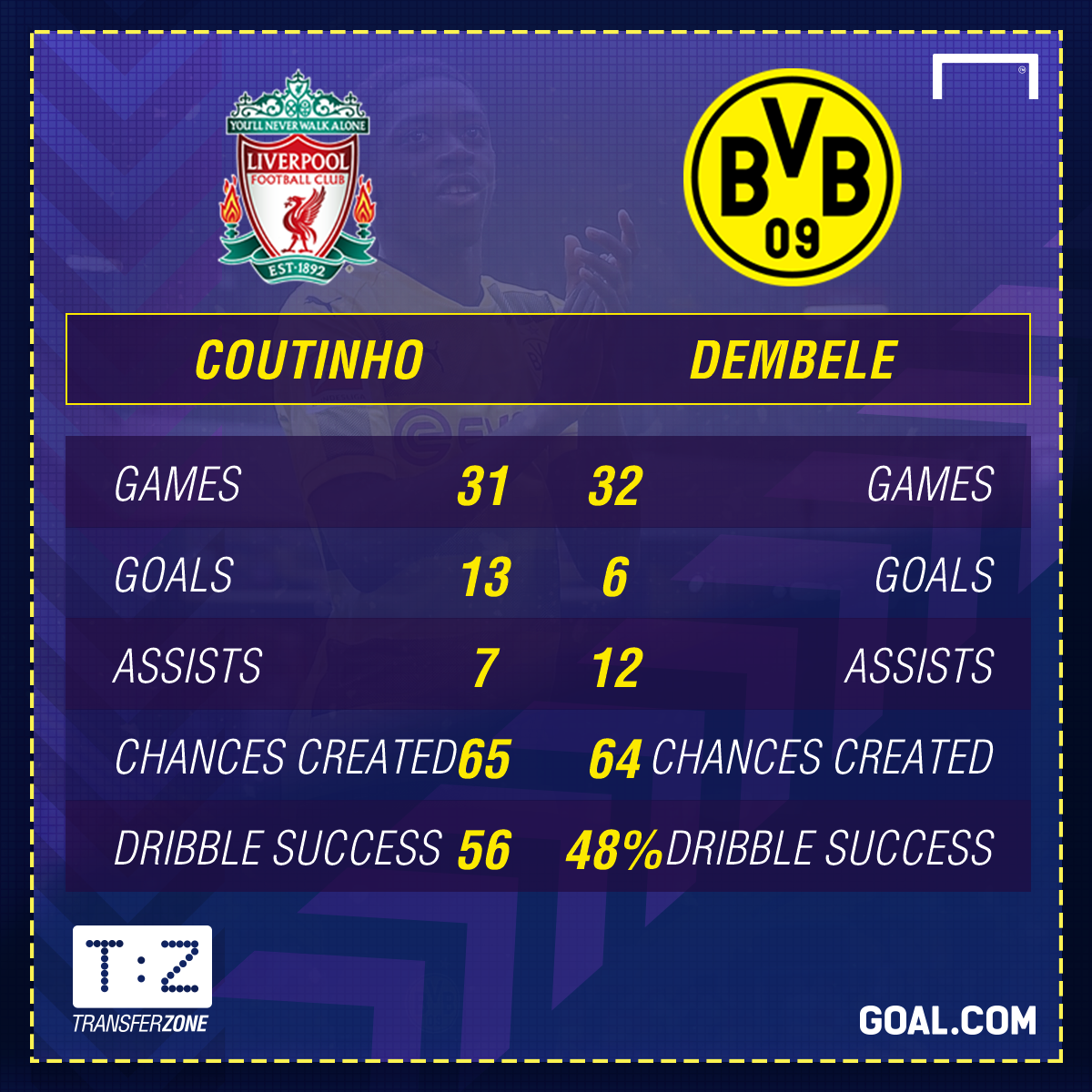 His debut season in the Bundesliga was impressive, turning provider in Thomas Tuchel's attacking BVB lineup, with six goals, 12 assists and 64 chances created. It took Neymar over two seasons to create that many chances with Barcelona, and by that time he was 23. Coutinho has only surpassed that mark twice in five seasons at Liverpool and, at the same age, created just four chances in 10 games for Inter.
The Brazilian may currently be the more complete player but Dembele's potential means he could easily eclipse Coutinho, especially when playing alongside the likes of Luis Suarez and Lionel Messi at Camp Nou. The French player is also better suited to the role, having being utilised at left-wing for Rennes and Dortmund as he showed his versatility in attack. In fact, whereas Dembele can be Neymar's successor, it is probably more likely that Coutinho would be seen as a replacement for the ageing Andres Iniesta.
Dembele's pace, creativity and potential make him the ideal candidate to replace Neymar in both the short- and long-term at Barcelona, where he could easily spend the next decade. Indeed, Barcelona legend Xavi has been impressed with what he has seen from Dembele so far and is looking forward to seeing what the future will bring for the Frenchman.
"He is very versatile, has many technical and physical qualities and is very good in the last pass," the iconic playmaker told Mundo Deportivo. "But we have to keep in mind that he is only 20, which means two things: he has a big future ahead of him but, at the same time, he has to demonstrate now that he possesses the mentality to play in a club like Barca."
If Dembele can prove himself worthy, it will not be long before fans forget about Neymar and embrace a new world-class talent.
Let'