Philippe Coutinho is living the dream at Barcelona, with the Brazilian honoured to be in the company of icons such as Lionel Messi and Andres Iniesta.
A January switch to Camp Nou has allowed the 25-year-old playmaker to join star-studded ranks at Camp Nou, with a €160 million deal luring him away from Liverpool.
Coutinho made no secret of his desire to head for Catalunya once interest first emerged in the summer of 2017, with the South American eager to test himself on the grandest of stages.
He has finally got his wish and admits he is still having to pinch himself as he lines up alongside iconic figures of the modern era who boast countless honours between them – including Ballon d'Or wins and World Cup triumphs.
Coutinho told La Liga World on Sky Sports: "It's an incredible feeling when you look across the dressing room and see Andres, Leo, Luis [Suarez] and Sergio Busquets, and everyone else.
[embedded content]
"They are players I used to watch on TV or play with on PlayStation and now I am sharing the same dressing room, it's incredible for me.
"Andres is a genius and it's an honour to share the same dressing room. I hope to learn a lot from him. Of course there is only one Iniesta. I have come here to try to create history of my own and learn from these great players.
"Like everyone else I thought Messi was the best player in the world and to be here with him now is a fantastic honour. It's a great experience watching him in training and in matches…the way he can transform a match is unbelievable.
"He is really laid back as a person. Like everyone else he gave me a great welcome. This was a shock because you see he is a real person.
"I have known Luis for a while, we played together in England and were always together there. I talked to him a lot before I came and he has helped me settle down here. He is an incredible player. He is always scoring, pressuring the opposition, fighting for the ball, he is a real star."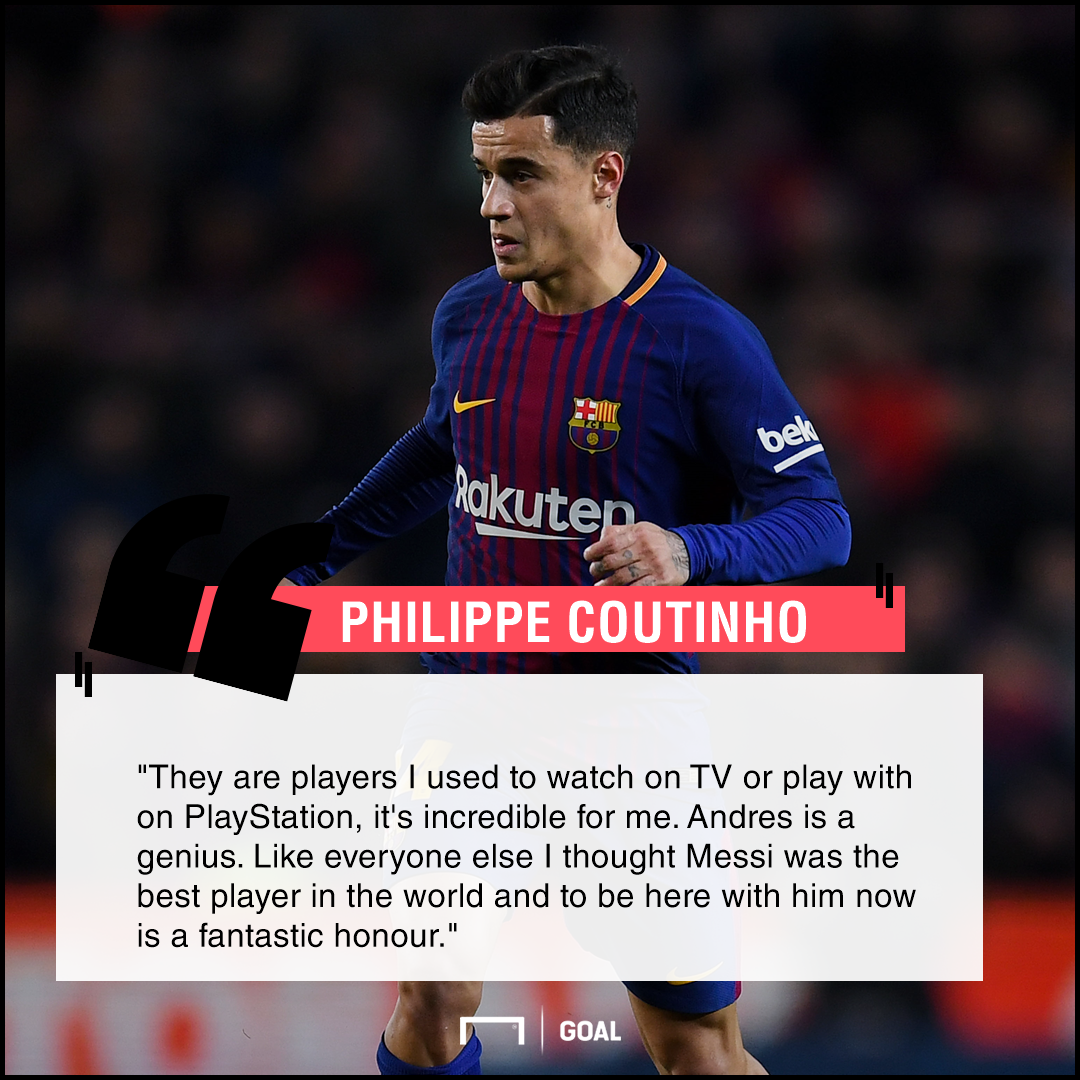 Coutinho hopes that playing alongside such talent will allow him to grow as a player while also adding to his medal collection.
"I have always said I want to work harder so I can develop, learn, grow and improve," he said.
"I love to play football and when I come on the pitch I want to do my best to help the team. It's up to the coach the position I play.
"I am coming here to learn and contribute with my style of football. The most important thing for me in my time here is to win titles. My dream in this shirt is to make the fans happy, win trophies for them and enjoy playing in the Barca colours."
Let'