Barcelona take a 1-0 lead to the Nou Camp thanks to Caroline Graham Hansen's sumptuous fourth-minute goal at Stamford Bridge on Saturday.
Chelsea face the Liga F leaders knowing they must at least score twice to secure their place in the Champions League final on June 3, facing either Wolfsburg or Arsenal.
Will the Blues accomplish what many have deemed to be impossible? Or will they fall short again? Sky Sports' Maryam Naz looks at the key talking points…
Can 'second-leg Chelsea' inspire a comeback?
Chelsea boss Emma Hayes insists the tie isn't over, despite suffering a 1-0 defeat to Barcelona in their Champions League semi-final first leg

Barcelona know all they have to do to reach a third successive Champions League final is avoid defeat. They know they have the advantage, and they know they will be playing on home turf.
But unfortunately, they do not know what kind of Chelsea they'll be squaring up to.
Emma Hayes has tinkered with her line-up to confuse opposing defences several times to varying degrees of success. Two years ago, she manufactured the perfect balance of chaos and precision on the road to Gothenburg.
From the last-16 stages onwards, opposing teams were rarely prepared for what kind of performance the Blues would offer. In the opening leg of the quarter-final clash with Wolfsburg in 2021, they rode their luck, conceded an away goal, and narrowly avoided embarrassment.
Follow Barcelona vs Chelsea on Sky Sports
Follow Barcelona vs Chelsea in our dedicated live blog across Sky Sports' digital platforms, including in-match analysis and post-match reaction.
Also follow updates on Sky Sports News on Thursday evening, as well as pre and post-match analysis and reaction.
In the second leg, Chelsea were resurgent; a three-goal demolition, orchestrated by Sam Kerr, Pernille Harder and Fran Kirby, ensured safe passage to the semi-finals.
Against Bayern Munich, a similar pattern of play unfolded. The Blues trailed 2-1 in the away leg before Kirby came to the rescue in the reverse tie, scoring two swashbuckling goals to send her team to their first Champions League final.
That pattern has re-emerged in this year's campaign. This time around, there's no Kirby, Harder is on limited minutes, and Kerr is just one part of the cog. So, whatever fire has fuelled Chelsea's second-leg performances in the past, they will need a healthy dose of it once again.
Chelsea's line-up headaches: will the Blues stick or twist?
Lauren James talks to Inside the WSL about her relationship with Sam Kerr, gaining form at Chelsea and her own World Cup aspirations

Chelsea are under no illusions as to the scale of the task required. The line-up they fielded on Saturday ensured they were defensively stable, but it did little to inspire hope on the attacking front.
The glaring question remains – will Hayes stick with the sturdy yet makeshift back four that kept the scoreline to a manageable 1-0, or will she twist and shake things up knowing that her side needs at least two goals?
An alternative look could see Kadeisha Buchanan return from injury and join Magda Eriksson and Maren Mjelde in a back three.
Similar conundrums lie in midfield, especially regarding the need for central creativity without playmakers Kirby and Harder. The pair have been sitting on the sidelines nursing long-term injuries, and Chelsea have struggled to find the right players to fill their boots.
Both not starting was felt on Saturday, compounded by Lauren James not being on the pitch in the first half.
The substitute appearance likely means that James will get a starting berth on Thursday alongside Guro Reiten, Melanie Leupolz, and Erin Cuthbert in the preferred 4-2-3-1 formation.
It should also mean more time on the ball. They only had 31 per cent of it on the weekend, which painted a picture of what happens when you match up against Barcelona and highlighted how much the hosts were forced to resort to long balls.
Chelsea's Jess Carter reveals how she missed a day of school to make her professional debut at the age of 16 for Birmingham in the Champions League quarter-final!

How can Chelsea hurt Barcelona's chances of featuring in another final?
It is a tall order. Barcelona have been their most dominant at the Nou Camp, scoring 24 goals in their last five European matches. Very few teams have been able to halt that stride.
Chelsea have had five days to devise ways to do that; one approach could involve targeting the left-hand side.
On Saturday, Lucy Bronze and Graham Hansen haunted that flank, with Jess Carter and Niamh Charles doubling up on the pair. But, despite their best efforts, both Barca players still found wriggle room to create that fourth-minute goal.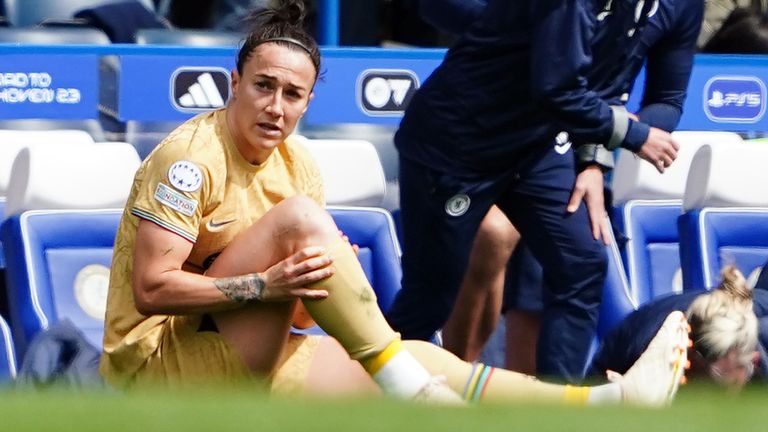 However Thursday's visitors may now believe this could be the most fruitful area to probe given Bronze has been ruled out of the game after undergoing knee surgery having being forced off after 65 minutes at Stamford Bridge.
Barca boss Jonatan Giraldez allayed fears of a long-term injury, saying he expected the England international to only be out for "a couple of weeks", although her absence will undoubtedly be keenly felt against Chelsea.
Charles, who has been included primarily to progress the ball, should have been doing that but rarely felt comfortable enough to bypass England team-mate Bronze. The dangling carrot of driving into the space behind a narrow Barca defence seemed too good to be true.
Chelsea will have no choice but to be bold on Thursday. Despite the risks involved, they must take every opportunity to dissect their opponents' defence.
Taking those risks means starting James and giving her licence to roam in the shadow striker role. The spaces are there to exploit, made evident by the offside goal that Kerr scored in the first leg. The only problem is that possession must be maintained to achieve it, which Barcelona have cleverly combatted with their high press.
Including Jessie Fleming could be an excellent second port-of-call when keeping the ball on the ground. She was only brought on in the 84th minute alongside Harder, despite showcasing a proven ability to protect possession.
The other more intriguing question surrounds the fitness of Alexia Putellas. The former Ballon d'Or winner is available after a long-term ACL injury and might make a cameo appearance on Thursday.
The good news for Chelsea is that Harder should be back. She played six minutes on Saturday and could get more game time in the second leg. The same applies to Barcelona, who could have Asisat Oshoala available after the Nigeria winger was only fit enough for a second-half stint.
However they can, Hayes and her team will look to prevent their opponents from dominating the Champions League scene once again. The alternative might just be too painful to face.
Hayes: Chelsea ready for challenge of toppling Barca
Chelsea Women head coach Emma Hayes looks ahead to a tough semi-final second leg against Barcelona, with her side down 1-0

Emma Hayes insists her Chelsea side are as ready as they can be to spring a Women's Champions League surprise over Barcelona.
The Catalan club are enjoying a perfect Liga F campaign, winning all 25 of their games, and hold a narrow 1-0 lead in their semi-final tie with Chelsea after victory at Stamford Bridge on Saturday.
Regarded as one of the best women's teams in Europe, Barcelona will be favourites to finish the job in front of a crowd of over 65,000 at the Nou Camp, with either Arsenal or Wolfsburg to come in the final.
Hayes, though, has backed her side to give their all against an opponent who beat Chelsea 4-0 in the Champions League final two years ago.
"Nobody denies they are a fabulous team with an amazing history, particularly here," the Chelsea boss told reporters in Spain on the eve of the clash.
"We have to accept that we will suffer more against Barcelona than anyone else. But we showed in the previous game we can defend.
"We will have to do that at an even higher level and the execution from us with the football has to be better. It's a football match. The game is 1-0. We have a fair and equal chance.
"This is a strength of our team. We are built to cope with the challenges. We like to suffer. We're as prepared as we possibly can be.
"I have said it time and time again, we have a dressing room of players that want to be in this position. We will give it everything we have got.
"We're looking forward to playing at this magnificent stadium. At 1-0 there is no doubt, with their history here, we have to be at our very best."
Adblock test