ANALYSIS: The England striker will dovetail with Raheem Sterling and Philippe Coutinho, who themselves are striking up a dazzling understanding, for the rest of the season

By Greg Lea
For a split second there was silence, until one small corner of Anfield erupted with joy. The delay was likely a combination of distance from the event and sheer shock, with Phil Jagielka the unlikely scorer of a sensational 30-yard half-volley that flew into Simon Mignolet's top corner before the Liverpool goalkeeper could react. Everton had a last-minute equaliser in the Merseyside derby, and Liverpool's sluggish start to the season continued.
That was back in September and, while only one point separated the rivals following that encounter, the pair appear to be heading in divergent directions. Despite last weekend's gritty 1-0 defeat of Crystal Palace, the Toffees are in lower mid-table; Brendan Rodgers' side, conversely, are just four points and three places outside the top four after a run of seven league games without defeat. With Daniel Sturridge set to return to the starting XI for the first time since August, Liverpool are on an upward trajectory.
The Reds' indifferent first half of the campaign was largely attributed to the sale of Luis Suarez and the failure to adequately replace him, but Sturridge's absence cannot be discounted. Indeed, Liverpool were not just suffering from the loss of last season's top scorer in the shape of the Uruguayan, but also the Englishman who contributed 21 Premier League goals and seven assists.
Although Sturridge was often deployed out wide early in his career, he will play as a central striker against Everton on Saturday. His 20-minute cameo and excellent finish against West Ham last weekend was enough evidence of his potential as the focal point of Liverpool's new-look 3-4-3.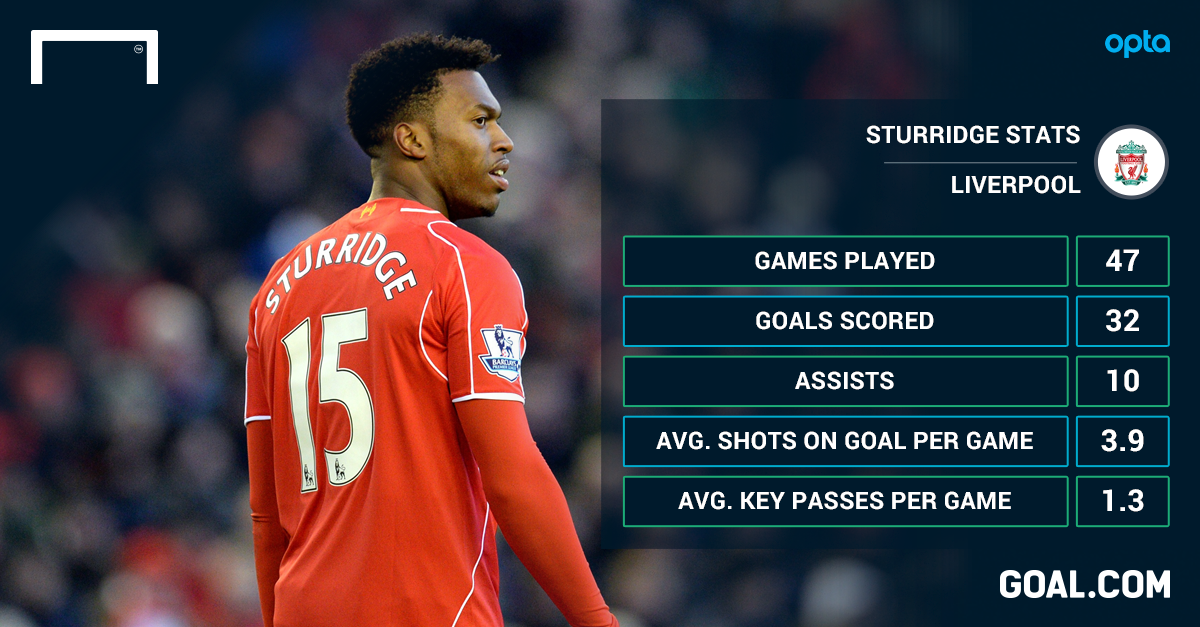 *Since Sturridge joined Liverpool
Since Rodgers shifted to that formation in mid-December, the team have recaptured some of the energy and pace that almost carried them to the title in 2013-14. Such a configuration – which is used by the likes of Marcelo Bielsa at Marseille and Genoa's Gian Piero Gasperini – tends to be based on speed, verticality and dynamic flurries of movement. That description also fits the Liverpool of last season, who at their best were a rapid counter-attacking outfit who focused on the quick circulation of ball and players.
Phillipe Coutinho, Lazar Markovic, Emre Can, Mamadou Sakho, Adam Lallana and Raheem Sterling are some of the names who have benefited from the tactical change. Sterling has been fielded as a central striker and, while his movement and general play has been excellent, Sturridge will prove a more natural fit.
In some ways, the 25-year-old's interpretation of the role will not be too different to Sterling's. Sturridge is much more than just a fox in the box, capable of dropping deep and wide to get on the ball and happy to interchange fluidly with Liverpool's other forwards. His average positions in his three Premier League appearances this term indicate someone who, while clearly a centre-forward, is happy to drift across the line.
Sturridge, however, will provide more of a cutting edge, bringing a natural striker's instinct to the line-up while also offering the thrust and mobility lacking in Liverpool's other options Rickie Lambert and Mario Balotelli.
The prospect of the new SAS linking up with Coutinho once more is exciting. The Brazilian, along with Adam Lallana, has largely played as an inside forward since the move to 3-4-3; Coutinho has been Liverpool's creative hub in recent weeks, finding room in between the lines to feed his team-mates in dangerous positions. His assist for Sturridge against West Ham may have looked a simple enough ball, but it was typical of the 22-year-old: picking the ball up in space, dribbling forward with quick feet and supplying an accurate pass. Not to mention the quick thinking which played in Sterling for the first.
The Coutinho-Sterling-Sturridge triumvirate was a productive one last year. Coutinho provided six assists for the pair, while Sterling laid on three goals for the other two. It is interesting to note how much more Sterling and Coutinho have linked up so far this season, however. According to Opta, the Brazilian played 97 passes to his team-mate all throughout 2013-14, with Sterling returning the favour with 85; since August, those figures read 116 and 80 respectively, with 15 top-flight games still to play. If the duo can continue to combine as well as creating chances for Sturridge, things bode extremely well for the red half of Merseyside.

Liverpool go into Saturday's clash without having tasted a Premier League defeat since they went down 3-0 to Manchester United on December 14, the first time that Rodgers set his side out in a 3-4-3. That comprehensive scoreline did not really tell the full story: the Reds put in a decent performance as Sterling – who got himself into good goalscoring positions but lacked a natural frontman's finishing touch – missed four excellent chances.
As Liverpool prepare to take on another rival in Everton this weekend, Sturridge will surely not make the same mistake.