Barcelona produced a stunning second-half comeback to beat Wolfsburg 3-2 in a thrilling Women's Champions League final in Eindhoven and secure their second European title.
The LigaF champions appeared to be overawed by the occasion once again as they went 2-0 down in the first half, offering shades of the 3-1 humbling by Lyon in the 2022 final.
Ewa Pajor – who finished as the Champions League's top scorer – scored her ninth goal of the competition as she took advantage of some sloppy play from Lucy Bronze to see Wolfsburg ahead inside three minutes. Alexandra Popp added a second just before the break (37).
But all of the Germans' good first-half work was undone in five minutes after the break. Patri Guijarro scored twice (48, 50) as Barcelona – the pre-match favourites – hauled themselves level.
Their epic comeback was completed in the 70th minute. After some comical defending from Wolfsburg, Frida Rolfo fired home to secure another Champions League title, following up on their 2021 victory.
Speaking about what he changed at half-time, Barcelona manager Jonatan Giraldez told DAZN: "There were two things to mention – firstly, the position of Salma [Paralluelo] and Mairona [Caldentey].
"All the passes we did inside with the player closing down was too much for me and we had to find better places to find Mariona. After that, try to attack the last line and threaten in behind.
"We did much better in the second half to find this kind of passes because we didn't make a mistake, whereas in the first half we did.
"Second, it's not talking about football. It's talking about seeing each other, understanding that we had to connect and give positive messages to the teammate and thinking positive because I think we did a good first half. We had to improve the small details and we had a good attitude with a good reaction. We could win the game and we did it."
Midfielder Keira Walsh also added to DAZN: "We came in at half-time and Alexia [Putellas] said that if there's any team that could overturn a 2-0, it's this team and that's what we did."
How Barcelona came from behind to win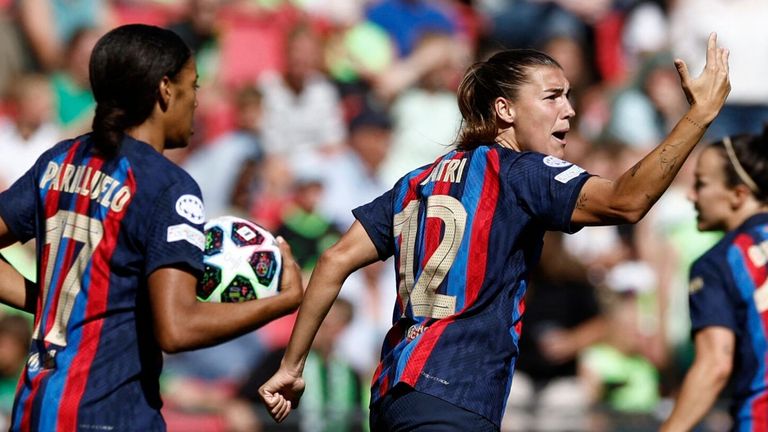 Barcelona began well – but a mistake at the back from Bronze allowed Wolfsburg to lead inside three minute. The full-back was caught on the ball by Pajor, muscling the England international out of the way before a thunderous strike beat Sandra Panos.
Barcelona dominated the ball between the two goals, and had two glorious chances to equalised. The first came in the 13th minute and Irene Parades nodded a free header wide from a corner. Then, Caroline Graham Hansen could not connect properly with a sensational Mapi Leon cross with only the goalkeeper to beat.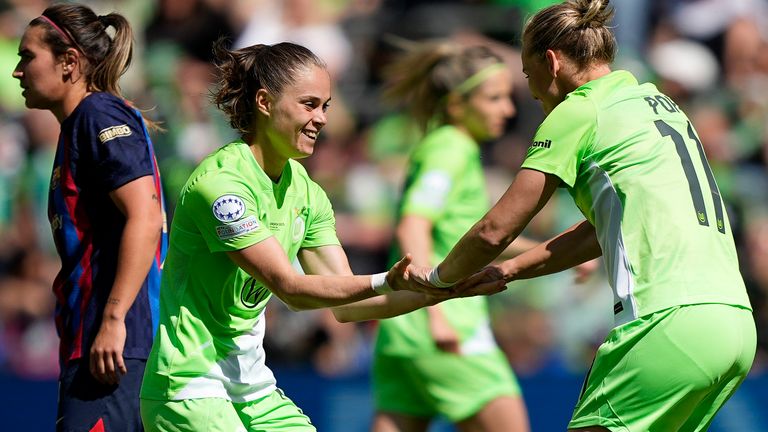 Then, shortly before the break, Wolfsburg stunned Barcelona again. It was an devastating break from the Germans as Felicitas Rauch powered through the midfield, before finding Pajor on her right. It was a sensational, curling cross from the forward, with Popp ahead of her marker to flick the ball home.
Barcelona appealed for a foul in the build-up as Popp and Leon battled to reach the ball first, and despite VAR looking at the incident, did not order a review.
Barcelona recover from 2-0 down to win WCL
Barcelona are only the second team to come from two goals down to win in a Women's European final.
The first was Wolfsburg in 2014, when they beat Tyreso 4-3 in Lisbon. Alexandra Popp was on the scoresheet that day.
But Barcelona were not done yet, equalising inside three minutes. Caroline Graham Hansen played the ball into space down the right, chasing after the ball herself, before sending the ball into the middle. Guijarro was there to turn the ball home – a technique Barcelona had been sorely missing in the first half.
Two minutes later and the equaliser followed. It was almost a carbon copy of the first Barcelona goal too as Aitana Bonmati sent the cross in from the right wing. Guijarro stopped down to send a low header past Merle Fromes, sparking scenes of wild celebration.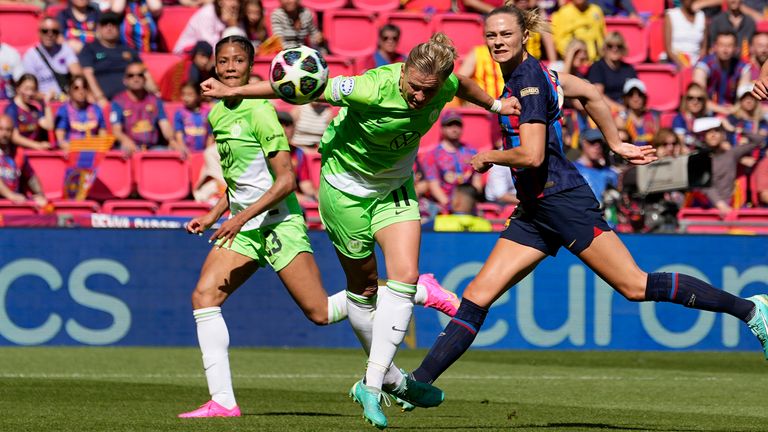 Once Barcelona were level, it felt like only a matter of time before the winner came and it eventually occurred with 20 minutes to play. It was a comedy of errors from the Wolfsburg defence as Lynn Wilms' attempt clearance hit Kathrin Hendrich from close range.
The ball landed to Mariona Caldentey, who managed to hold it up well under pressure before slotting the ball across to Rolfo. She then slotted home into an open net, completing the comeback.
As the clocked ticked over into ninth added minute, Wolfsburg could have equalised themselves, but Pauline Bremer's header from a corner went straight to Panos, before the Barcelona celebrations began in earnest.
Analysis: A final for the ages heralds Barcelona's era of dominance
Sky Sports' Charlotte Marsh:
"What a final. A game for the ages and a brilliant advert for just how exciting women's football is.
"The simple fact: all the things Barcelona weren't executing well in the first half, they began to do after the break and that's when they started to click.
"Their crosses into the box were starting to be found – especially for their two early second half goals. Passes started to be threaded together well, Wolfsburg's dominance and disruption in midfield was nullified, their defences breached.
"Five minutes after the start of the second half, with Barcelona level, you knew they would go on to win. Wolfsburg were deflated and struggled to handle the opposition that should have shown up for the entire 90 minutes.
"You have to feel for Wolfsburg too. They had the tie in their hands and took advantage of an under-par Barcelona performance in the first half, but they were simply blown away by an incredible team.
"They would not have been expecting the same from Barcelona after the break, but their game plan simply did not work.
"Lyon have dominated European competition for so long, but you now have to say this is the start of Barcelona's dominant era. A potent force that many will struggle to stop."
Bronze praises Barcelona mentality change
Barcelona defender Lucy Bronze to DAZN:
"We didn't make it easy for ourselves in the first half. We created so many chances, I thought we could have scored many goals in the first half.
"We knew that we had quality and we could come back into any game. I don't think we were ever worried about scoring three goals, which is a crazy feat to do, but that's the talent of this team.
"I think that [change in mentality over the last year] showed. The two finals that Barca have lost where they've been heavily beaten by Lyon and we saw today that once it was two goals [for Barcelona], we shut up shop, made it really difficult defensively and created loads of chances in attack.
"It was difficult for myself and Frido [Frida Rolfo], we both haven't played for five weeks. I had surgery and only trained a couple of times, so it was difficult at the end but happy I played my part for the team."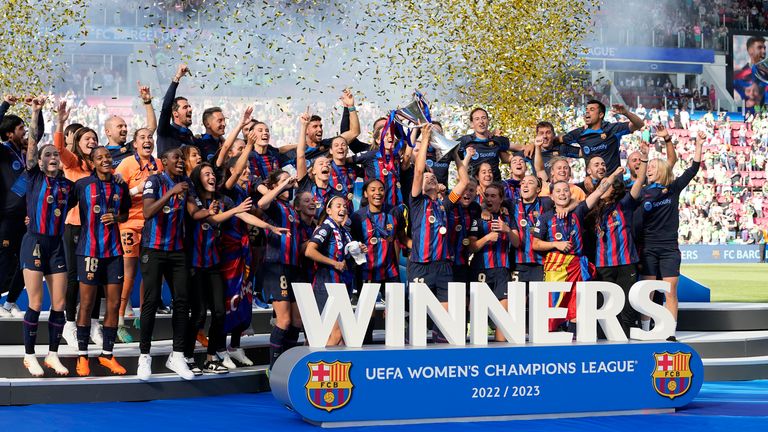 Walsh: Guijarro the best player in the world
Barcelona midfielder Keira Walsh to DAZN:
"The first half wasn't great for us. We kept the ball well, we just didn't score our chances. To score three goals in the second half was incredible. It was a good game.
"Patri Guijarro is a special player, it's about time people recognised that. For me, the best player in the world.
"It's been a pretty good year – the Euros, the Champions League. If someone was going to tell me this was going to happen, I wouldn't believe them. To play for Barcelona in front of these fans is a special feeling.
"You want to be playing in these games, playing in Champions Leagues and this is the club that does that."
Giraldez: The personality we showed important to win
Barcelona manager Jonatan Giraldez to DAZN:
"It's an amazing feeling that I have right now. It's difficult to explain with the exact words what I feel because it's an important trophy for us.
"The way we did it is the most important thing because it's not only talking about tactical positions and the physical conditions, sometimes the personality that we showed today is really important to win the game.
"When we were attacking in the first half, everything was fine. But the last metre we had to be a little more aggressive and be in the place to put the ball in the net. We deserved a lot [in the first half] and 2-0 was hard for us.
"After, we have to give a good reaction. Improving the tactical position and giving the opportunity to the player to show the personality they have. The second half we did it so it's fantastic.
"I'm really proud of the team, the club and the supporters because I think the last seasons, all the investment in women's football has been up every season. We need that, it's very important to keep competing.
"The supporters gave us support in the whole game and then the players who played today, the ones who were on the bench as well they gave us the push necessary to win and then all the staff members.
"The last weeks were hard because Lucy, Frido and important players weren't ready to compete and the amazing job helped them to be here today. I'm proud of all the team."
Stroot: Competitive final shows work we are doing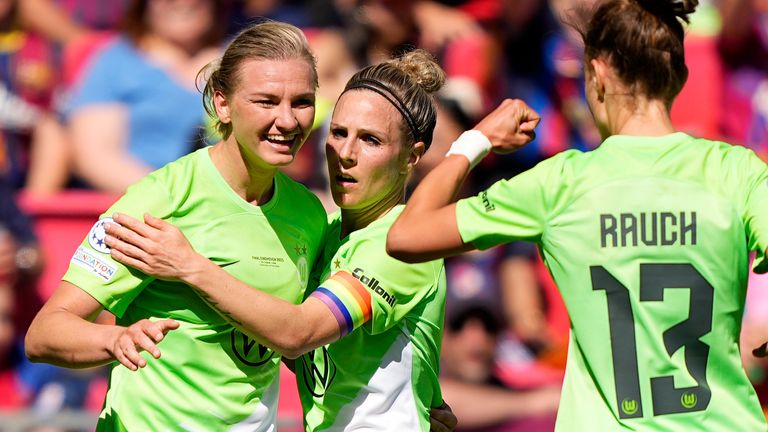 Wolfsburg manager Tommy Stroot:
"Congratulations to Barcelona. When it was 2-0 at half-time, we had them exactly where we wanted.
"We tried to stabilise the things we did well in the first half and change a few things we could have done better [at half-time]. We expected Barcelona to attack fiercely but, having conceded so quickly, the second goal was a result of that.
"We needed a moment but it was good that after Barcelona's equaliser we improved. It was about the small details, passes that went astray. We had those moments in the first half as well but we did a bit better. Twice in a row they came with all their power, but in the last 30 minutes it was a very open match.
"Even a few years ago, we wondered how long Wolfsburg could compete… but we managed to find a way to stay on that level and this final confirms that.
"We have players like Lena Oberdorf and others, young players taking their steps forward here and becoming world class at Wolfsburg. Barcelona had three former Wolfsburg players here, which confirms the work we are doing."
When and where is the 2023 Women's World Cup?
This year's tournament will be held in Australia and New Zealand making it the first-ever co-hosted Women's World Cup.
The tournament starts on July 20 with the final taking place on August 20 in Sydney at the Accor Stadium.
The USA are the defending champions and are looking to become the first team in the competition's history to win the tournament three times in a row.
Adblock test