The Brazilian ran through the Premier League champions' midfield at will, with Yaya Toure failing to get to grips with him and leaving Vincent Kompany and Eliaquim Mangala exposed

COMMENT
By Peter Staunton at Anfield
There are moments of magic but sometimes there are 90 full minutes' worth. Philippe Coutinho arguably produced his finest display in a Liverpool shirt to inspire his side to victory against Manchester City at Anfield and bolster the Reds's bid for Champions League qualification.
There was a sensational piece of brilliance for the winning goal and more besides. It was a display which had his manager deliver fulsome praise. "He is a joy to watch," Brendan Rodgers told reporters. "He is a kid who has so much ahead of him in the game. He is a sensational footballer. To beat Joe Hart at that angle and power was a phenomenal shot."
Coutinho was everything those in blue were not. He was energetic. He was positive with the ball at his feet. He made repeated inroads straight through the midfield. He was the man who made most of the difference, but Liverpool had plenty besides. Adam Lallana gave a display which reminded why Rodgers had paid £25 million for him, while Joe Allen, in the midfield where Steven Gerrard would usually patrol, was efficient and composed.
This is a Liverpool formation, however, which caters to Coutinho's strengths. Last week, in another big game, he produced the goods early on against Southampton. Here, his goal which decided the outcome came much later. It was no less impressive.
After squaring up Pablo Zabaleta, the Brazilian curled a brilliant effort past the despairing grasp of Joe Hart. It was the type of hero moment that is usually reserved for the true difference-makers. For Liverpool, Coutinho is rapidly becoming just that.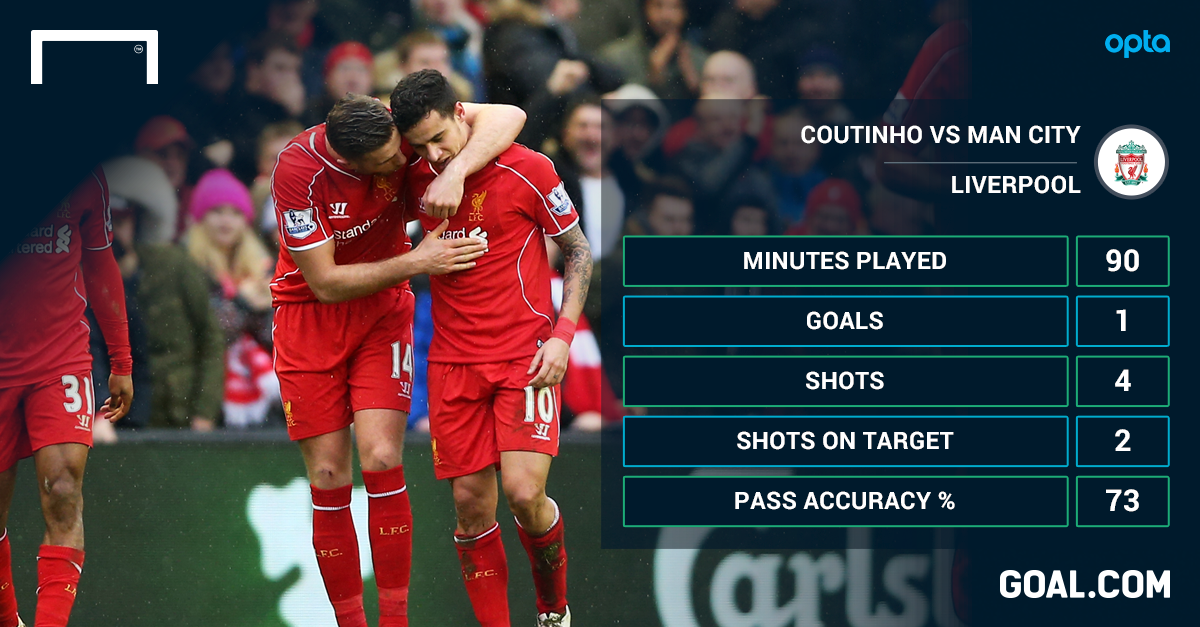 "He is a player that has always assisted and made the final pass in his career," said Rodgers. "He is a very selfless player and a very humble young guy and would rather create for others. We are encouraging him.
"He has a wonderful body movement around the box, he doesn't need many touches to shift it and shoot. His technique is at a high, high level so he is going to score more goals. He is now arriving into the areas. He starting to get success and that encourages him to shoot more."
Rodgers was left facing awkward questions during the week when he left Coutinho and Henderson out of his lineup to face Besiktas in the Europa League, with Steven Gerrard out injured. That particular gamble backfired. Liverpool were edged out on penalties, meaning their league position alone was going to be the only determining factor in their quest for the Champions League.
It was a calculated gamble in that respect because, even though the Reds struggled to make chances in Istanbul, they were restored to their effervescent best with Coutinho back in the lineup.
The squad did not arrive back in the country until early Friday morning but you would have assumed that it was City and not Liverpool who were jetlagged.
"Some of you guys feel what it was like getting back at half four in the morning and back home at six o'clock," Rodgers told the press pack. "To prepare yourself for a game against the champions is no mean feat. You have to take your hat off to them; the performance was at a real top level. I have nothing but admiration."
It was Coutinho who provided the early wizardry. He crossed for Lallana, who finished tidily albeit from an offside position. It was Coutinho who then enticed Vincent Kompany into a challenge on the halfway line which the City captain hopelessly misjudged. A couple of quick passes between himself and Raheem Sterling later and Henderson had given Liverpool the lead.
There was another ingenious pass with the outside of his foot shortly afterwards, to Sterling, which bent exactly to his will. Sterling squared up Eliaquim Mangala but his finish was lacking.
Sterling, as a withdrawn frontman, fared better physically than might be expected. Indeed, he even managed to bump Kompany to the ground with a robust shoulder challenge. This type of formation, however, is designed to smoke City's imposing twin towers out from their centre-back stations and tempt them into winning the ball further up the field.
With Yaya Toure inept and unwilling to protect them from midfield, it was a plot which worked perfectly. Kompany and Mangala are no ballet dancers and are not nimble nor quick enough to operate comfortably in that part of the pitch.
That set the tone for much of City's display. They recorded one measly shot on target, from which they scored through Edin Dzeko, and never showed the spark or creativity which brought them the title last season.
Liverpool's 3-2 defeat of City here last season left them favourites to win the title before their end of season collapse. This time around, the Reds are gathering momentum as the season draws to a close. They have won eight and drawn three of their 11 league games since losing to Manchester United in December. It is Rodgers's side who have the momentum and are looking a good bet to return to the Champions League this season.
"We have to concentrate on the next game and focus on the performance level," said the manager. "Like last season, we need to finish as high as we can. If we can get into the top four, it is a bigger achievement than last season because of our starting position. We need to keep collecting the points."