Philippe Coutinho has backed Neymar to be a future Ballon d'Or winner while selecting the Brazilian in his dream five-a-side team.
The Liverpool playmaker has pieced together a side made up of those he has played alongside over the course of his career.
Coutinho 11/10 to score at Stoke
That is a serious talent pool from which to select, with Coutinho forced to leave himself out in order to include five iconic figures.
He was able to find room for former colleagues at Anfield and Inter, while offering the most expensive player in world football an opportunity to lead the line.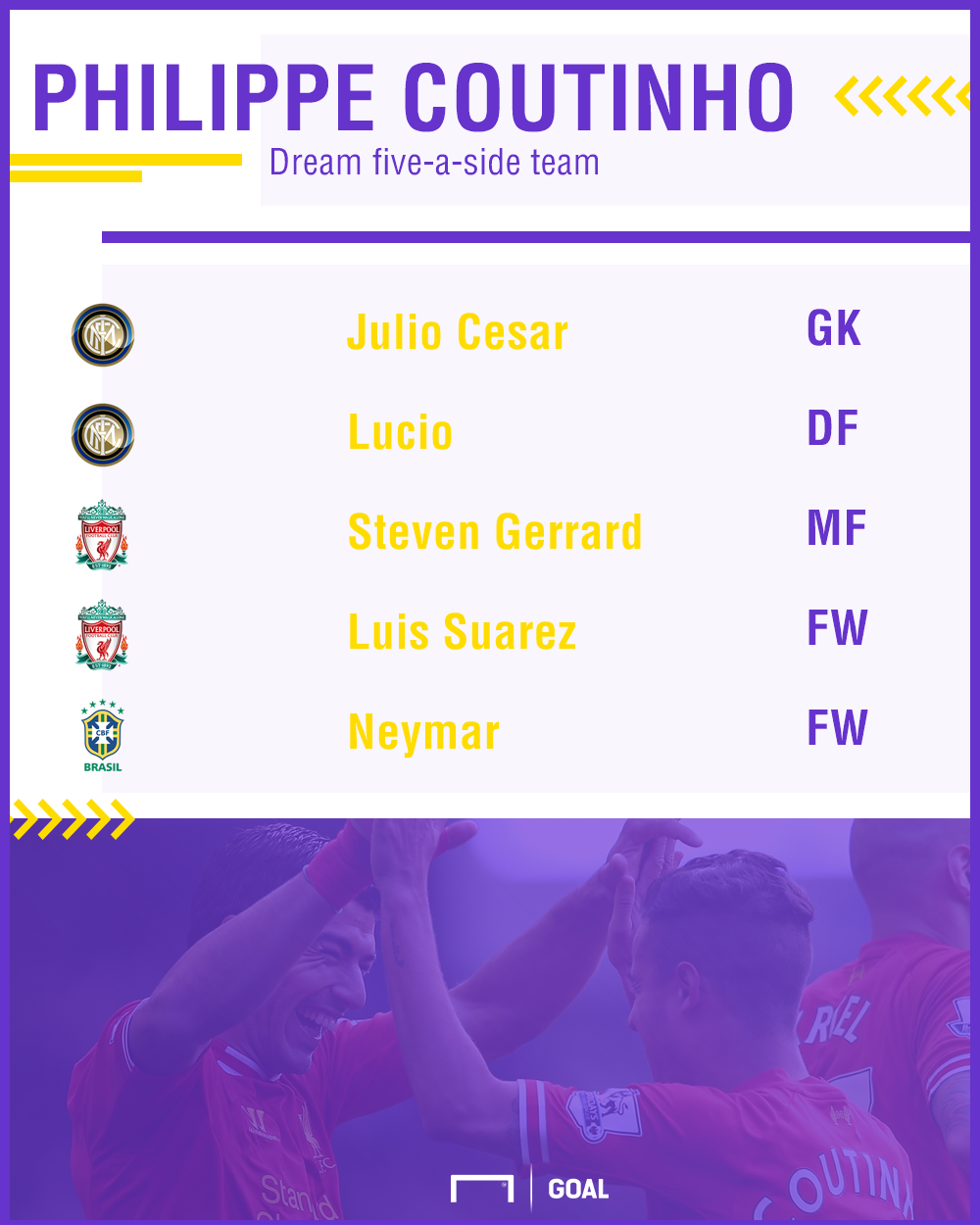 Coutinho believes fellow Brazilian Julio Cesar was "the best goalkeeper in the world" when he linked up with Inter back in 2008.
He also considers World Cup winner Lucio, who "won everything at Inter", to have been among the global elite when at the peak of his powers in Milan.
There was also high praise for ex-Liverpool skipper Steven Gerrard – a midfielder Coutinho admits he already considered to be an "idol" before the pair worked together in England.
He told Sky Sports: "When I arrived it was a dream to play with a guy I used to watch in Brazil and play as on the PlayStation.
"He's the best midfielder I've ever played with. He was better than I thought he was [before I arrived].
"He was an idol for me but when you see him training and in the dressing room it is even better."
Another former Reds colleague, Luis Suarez, is considered to be a "killer" in front of goal and the best striker Coutinho has played with.
The final place in the 25-year-old's side is filled by international team-mate Neymar, with the Paris Saint-Germain star expected to be named the best player on the planet at some stage in the near future.
Pressed on whether the €222 million man will land the Ballon d'Or, Coutinho said: "Yes definitely, it's coming… he's the best technical player I have played with.
"He's very skilful, in training there will be five players around him them he'll do one movement to get away."
Coutinho opted to name ex-Inter star Wesley Sneijder as his substitute and current Brazil boss Tite as his manager.
 
Let'