The Amex Stadium December 2, 2017 and Philippe Coutinho wheels away in celebration after finding the target for Liverpool in a Premier League meeting with Brighton.
Those in a rather bemused defensive wall crash down to earth with a bump, with the ball in the back of the net and the away support rising to savour another stroke of impudent brilliance from their Brazilian playmaker.
[embedded content]
Standing over a free-kick moments earlier, Coutinho's footballing brain had been working faster than anyone else on the pitch.
Quickly sizing up the sporting conundrum in front of him, the 25-year-old concluded: Why go over the wall when you can go under it?
He is, of course, by no means the first to adopt such an approach, with his effort on the south coast coming almost 11 years to the day that Ronaldinho famously made mugs of Werder Bremen in a Champions League outing for Barcelona.
Since then, the great and good of the global game have tried their luck at outwitting the opposition by doing the exact opposite of what is expected of them – see Lionel Messi for Argentina against Uruguay in 2012 and a couple of strikes from Cristiano Ronaldo versus Newcastle and Bayern Munich.
Coutinho, though, is the latest to pull off the trick in front of a global audience, and at a time in which he finds himself firmly in the shop window – despite the best efforts of Liverpool to lock the door and roll down the shutters.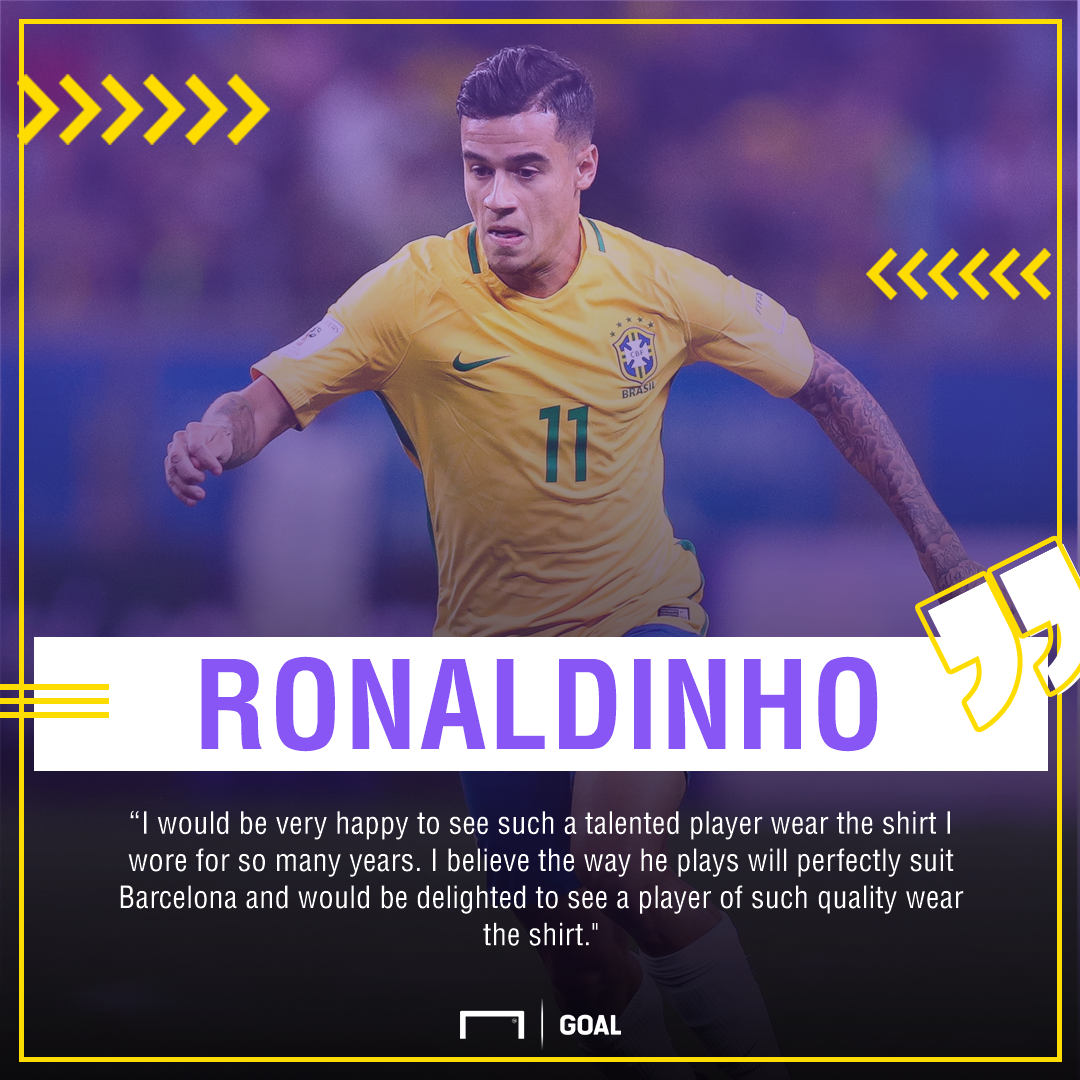 Barcelona made no secret of their admiration over the summer, with several bids from Camp Nou testing the resolve of those at Anfield to retain the services of a prized asset tied to a long-term contract.
The La Liga giants are, however, used to getting what they want and the transfer rumblings have refused to go away as another window of opportunity prepares to swing open in January.
Maybe Barca will test the water once again, maybe they won't.
Whatever happens in the new year, though, it is expected, almost guaranteed, that at some stage Liverpool will be getting another knock at the door and a sizeable offer for Coutinho thrust under their collective noses.
He is, after all, seemingly tailor-made for the ranks in Catalunya.
Having shown that he is capable of emulating the aforementioned Ronaldinho and Messi, while also seeing Barca lose one dose of Samba swagger when Neymar packed his bags for Paris, it is easy to see why Coutinho has become such a sought-after commodity.
Ronaldinho himself told Sky Sports in November: "I would be very happy to see such a talented player wear the shirt I wore for so many years. I believe the way he plays will perfectly suit Barcelona and would be delighted to see a player of such quality wear the shirt. I like the way Coutinho plays and the type of football he brings."
Coutinho boasts that sprinkling of magic dust which separates the great from the good, with his cheeky free-kick against Brighton – and a stunning Champions League hat-trick against Spartak Moscow four days later – helping to further highlight the almost priceless qualities that would add to Ernesto Valverde's squad.
Since joining from Inter in January 2013, no player in the Premier League has netted more goals from outside the box than the Liverpool man – with his tally now standing at 18 and counting.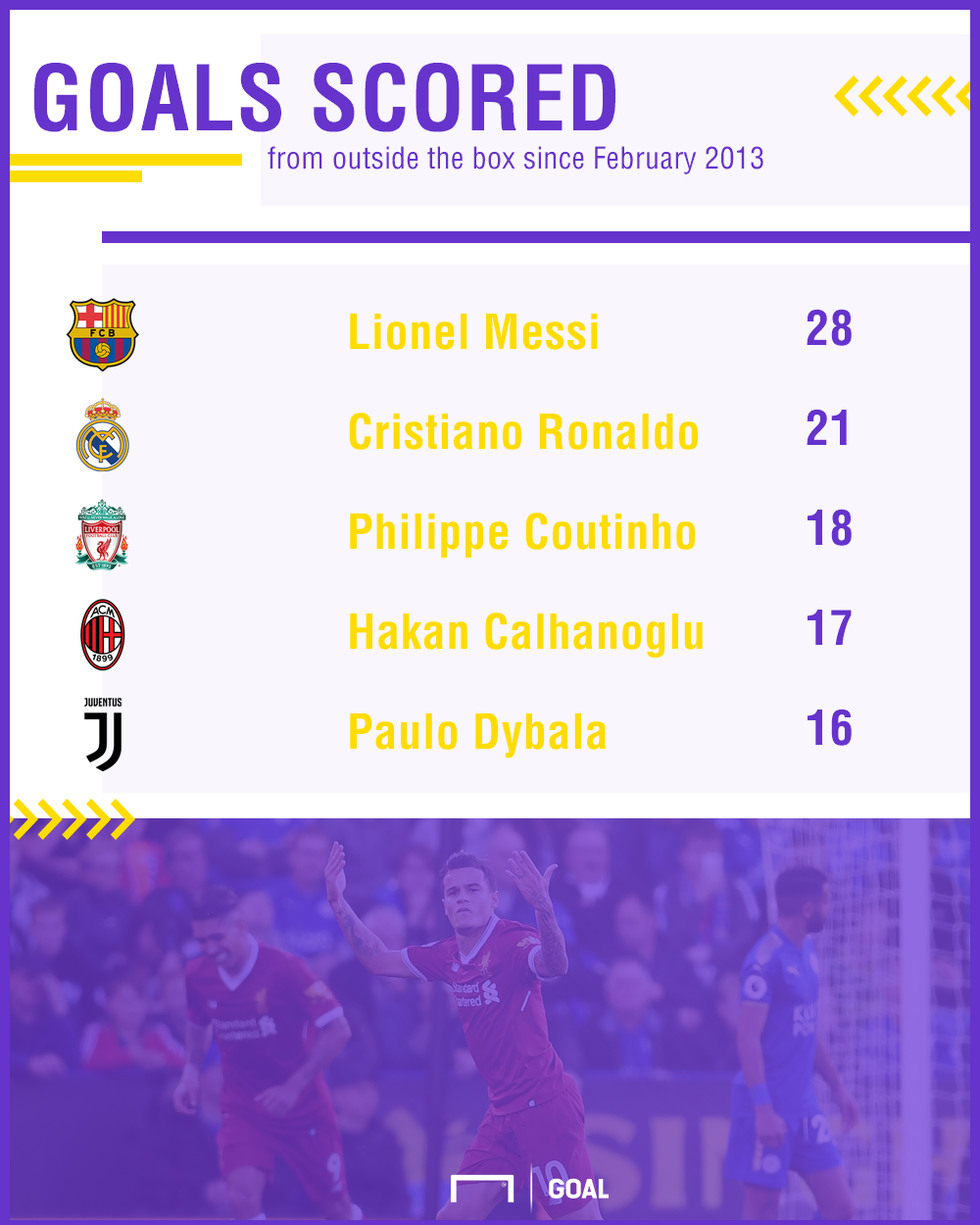 Over the same period, only Messi and Ronaldo can claim to have bettered that return in Europe's top five divisions – and they have 10 Ballon d'Ors between them.
Coutinho is not part of such illustrious conversations at present, having finished joint-29th in 2017, but he could well be in the future.
Put him under Messi's wing at Camp Nou – like Neymar before him – and there is no reason to believe that his game will not be taken to even greater heights, while offering welcome assistance to those around him.
Barca often look to an Argentine talisman for moments of inspiration, but having another potential match-winner on the books who is capable of conjuring up something out of nothing would serve to ease that workload and pose a different kind of threat to opponents.
Having already invested €105 million in Ousmane Dembele, and with Luis Suarez currently filling the No. 9 berth and the promise of a high-profile successor to come if the Uruguayan is moved on, Coutinho can slot into a deep-lying post where he can be utilised best.
In such a role, he will also be able to pick the brains of one Andres Iniesta, allowing his influence from outside the penalty area to stretch beyond merely finding the net and into the art of picking stubborn locks with precision passing.
Coutinho showed against Brighton that he possesses the mentality of a Barcelona player and it may now be only a matter of time before that quality – along with his penchant for a spectacular strike – is gracing La Liga rather than Liverpool.
Let'