EA Sports have revealed the top-ranking 30 Premier League players in Fifa 18, with Arsenal's Alexis Sanchez and Liverpool star Philippe Coutinho unsurprisingly making the cut.
---
30. BERNARDO SILVA | Manchester City
---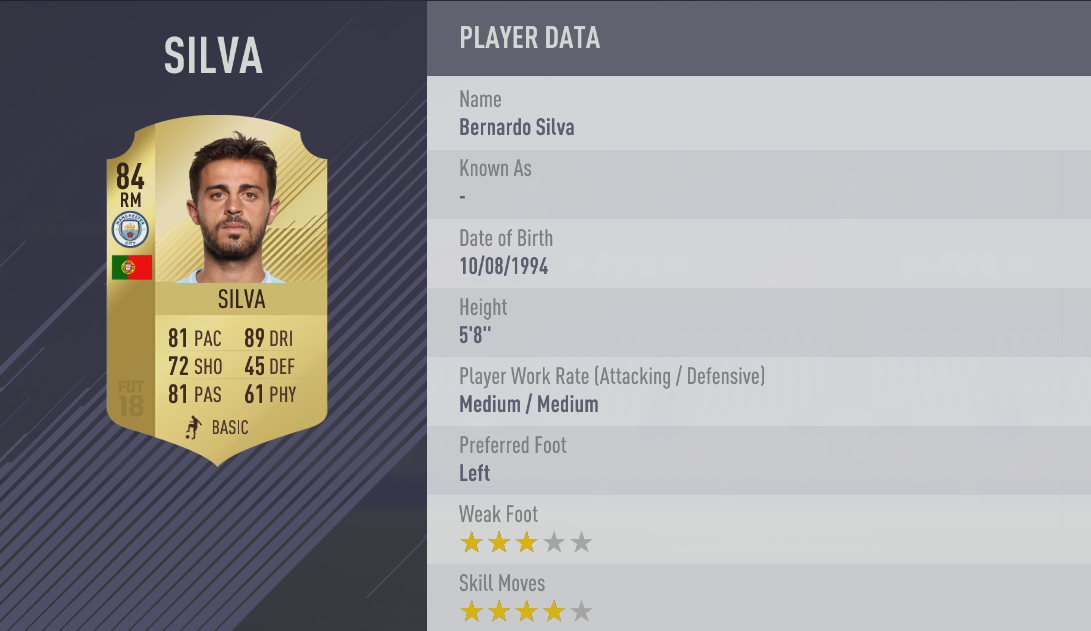 Having capped off a superb campaign with Monaco by joining Manchester City, Bernardo Silva sees his overall rating increase from 83 to 84.
---
29. DELE ALLI | Tottenham
---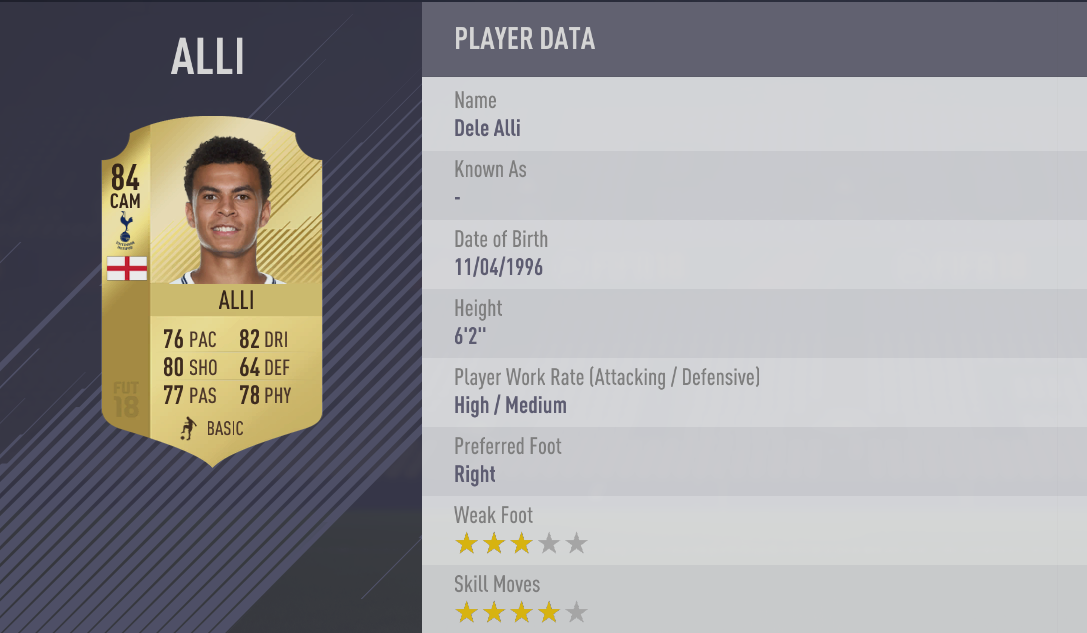 Tottenham wonderkid Dele Alli is up two points from 82 to 84. He was rated at 80 when FIFA 17 was released and will likely continue to rise.
---
28. JUAN MATA | Manchester United
---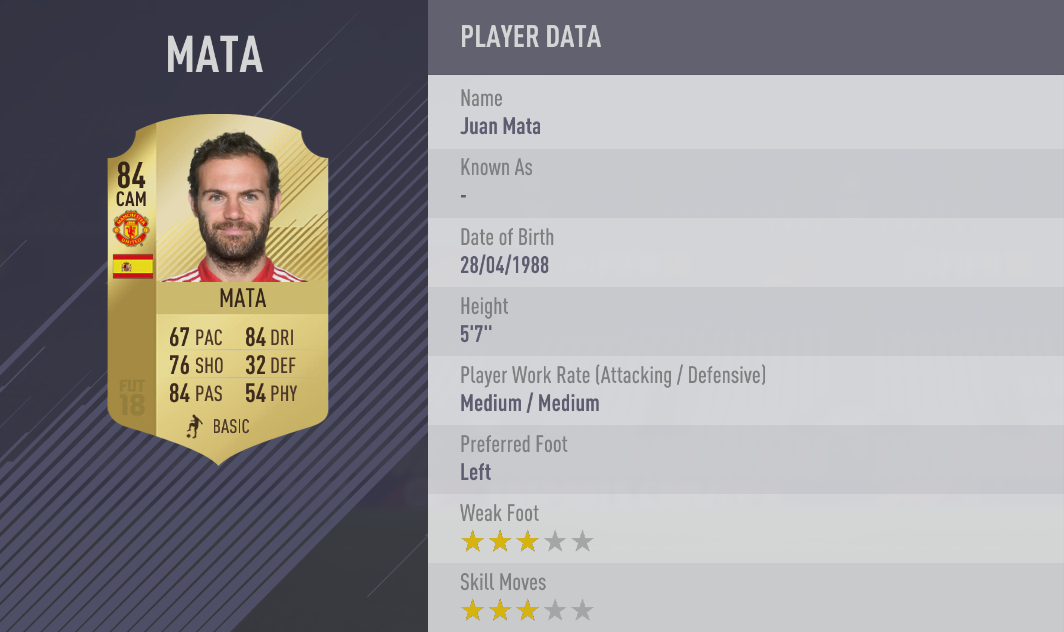 The Spanish maestro continues to be a valuable squad member at Old Trafford, despite a number of new signings over the past couple of seasons. 
---
27. CESAR AZPILICUETA | Chelsea
---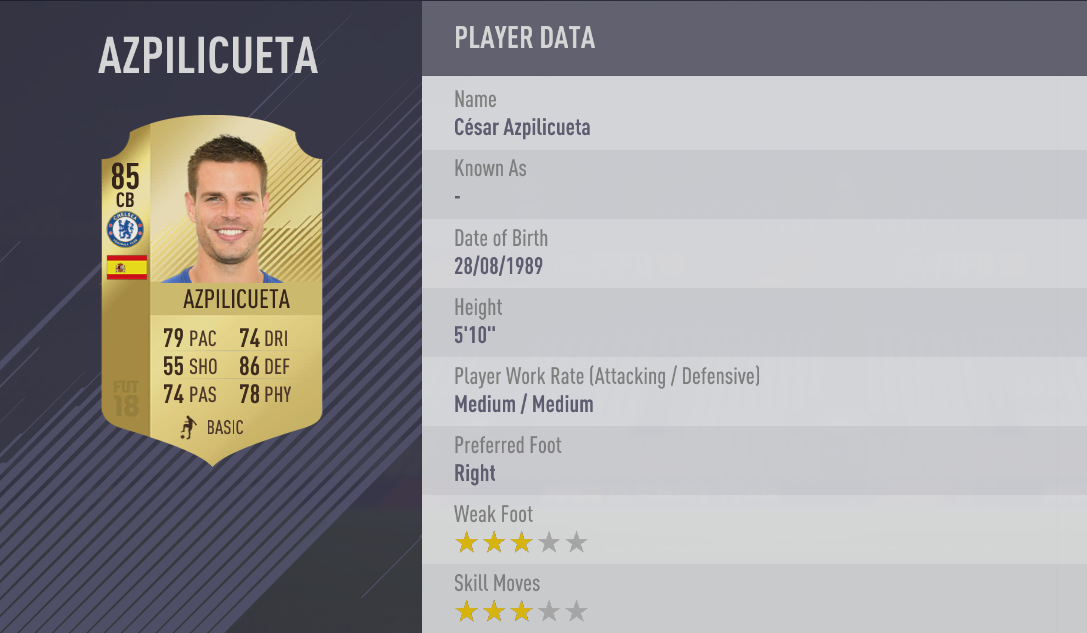 Cesar Azpilicueta gets an increase of one overall point on last year, but most notable is his position change from left-back to centre-back following his Premier League title win in Antonio Conte's 3-5-2 system.
---
26. ILKAY GUNDOGAN | Manchester City
---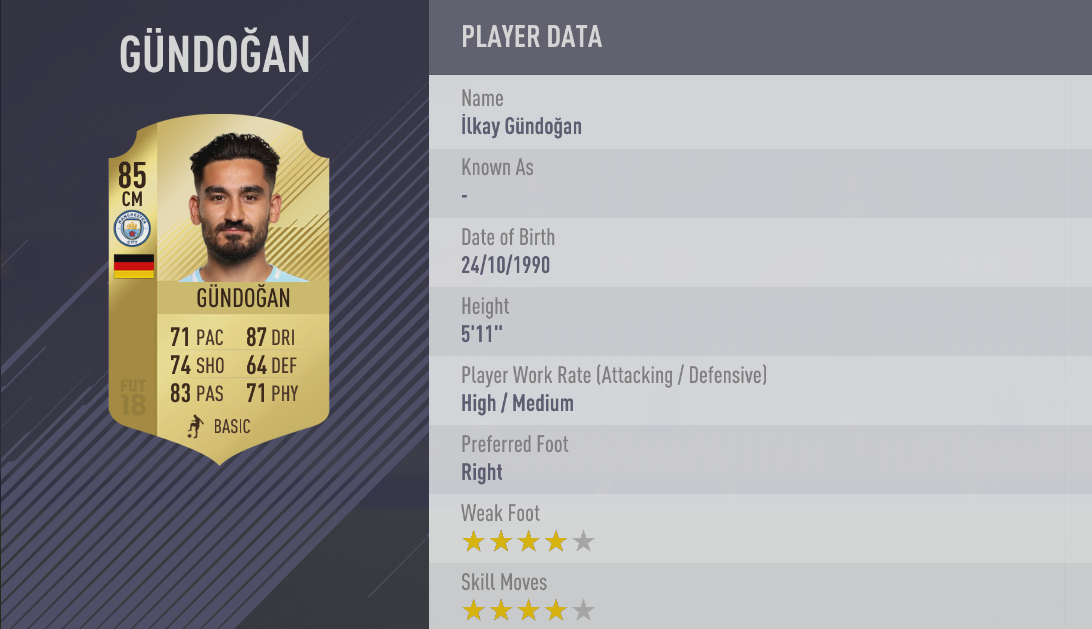 Ilkay Gundogan keeps his 85 overall rating for FIFA 18. Stay fit, and he could be a candidate for an increase.
---
25. VINCENT KOMPANY | Manchester City
---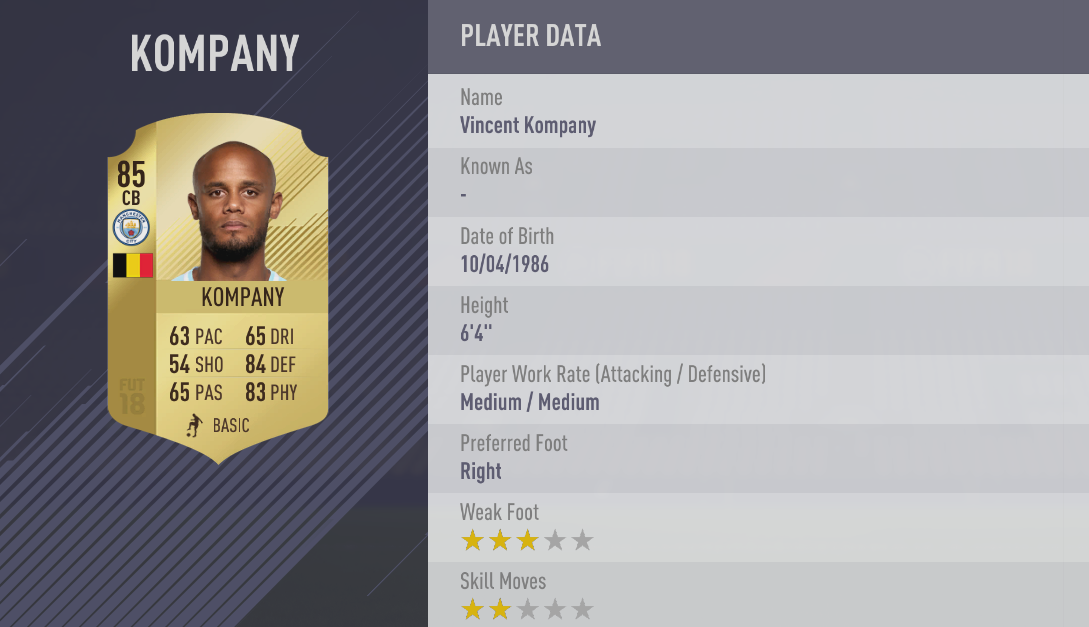 Manchester City captain Vincent Kompany comes down from 86 overall to 85. He'll need to stay fit to boost his rating back up.
---
24. ALEXANDRE LACAZETTE | Arsenal
---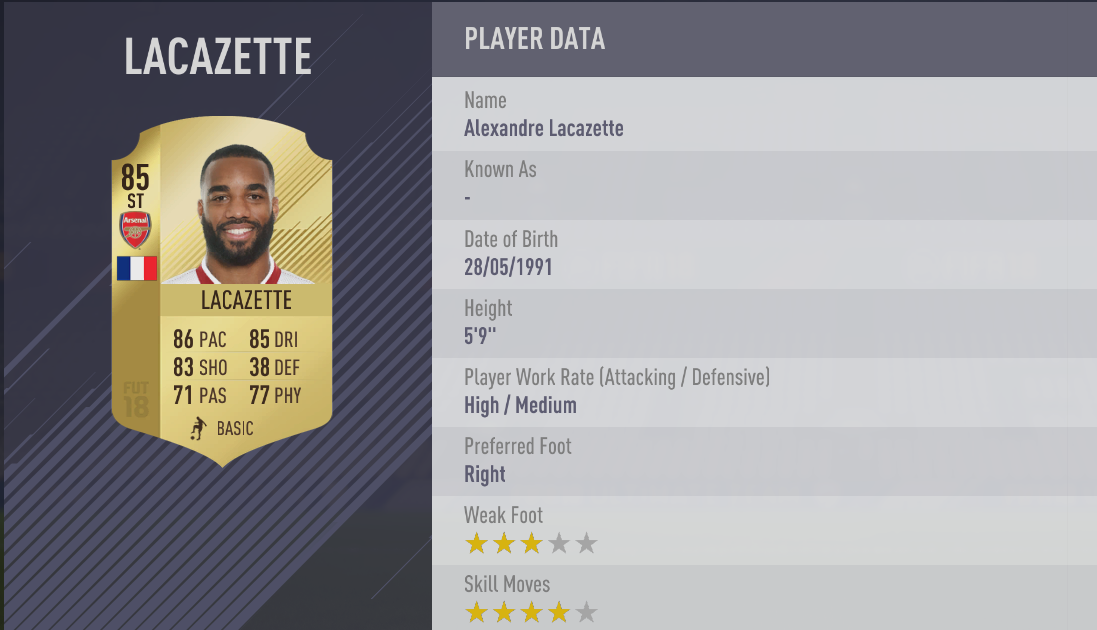 Arsenal's new striker had all the attributes that made Arsene Wenger splash out over £46m to sign him from Lyon, and his excellent pace, shooting and dribbling stats are sure to make FIFA 18 managers want him too!
---
23. JAN VERTONGHEN | Tottenham
---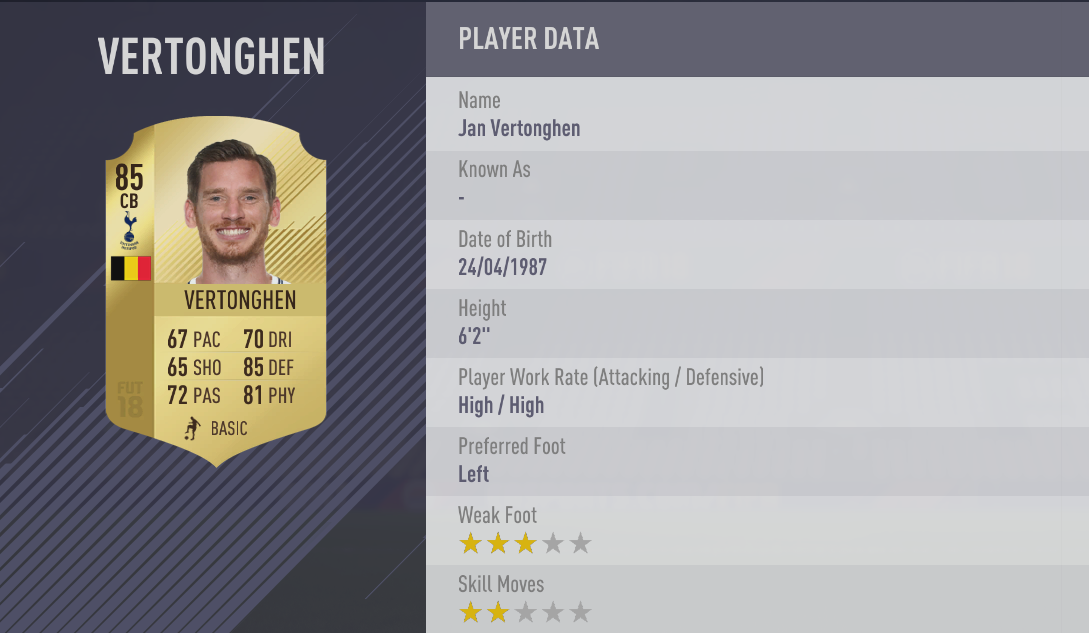 After helping Tottenham finish second in the Premier League, Jan Vertonghen has gotten a bump in his rating, moving up two points overall to 85 in FIFA 18.
---
22. HENRIKH MKHITARYAN | Manchester United
---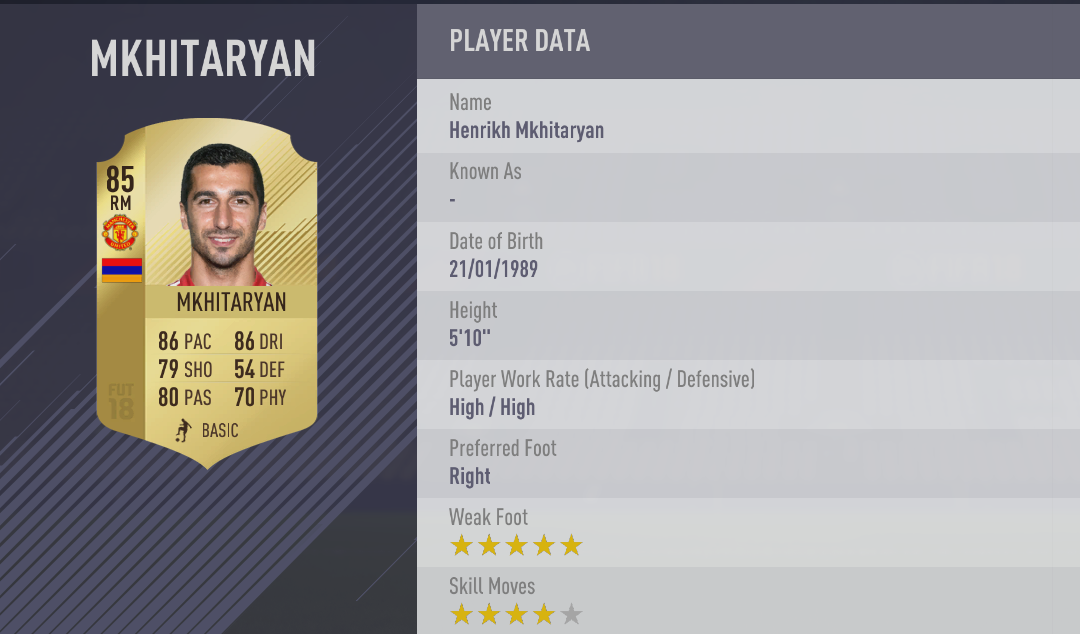 Henrikh Mkhitaryan's rating remains steady at 85 overall. He was available as an in-form card on a number of occasions last season and if he keeps it up, a permanent rise could follow.
---
21. TOBY ALDERWEIRELD | Tottenham
---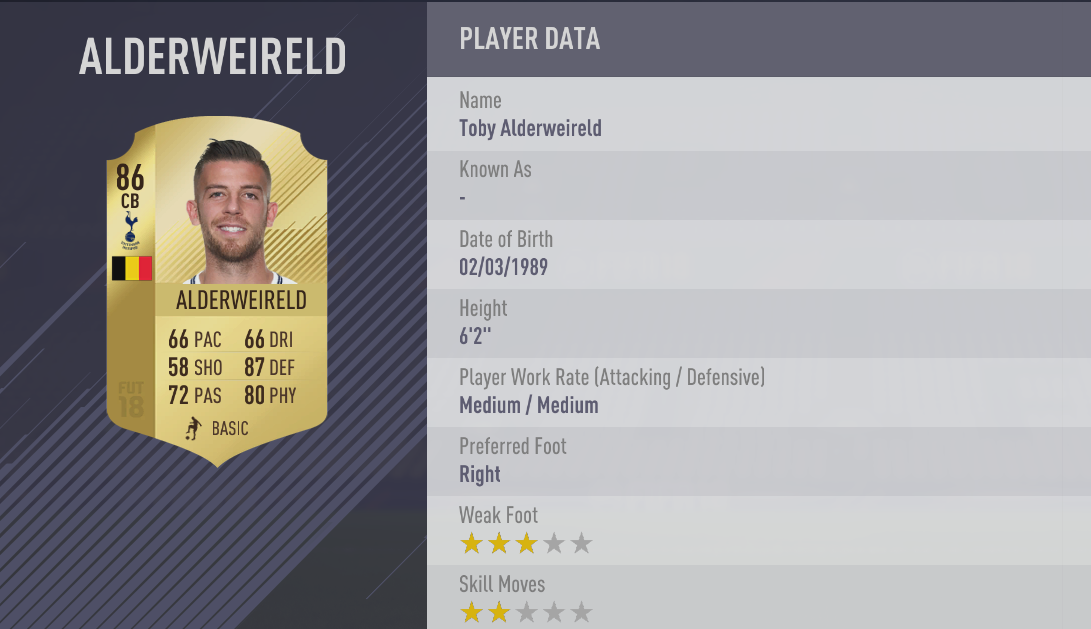 Alderweireld has established himself as one of the top defenders in the Premier League and receives a boost from 85 overall to 86.
---
20. PETR CECH | Arsenal
---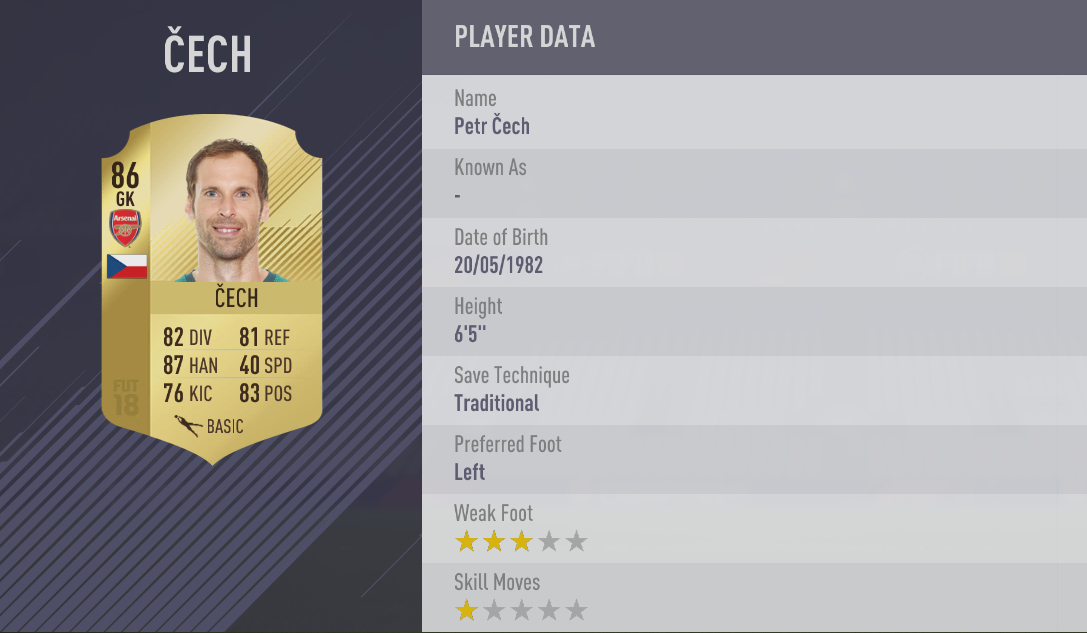 Arsenal goalkeeper Petr Cech receives an 86 rating this season, having kept 12 clean sheets in the 2016-17 Premier League season. Only four goalkeepers had more during the campaign.
---
19. DIEGO COSTA | Chelsea
---
Diego Costa may not be getting gametime at Chelsea, but his 86 overall rating in FIFA 18 as well as a high physical rating of 88 will surely see him included in many Premier League and hybrid squads.
---
18. PHILIPPE COUTINHO | Liverpool
---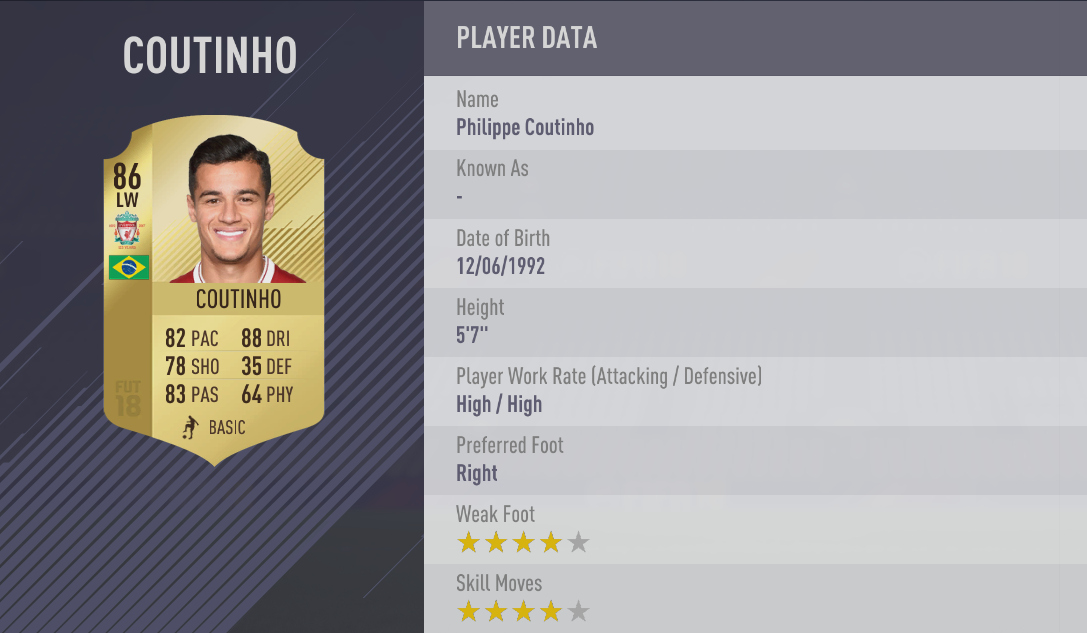 Barca were willing to pay huge money for Coutinho but that has not persuaded EA to push his FIFA 17 rating of 86 overall up any further.
---
17. DAVID LUIZ | Chelsea
---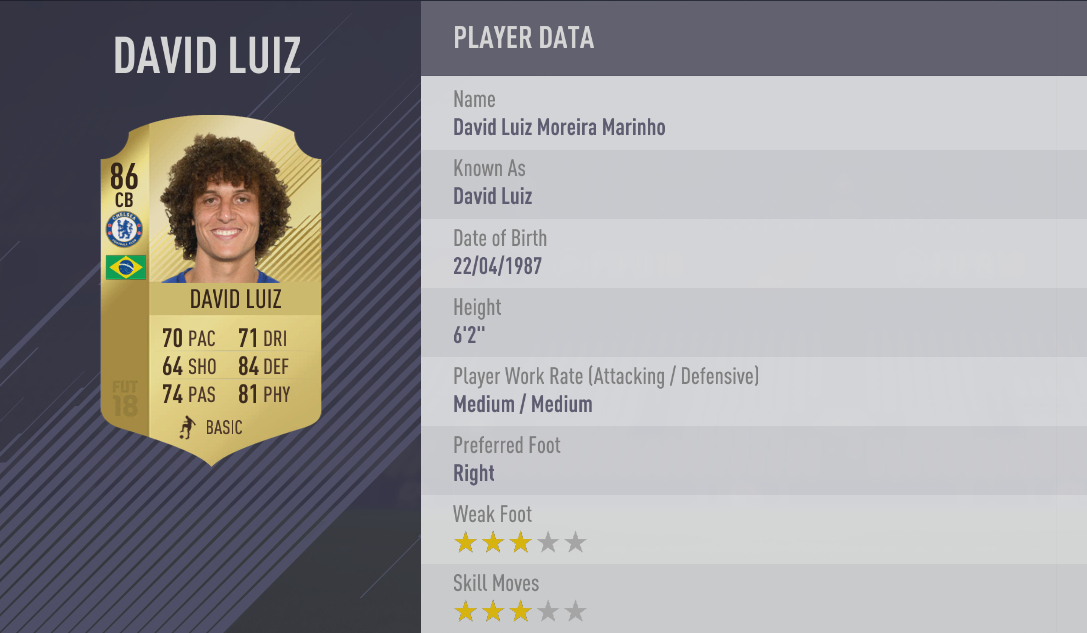 On the back of a superb title-winning season with Chelsea, David Luiz sees his overall rating boosted two points from 84 to 86.
---
16. CESC FABREGAS | Chelsea
---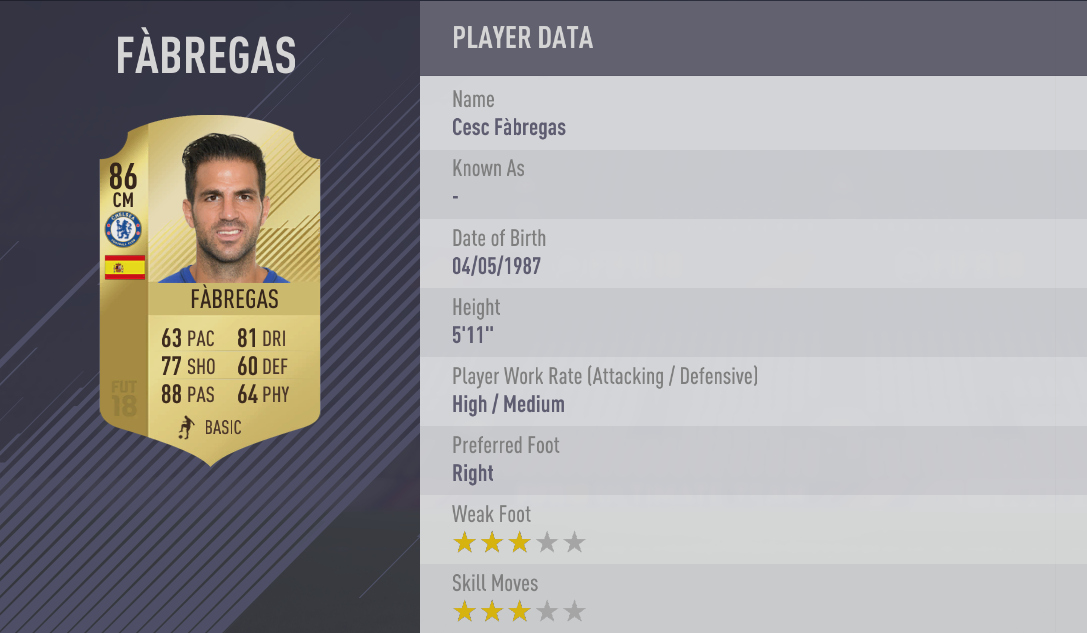 He may not always be a starter, but Fabregas played an important role in Chelsea's title triumph and his 86 rating is unchanged.
---
15. HARRY KANE | TOTTENHAM
---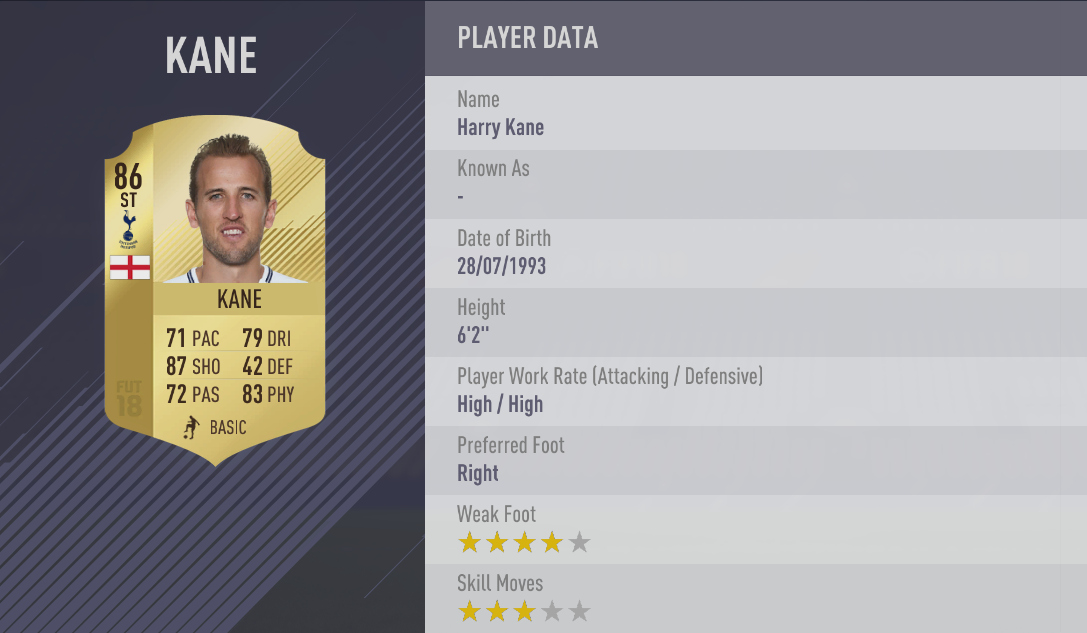 Kane enjoyed a one-point boost in the FIFA 17 ratings refresh and gets another for FIFA 18 to take him up to 86 overall.
---
14. ROMELU LUKAKU | Manchester United
---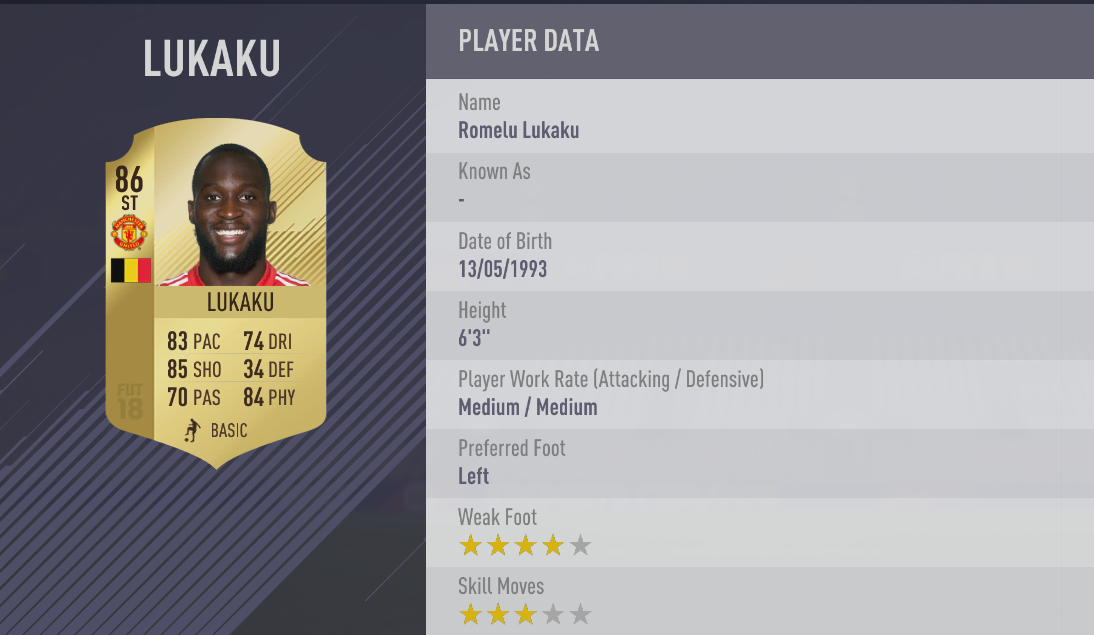 New Manchester United striker Lukaku is up two points from 84 to 86 overall after a fine final season for Everton before his big-money transfer.
---
13. DAVID SILVA | Manchester City
---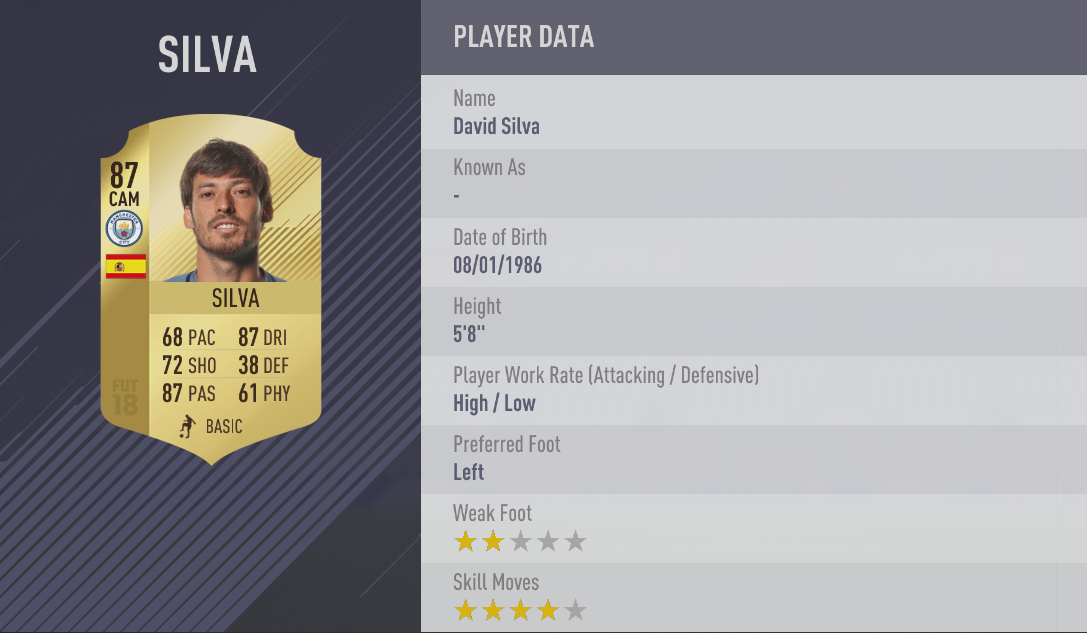 Manchester City talisman Silva is unchanged at 87 overall and gets increases in his defending and physical ratings having adapted well to a central-midfield role.
---
12. CHRISTIAN ERIKSEN | Tottenham
---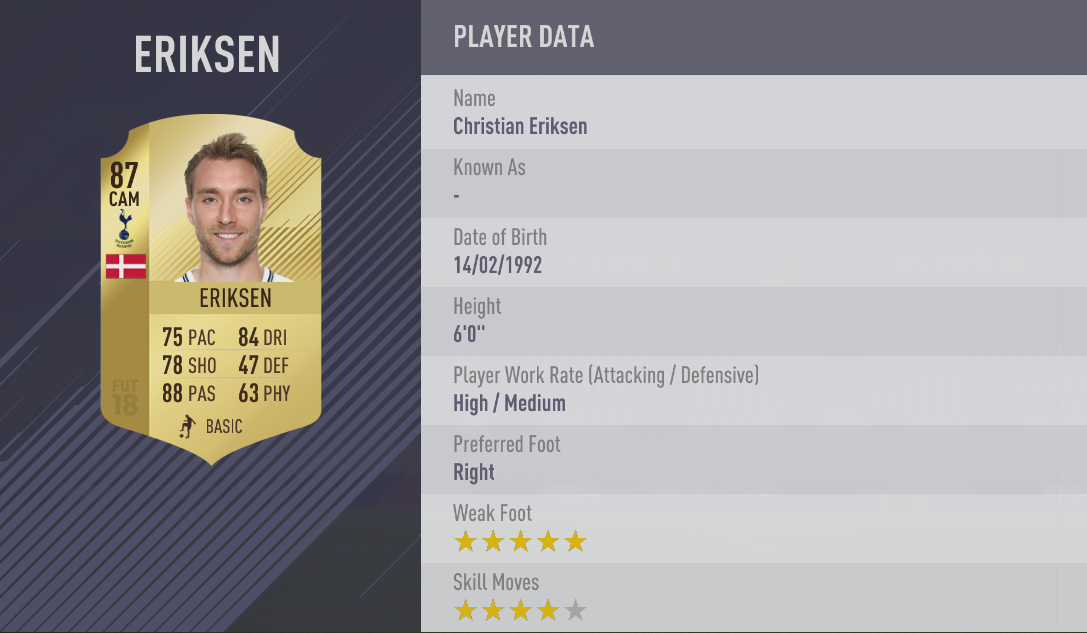 Eriksen has established himself as one of the top playmakers in the Premier League and risen from an 84 rating on FIFA 17 release day to 87 overall as a result.
---
11. N'GOLO KANTE | Chelsea
---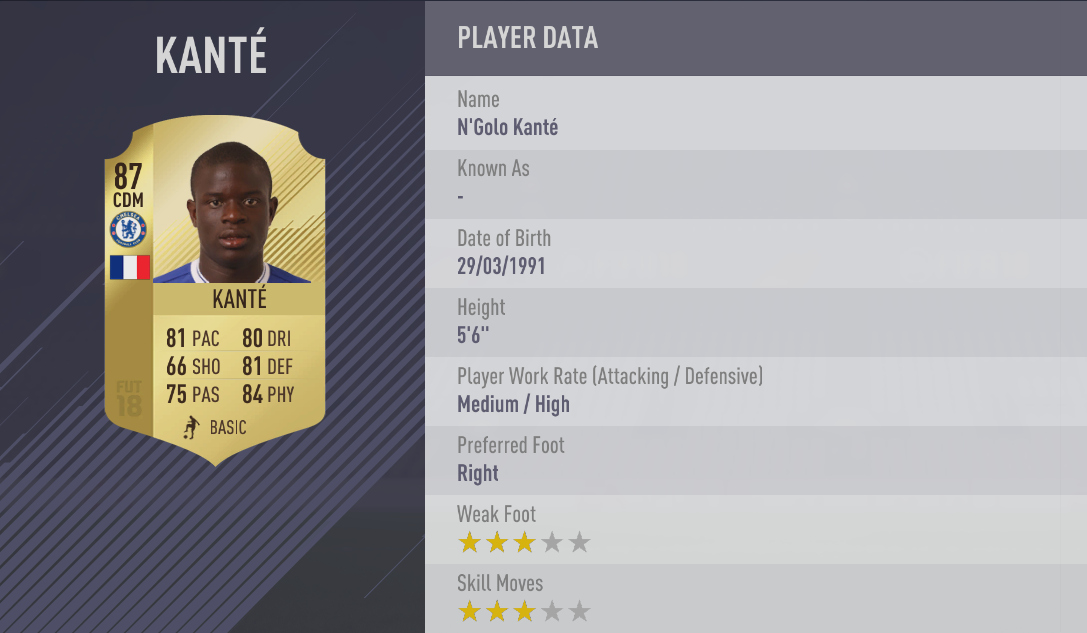 Kante is one of the biggest risers in this year's ratings. He started FIFA 17 at 81 overall before being pushed to 83, and has now rocketed up to 87 as the reigning Premier League Player of the Year.
---
10. PAUL POGBA | Manchester United
---
Pogba seems to be settling into life back at Manchester United now but actually takes a one-point hit compared to his FIFA 17 rating. He still has five-star skill moves, however.
---
9. ZLATAN IBRAHIMOVIC | Manchester United
---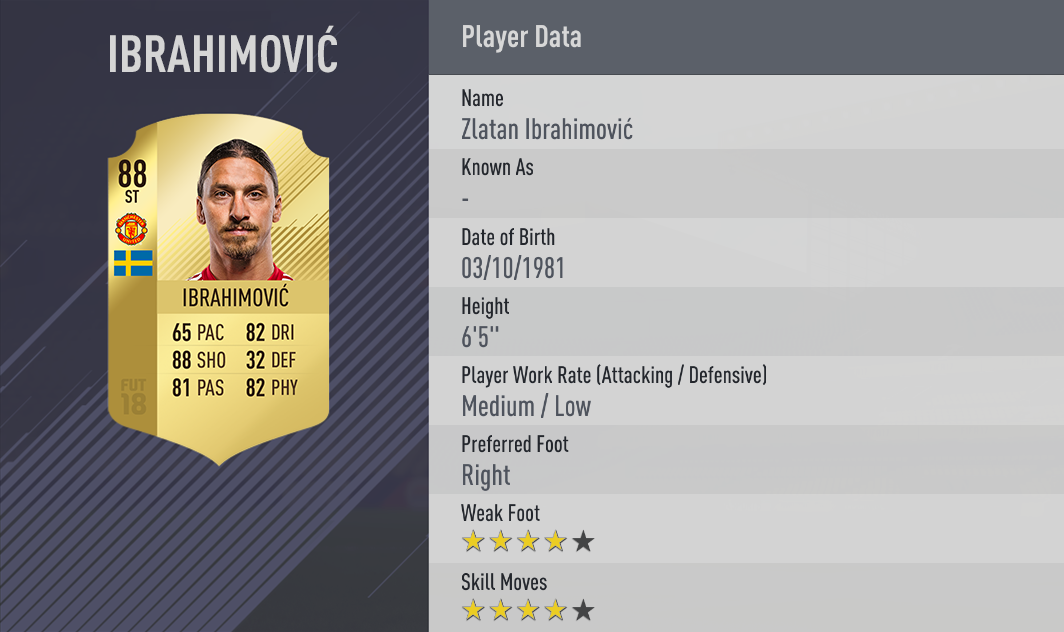 Ibrahimovic may have taken a two-point hit on his 90 overall rating on FIFA 17, but he remains one of the top strikers in the game.
---
8. HUGO LLORIS | Tottenham
---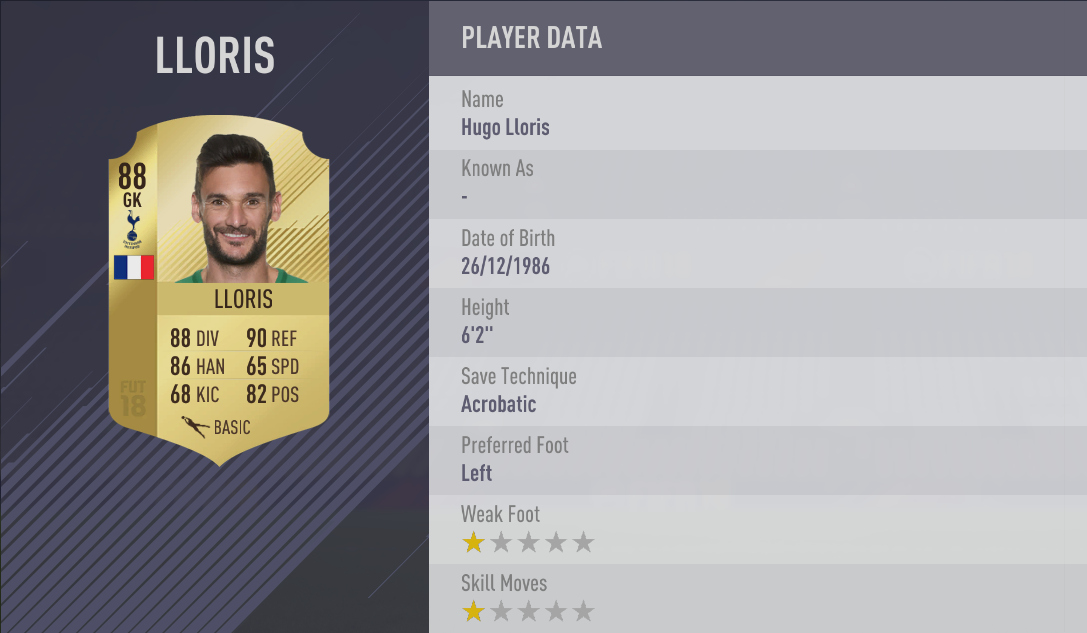 Lloris gets the job done in goal year in, year out for Tottenham and France and retains the 88 overall rating he sported in FIFA 17.
---
7. MESUT OZIL | Arsenal
---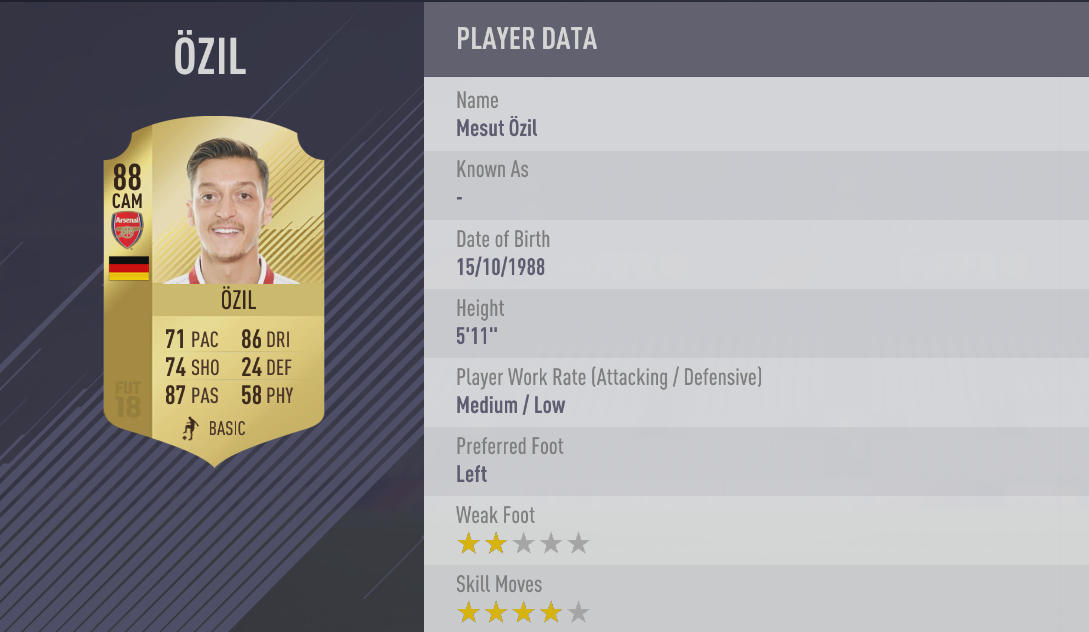 Germany international Ozil is down one point from 89 to 88 overall on the back of another disappointing season for Arsenal.
---
6. ALEXIS SANCHEZ | Arsenal
---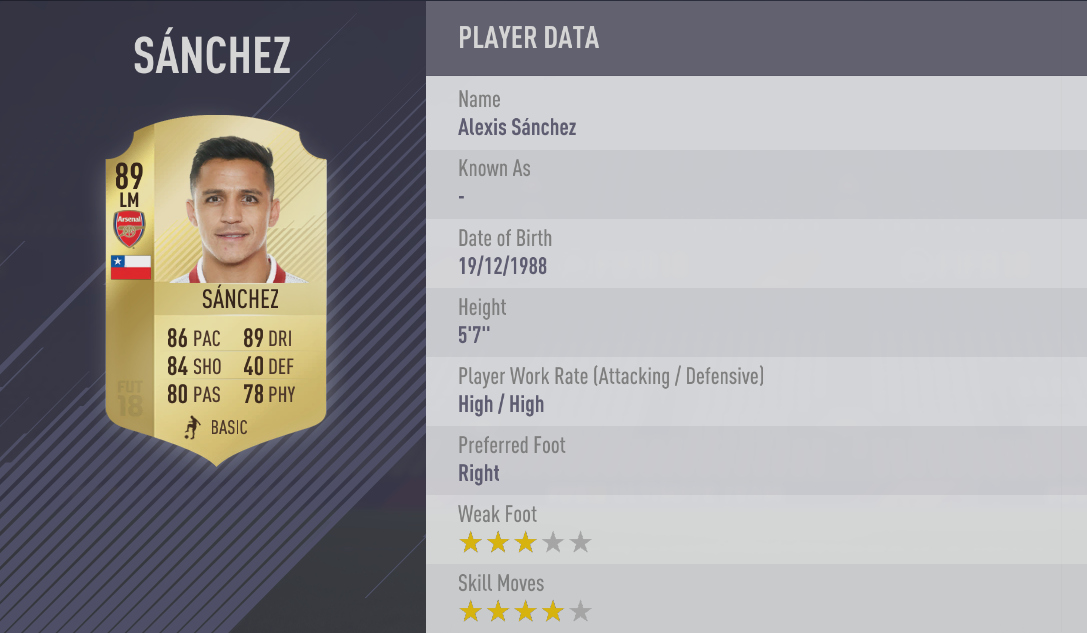 Alexis might not be the happiest man at Arsenal right now, but at least he has a one-point boost on his FIFA score to celebrate this week.
---
5. SERGIO AGUERO | Manchester City
---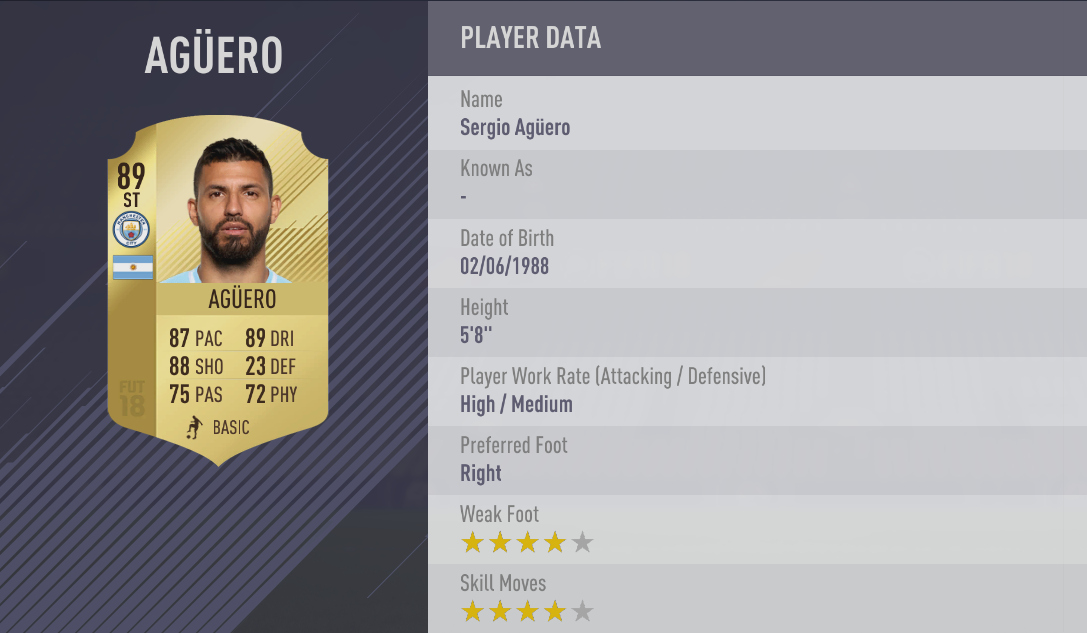 Another man who retains the overall rating he sported in FIFA 17 as Kun stays on 89.
---
4. THIBAUT COURTOIS | Chelsea
---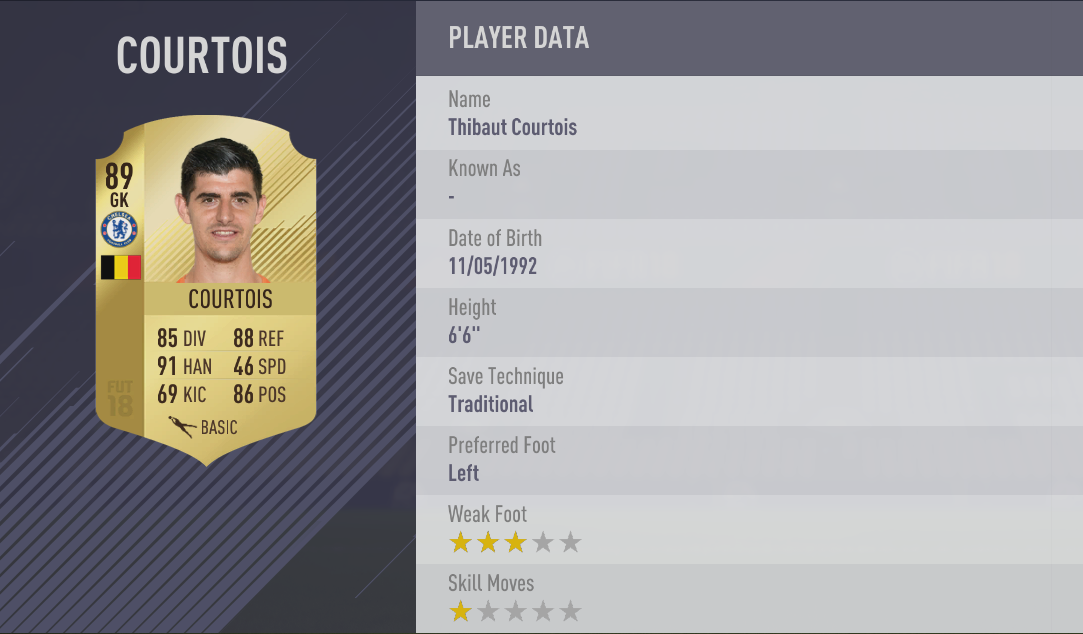 Courtois is in the Premier League's top two keepers as the Chelsea man continues to enhance his reputation.
---
3. KEVIN DE BRUYNE | Manchester City
---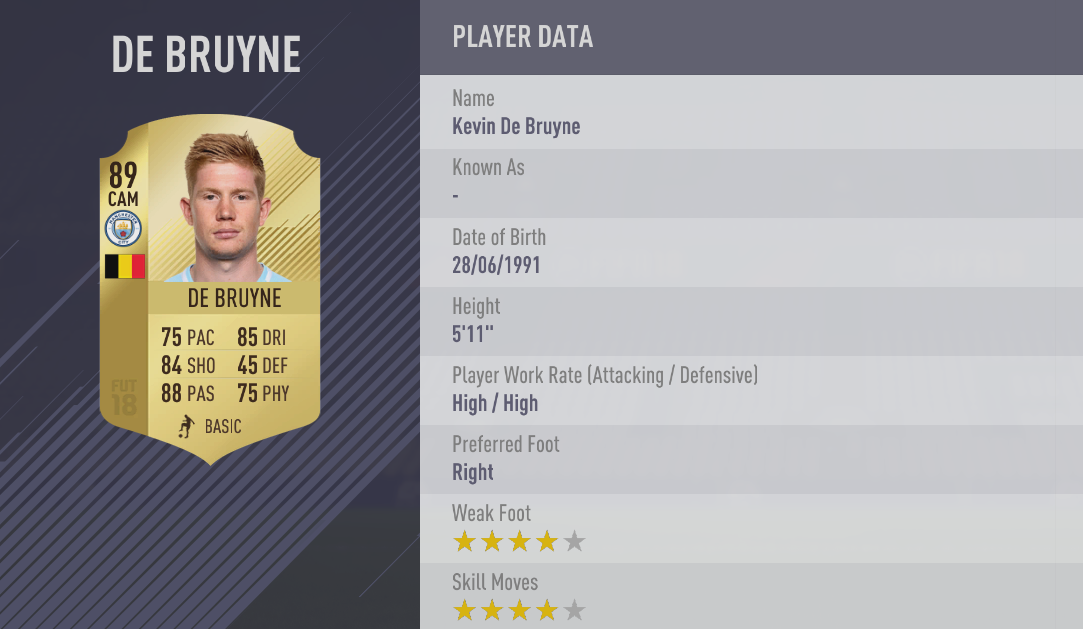 De Bruyne is another upward mover, improving on the 88 score given to him last time round.
---
2. DAVID DE GEA
---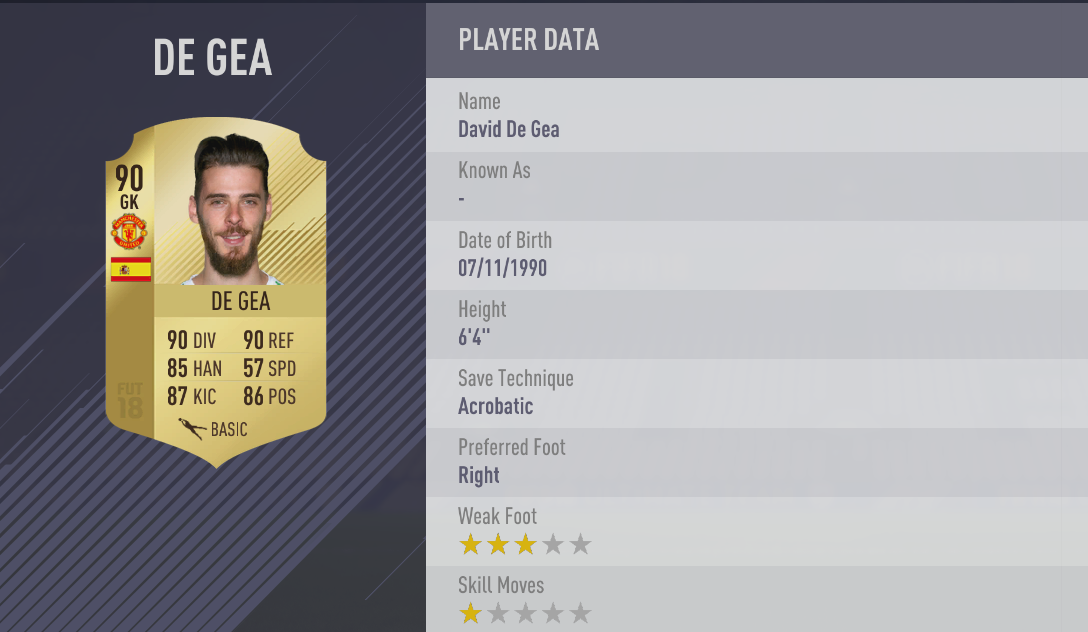 De Gea was outstanding for United last season, and deservedly holds on to his 90 rating to cement his position as one of the world's – and FIFA's – elite keepers.
---
1. EDEN HAZARD | Chelsea
---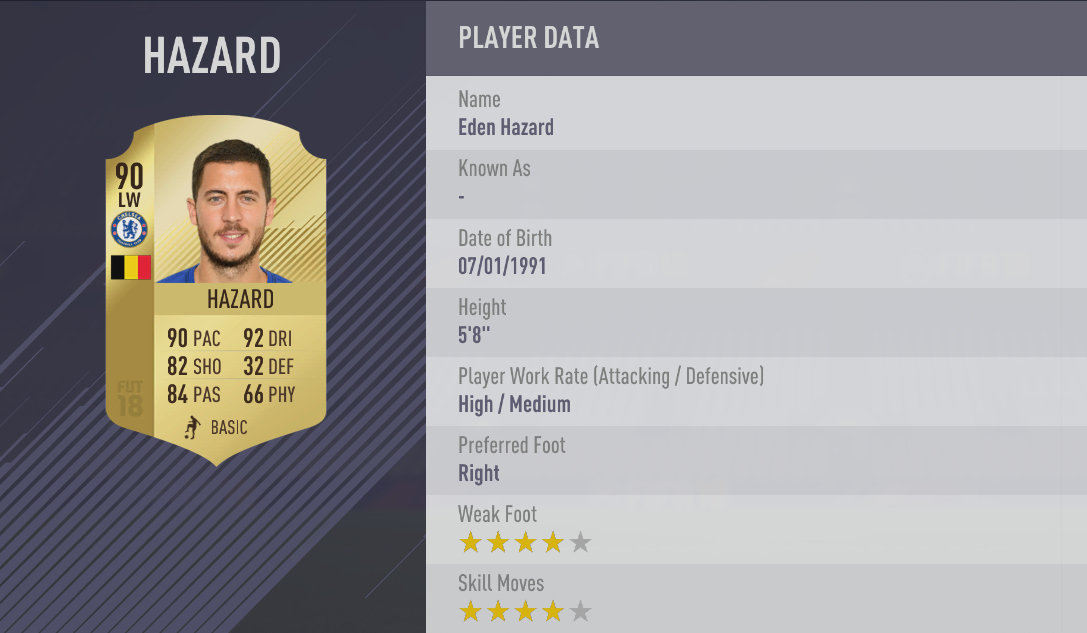 Hazard's one-point upgrade to 90 overall and entry into the top 10 sees him take the title of best player in the Premier League from Zlatan Ibrahimovic.
EA SPORTS is revealing all players' ratings ahead of the release of FIFA 18 on the 29th September. To pre-order your copy, head to: https://www.easports.com/uk/fifa/buy/united-kingdom
Let'