The 23-year-old has crowned the finest year of his career to date by being named in the 2015 Goal 50 – and the playmaker has the potential to be one of the world's best
---

EXCLUSIVE By Melissa Reddy

---
Philippe Coutinho rubs the tattoos which decorate his arms as he talks. This is a way to cope with his shyness, but it is also comforting as the ink stretching from his fingers to his bicep are tributes to his parents, siblings, and his wife Aine.
Everything he has achieved, he owes to them. Each new success reminds him of old struggles and how his support structure elevated him above and beyond imagination.
The Brazilian is seated in the revamped reception area at Melwood, with its wooden accents as well as white and gold detailing, following another intense training session. He is typically reserved, but there is a dabble of disbelief too at his place among Goal's 50 best players in the world.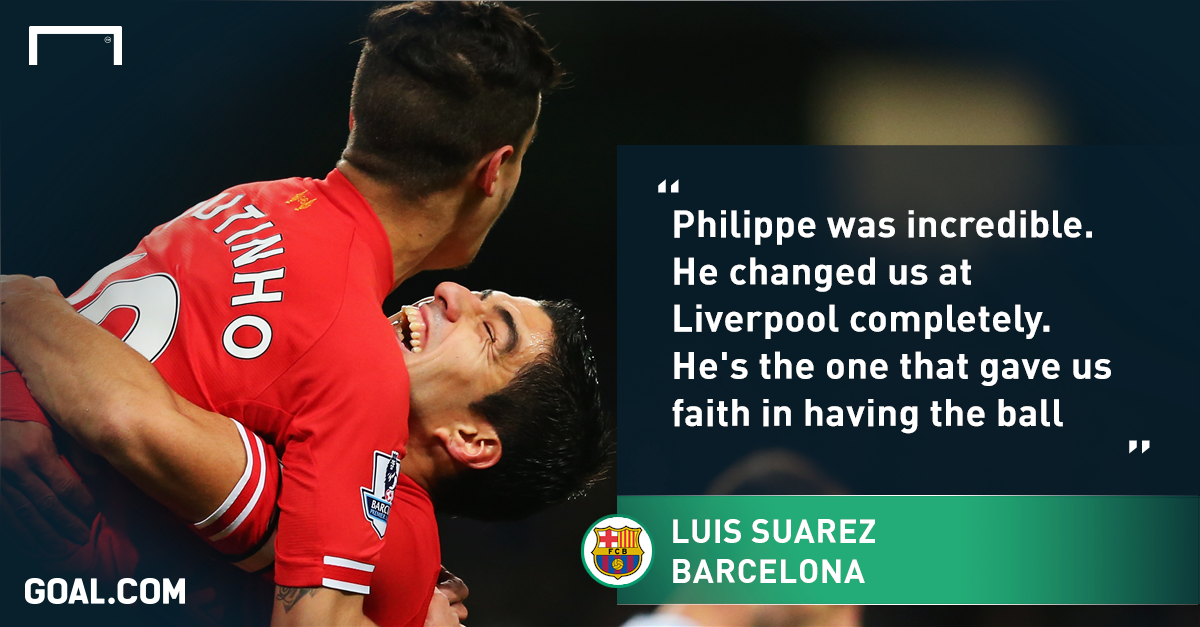 Coutinho may be Liverpool's gold dust, but he is also the boy next door; a footballer so removed from the egotism of the modern game. "Me?," he asks Goal, as if to make sure. "As one of the top 50 in the world? I am thankful."
The 23-year-old doesn't fully appreciate how special a talent he is, or perhaps he doesn't want to: there's too many areas of his game to advance and he's not one for complacency nor compliments. He is happier than he's ever been in his career though, which is at its most stable stage.
Coutinho made 52 appearances last season, the largest number in his professional career, dwarfing his overall run-outs at Inter. He also registered his highest number of goals to date – eight in all competitions – as well as numerous assists and memorable moments, including a stunning winner over Manchester City at Anfield on March 1.
Only last weekend, Coutinho once more put City to the sword – masterminding a stunning 4-1 win at the Etihad Stadium. He scored once again, already his fifth Premier League strike this season. The ex-Inter man just keeps getting better and better.
"I feel that I've grown a lot as a player," he says. "I've spent time working on the areas I knew I needed to improve, like scoring more, and I still have to push myself but I've come a long way.
"I had some difficulties in Italy when I was younger; only a few chances to play, injuries, not feeling my best, worrying about my family, but everything has fallen into place. I'm happy now and settled.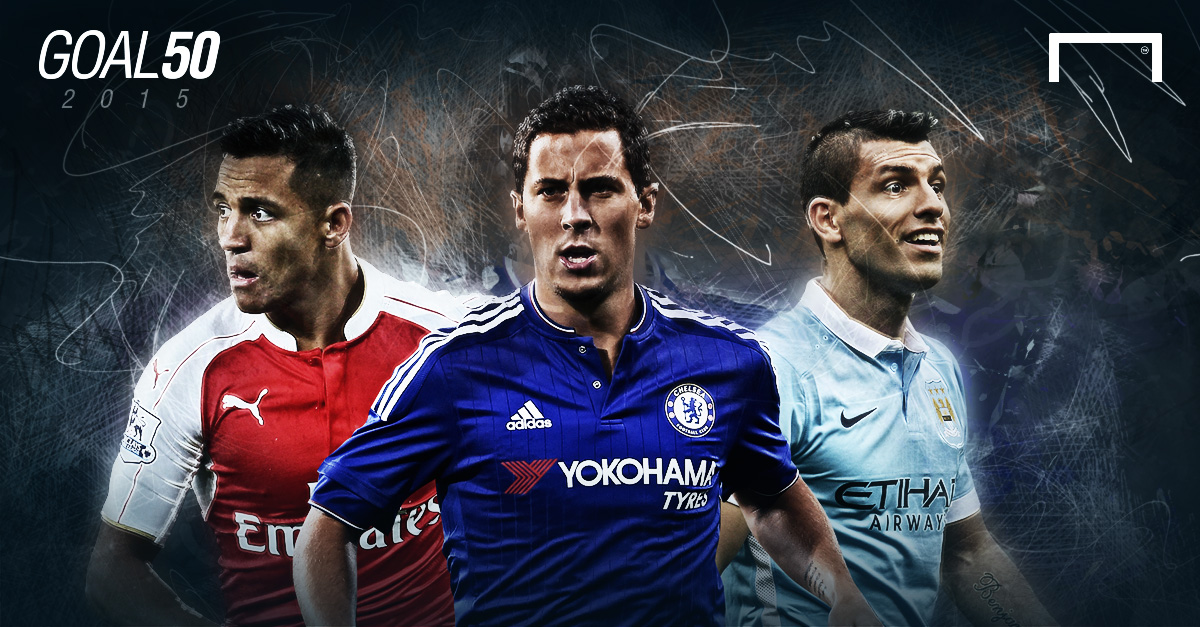 ---

REVEALED: The Premier League stars in the Goal 50

---
"I'm playing all the time, I'm learning and becoming stronger so this is all good for me.
"Every game day is special for me. The hours seem to go so slow, when I want it to come faster. I can't wait for kick off, because I love playing. I still feel all these emotions before a match."
It has been a monumental 2015 for the player who grew up in the shadow of the Maracana Stadium. Steven Gerrard and Luis Suarez both pinpointed him as the one to uplift the Merseyside club.
"Liverpool should really treasure Philippe," the former skipper wrote in his autobiography, My Story. "I believe he is on his way to becoming Liverpool's main man and a top player in world football. Watch this space."
The Barcelona ace, meanwhile, detailed how the playmaker is "the difference" at Liverpool. "Philippe was incredible. He changed us completely. He's the one that gave us faith in having the ball because his technical ability is so good.
"You knew that he wouldn't lose it, you knew that he would produce something special with it, that he would always choose the right pass."
Coutinho is his club's Player of the Year, and represented his country at this year's Copa America in Chile – scoring his maiden international goal in a friendly against Mexico before the tournament. He has been courted by Barcelona and is cherished by Liverpool, who handed him a new five-year contract in February. A banner in his honour is waved on the Kop and his name is sung on the terraces.
---


READ MORE

| Henderson confident over fitness

---
"It's been personally a good year for me, with big moments, some good goals and receiving awards," he says.
"To be named the best player at Liverpool was an honour and not something I could've imagined a few years ago.
"I represented my country at the Copa, which I was proud of and even though I'm young, I feel like a senior player now. It will be a year I won't forget.
"I'm more complete, with more confidence and different experiences to learn from."
It still nags at Coutinho that while his year was individually impressive, Liverpool have stuttered after failing to qualify for this season's Champions League. "Because we missed out on our objectives as a team, it was also a frustrating year. For me, it can only really be successful if you fight for trophies and win them. So from a team point of view, which is the most important part, it was not the best."
The club are hoping that will be remedied with the alteration at the helm. Brendan Rodgers, who encouraged the midfielder to "show his fire and never stop fighting," was replaced by Jurgen Klopp at the start of October. The Northern Irishman refined the combative aspects of Coutinho's game and helped him learn how to dominate and not just decorate encounters.
After a slow start to the season, the Rio-born talent has taken to his new boss too and his teachings of emotional football. A difference in the dugout was never going to derail Coutinho, who witnessed six coaches enter and exit Inter while he was still on their books.
Klopp is the ninth mentor the player has had since moving to Europe in 2010: Mauricio Pochettino, whom he worked with on loan at Espanyol, and Rodgers join the sextet from the Italian giants.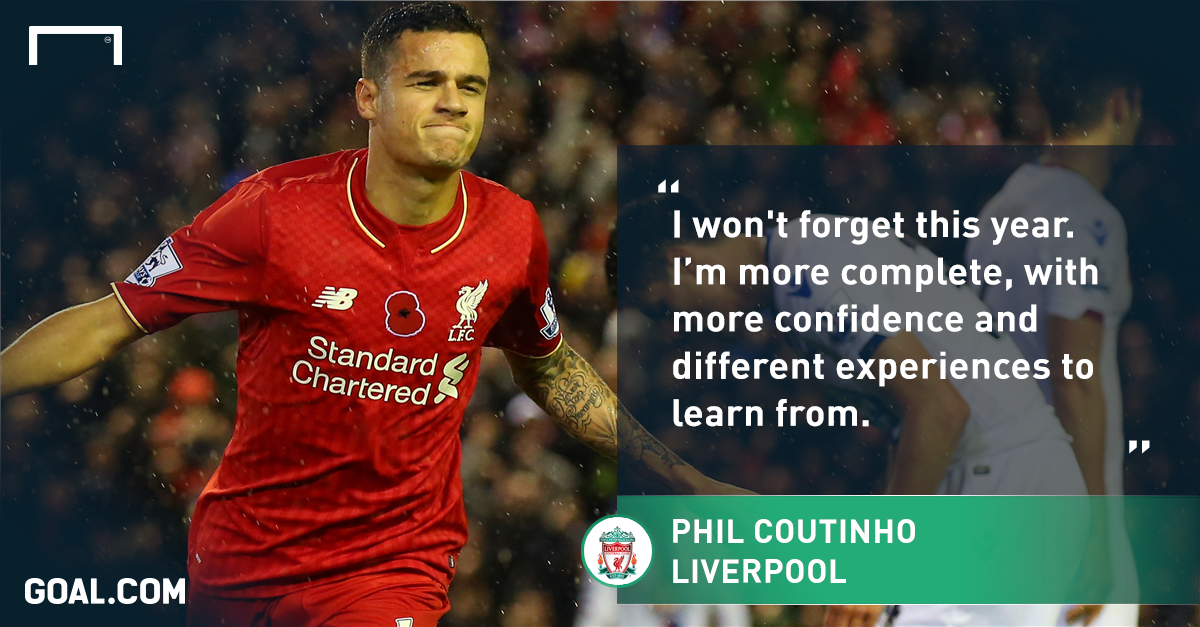 "At Inter, there were many different managers in and out so you get used to change," Coutinho explained. "Of course, since I came to Liverpool, Brendan helped me a lot, taught me a lot and was very good for my career.
"He gave me a proper chance and showed me many ways to be a better player.
"The new manager has also been really good since coming in. He is very open, you can talk to him about anything, he is very passionate and encouraging. His instructions are simple, but he pushes us a lot and there is a good feeling around the place.
"He has big energy and it rubs off on us. He wants us to enjoy the game, have fun, but also give it all our respect."
What trick does O Mágico (The Magician) aim to execute next? "I will always keep learning and pushing myself. I always want to be better," he insists.
"I want my family and friends to be proud of me, and I want to be proud of me. Every day is a new chance to grow, and that is what I want. Team trophies will be important. That is a main thing.
"I become a father soon so that is another exciting challenge – a blessing – that I cannot wait for."
Coutinho will add another tattoo to his sleeve in honour of his unborn daughter, who is due next month. With a new family member to make proud, he plans to ensure 2016 overshadows his achievements this year.