Chelsea were knocked out of the Women's Champions League despite a courageous fightback, losing 2-1 on aggregate to Barcelona, who reached their third successive final.
Caroline Graham Hansen haunted Chelsea yet again, having also scored in the semi-final first leg at Stamford Bridge on Saturday to give Barcelona a slender lead in the tie.
After some superb play from Aitana Bonmati, Graham Hansen (63) fired the hosts in front with the game's first shot on target.
But four minutes later, Guro Reiten rifled home Chelsea's reply to level things on the night and despite a battling performance, the Blues were unable to add another and force extra-time.
Emma Hayes' side will now refocus their efforts on the WSL title race – which they resume next week – as well as preparing for an FA Cup final meeting with Manchester United at Wembley on May 14.
Barcelona, champions in 2021, advanced to the final on June 3 where they will face either Wolfsburg or Arsenal, who meet in the second leg of their semi-final, currently level at 2-2, at the Emirates on Monday.
How Barcelona knocked out Chelsea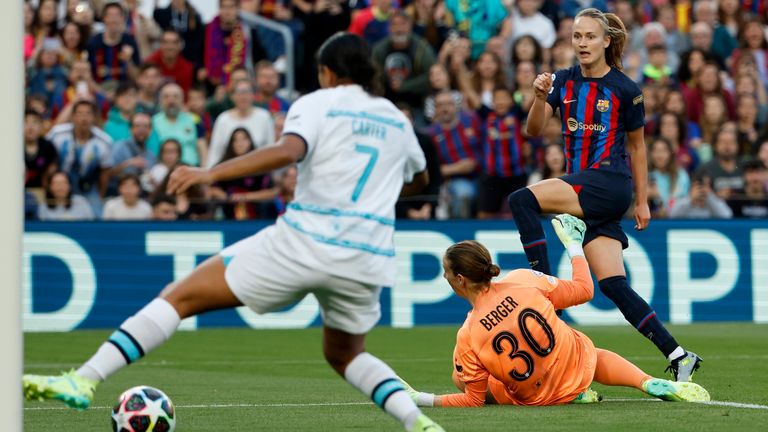 Chelsea began well at the Spotify Nou Camp, but Barcelona soon began to find their rhythm. The hosts had the ball in the back of the net early on, but it was ruled out for handball. Frida Rolfo sent the cross in from the left with neither Maren Mjelde or Magda Eriksson able to stop it. It found Graham Hansen, who slotted home, but not before hitting her arm on the way through.
Barcelona continued to dominate, but faced a robust Chelsea defence. However, Ann-Katrin Berger was forced into a fine save on the quarter of an hour mark. Bonmati send a lovely cross in, but the Blues goalkeeper stuck up a hand to flick it away.
Bonmati and Graham Hansen continued to shine – although the first half did finish without a shot on target – while the returning Asisat Oshoala looked dangerous through the middle. Chelsea improved towards the end of the first period – Guro Reiten and Sam Kerr trying to create for their side – but as with the first leg, the Blues needed a little more going forward.
Team news headlines
Barcelona welcomed Alexia Putellas back to their matchday squad as she started on the bench. It was her first squad inclusion since rupturing her ACL in June 2022.
Barcelona made three changes to their starting XI. Asisat Oshoala, Marta Torrejon and Mariona Caldentey returned in place of Lucy Bronze, Geyse and Selma Paralluelo.
Chelsea made one change as Jessie Fleming started in place of Jelena Cankovic.
The second half began on an even keel, although Barcelona did shade the play and eventually took the lead just after the hour. A sublime touch from Mariona Caldentey set Bonmati away down the field. She then found Graham Hansen to her right, who fired the ball past the oncoming Berger and into the net, taking a deflection off Jess Carter on the line as she tried to keep it out.
Four minutes later, Chelsea were level. It began with a foul from Erin Cuthbert in midfield that allowed the visitors to break.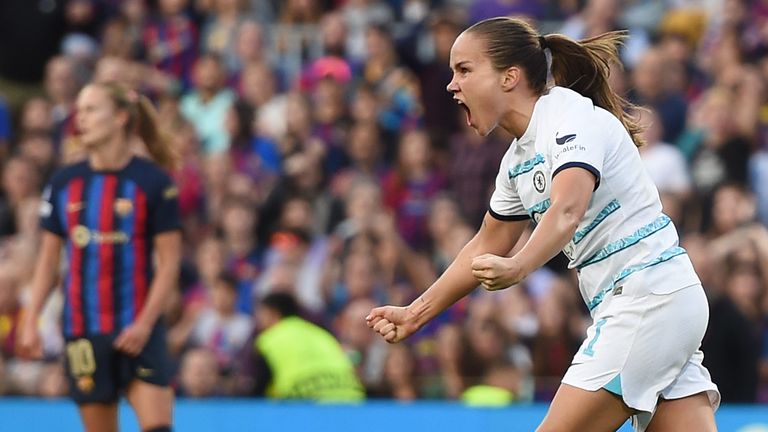 Melanie Leupolz played in Kerr down the left, who was sent flying by the oncoming Panos as she attempted to shoot. But the loose ball fell to Reiten as she hammered the ball home, with the goal confirmed after some confusion over whether it would be allowed to stand.
Both sides continued to see chances. Lauren James, Kerr and Reiten all took their shots, while Berger was forced into a fine fingertip save to keep Salma Paralluelo from adding another for Barcelona.
But while Chelsea battled until the final whistle, they were unable to force extra-time and exited at the semi-final stage.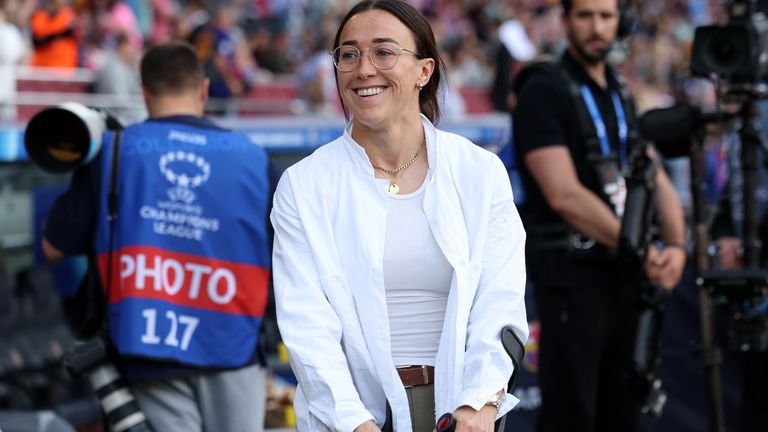 Hayes: Proud of players, but disappointed for result | 'The better team lost today'
Chelsea manager Emma Hayes:
"We're disappointed. I don't know too many teams that come here and are as brave as we were. There's no denying you have to survive in the first part of the games," she said.
"It's an incredibly intimidating environment and I think my players managed all of the situations, they executed the game plan and we grew into the game. In the second half, we dominated… I'm proud of the players, just disappointed for the result.
"I'm not frustrated. We're not going through because of the home tie. It's nothing to do with here. If there was a little bit longer in the game, I think we would have gone on to win it.
"I can't ask for any more. I don't know how many teams come here and put them under pressure. We had them panicking, I could hear it on the touchline, even their manager got booked.
Chelsea Women manager Emma Hayes says their first leg performance was the deciding factor in their Champions League semi-final exit at the hands of Barcelona

"They're not used to that and that belief, for us, we have to keep finding in ourselves and I think we're out of the competition because we conceded so early at home.
"Go and look at the previous results. They have an average result of four goals here. Go and look at the results against Bayern and Roma this year, Wolfsburg last year. I don't think you understand how challenging it is to deal with playing in this stadium with an unbeaten record in the last four years.
"If I've learnt anything in my career, it's that you have to stay in matches. Had they got a goal early on, it could have been a difficult evening so the fact that we were in that position allows the team to grow into confidence.
"Today, I think the better team lost."
Giraldez and Bonmati: We have to go on and win now
Barcelona manager Jonatan Giraldez to UEFA.com:
"We had to manage things well when they scored – when we went 1-0 up, I had a good feeling about the match. It felt like we had control but only four or five minutes later, Chelsea had their chance and scored. That's a bad moment but we found the courage and the management.
"You always dream [about reaching a Champions League final]. But we have to prepare now because getting there is one thing – we have to win!"
Player of the Match Aitana Bonmati to UEFA.com:
"We've worked day and night for years to achieve this. To reach the final in front of our own fans was fantastic but now we have to go and win it.
"In the second half, I knew it was a tense situation but also a dangerous one because one slip from us could have let Chelsea level the tie.
"When Chelsea scored so soon after we went ahead, it was time to 'manage' our performance. That's key in elite football: You can enjoy yourself but you'll always have to suffer."
Chelsea will be disappointed, but they can hold their heads high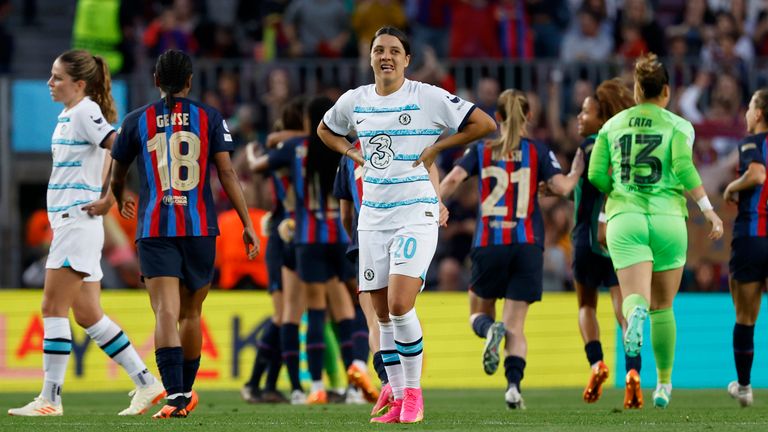 Sky Sports' Charlotte Marsh:
"With a second leg away at the Nou Camp, Chelsea were handed the toughest ask in European football – facing a team unbeaten at home in four years. They needed something from the first leg at home to stand a chance of getting a result in Spain.
"Unfortunately that wasn't to be the case. But while Chelsea will be disappointed to have missed out on reaching a second Champions League final, they can be proud of their performance against a Barcelona team widely regarded as the best on the continent.
"It showed us a different side of Chelsea. Domestically, we are used to seeing Emma Hayes' side dominate possession, having multiple chances and scoring a lot of goals. In Barcelona, they faced a team who did the exact same, but in a more imposing fashion.
"The tie proved how defensively solidity is just as important as goals. While it was not always perfect – particularly in the second leg – the players did what they had to do and gave themselves a fighting chance right until the end.
"When Chelsea faced Barcelona in the 2021 final, they were bulldozed early on and never recovered. While they conceded early on in the first leg on Saturday, they did not find themselves overrun. They kept together as a team and kept trying to find ways through.
"Of course, they did manage to breach Barcelona's defences in the second leg, and it was impressive how hard they continued to work to try and score again.
"While this was not their time, Chelsea proved once again that they can compete in those upper echelons of European competition. They pushed Barcelona hard for 180 minutes and were not far away from taking it even further.
"The final defeat was a painful one, but this semi-final tie shows just how much progress Chelsea have made and how that defeat has spurred them on.
"As the football cliché goes – Chelsea will go again next year."
What's next?
Chelsea return to WSL action on Wednesday as they look to push for another league title. They host Liverpool at Kingsmeadow; kick-off 7.15pm.

Sunday 7th May 6:30pm


Kick off 6:45pm

They will then feature live on Sky Sports on Sunday May 7 when they again play at home, welcoming Everton to Kingsmeadow; kick-off 6.45pm.
Adblock test