The La Liga giants are reluctant to be drawn into a debate regarding the Brazil international, but are prepared to discuss Andres Iniesta's future
Barcelona consider Liverpool's Philippe Coutinho to be "a great player", but plan to remain "discreet" in pursuit of any transfer.
The Brazil international continues to be heavily linked with a move to Camp Nou, possibly as a replacement for fellow countryman Neymar – who is a top target for Paris Saint-Germain.
dabblebet: Can Barca beat Real in ICC Clasico?
Liverpool have sought to play down the exit talk surrounding their prized asset, with there an understandable reluctance on their part to sanction a big-money sale.
Barca appreciate that stance and have vowed to carry out any recruitment business in a professional manner away from prying eyes.
Why Barca want Coutinho
Club president Josep Maria Bartomeu told reporters in America ahead of an International Champions Cup clash with Clasico rivals Real Madrid: "Coutinho? He's a great player, but we can't say anything. You have to be discreet.
"[Ernesto] Valverde wants a competitive team that understand his needs very well.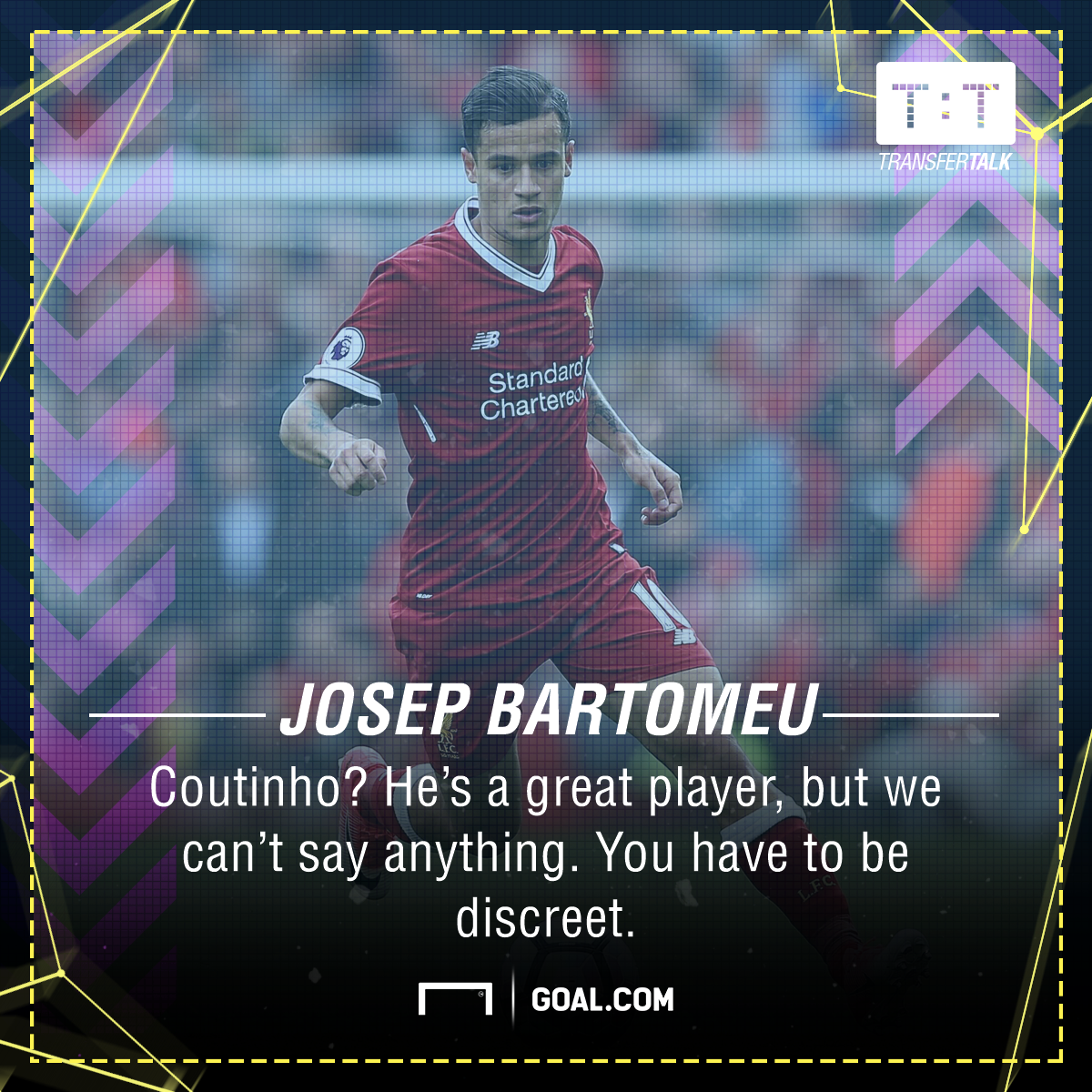 "More players will come, certainly one in the middle."
Long-serving Andres Iniesta is among those currently occupying a spot in the midfield engine room, but he is now 33 years of age and seeing his influence wane at Camp Nou.
It has been suggested that he could be allowed to move on at some stage, ending his career-long association with Barca, but Bartomeu insists he has no intention of letting the World Cup winner leave.
Iniesta urges Neymar to 'speak out'
He added: "Iniesta? We want him to have a contract for life with us. He's our balance.
"He has Ronaldinho's smile and the magic of Messi. We want him to go on forever."
Iniesta's current deal is due to expire in 2018 and no extension has been put in place as yet.
Never miss a game with live sport on the widest screens in the sky. Fly Emirates to over 150 destinations from Dubai. Book now.
Let'