The €160 million signing of Philippe Coutinho was supposed to be the final piece in the Barcelona jigsaw puzzle. The Brazilian was drafted in to Camp Nou from Liverpool with the toughest of challenges on his hands.
With Andres Iniesta set to leave the club, Coutinho represented exactly the kind of high-profile signing who would lead Ernesto Valverde's men through that shock and into the future. But so far, aside from a few glimpses of his obvious natural talent, he has failed to click in a team where he has looked all too dispensable so far.
Such is the playmaker's predicament that now, just 12 months down the line from that blockbuster transfer, a fresh move is already being mooted.
Newly rejuvenated Manchester United have been linked with a January transfer, a prospect that a few short weeks ago would have appeared laughable with the Red Devils submerged in crisis. But Coutinho is facing up to an uncomfortable reality: Perhaps at Barcelona he has become surplus to requirements.
To date the player has managed just nine starts in La Liga, a tally that even allowing for Valverde's rotation policy – he has started all of Barca's Champions League fixtures to date, for example – is a disappointing return. Worse, he has failed to sustain a decent start to the season, with his last goal in any competition coming in October when he opened the scoring in the Catalans' 5-1 destruction of Real Madrid.
Coutinho has been consigned to the bench for his team's last four run-outs in the league, a decision that has barely seemed to affect Barca on the pitch as they ran out victors on all four occasions to break free at the summit. So why has the former Liverpool man failed to follow through on his promise and become the new Iniesta everyone at Camp Nou hoped for?
It is not all the player's fault, of course. Coutinho has been hurt more than anyone by the resurgence seen from Ousmane Dembele, who just over a month ago appeared on the verge of his own exit as Barca tired of his disciplinary issues.
The France winger has contributed three goals and two assists in his last six games, pushing himself into permanent contention for a first-team spot. That brilliant form has necessitated a change in tactics at the club.
From the beginning Valverde has favoured a 4-4-2 set-up with Barca, using first Iniesta and later Coutinho as a roving midfielder behind the undisputed pairing of Lionel Messi and Luis Suarez in the final third. But with Dembele back in the fray the coach has switched to something approaching the 'classic' Blaugrana 4-3-3, with the Frenchman taking Neymar's place on the left of the trident.
The solid bank of three industrious, uncompromising ball-winners and distributors remains, leaving Coutinho in a sort of tactical no-man's land as a more delicate creator. He now enters matches in the very final minutes, usually in Dembele's place, in order to keep hold of possession and take the sting out of matches with Barca in the ascendancy.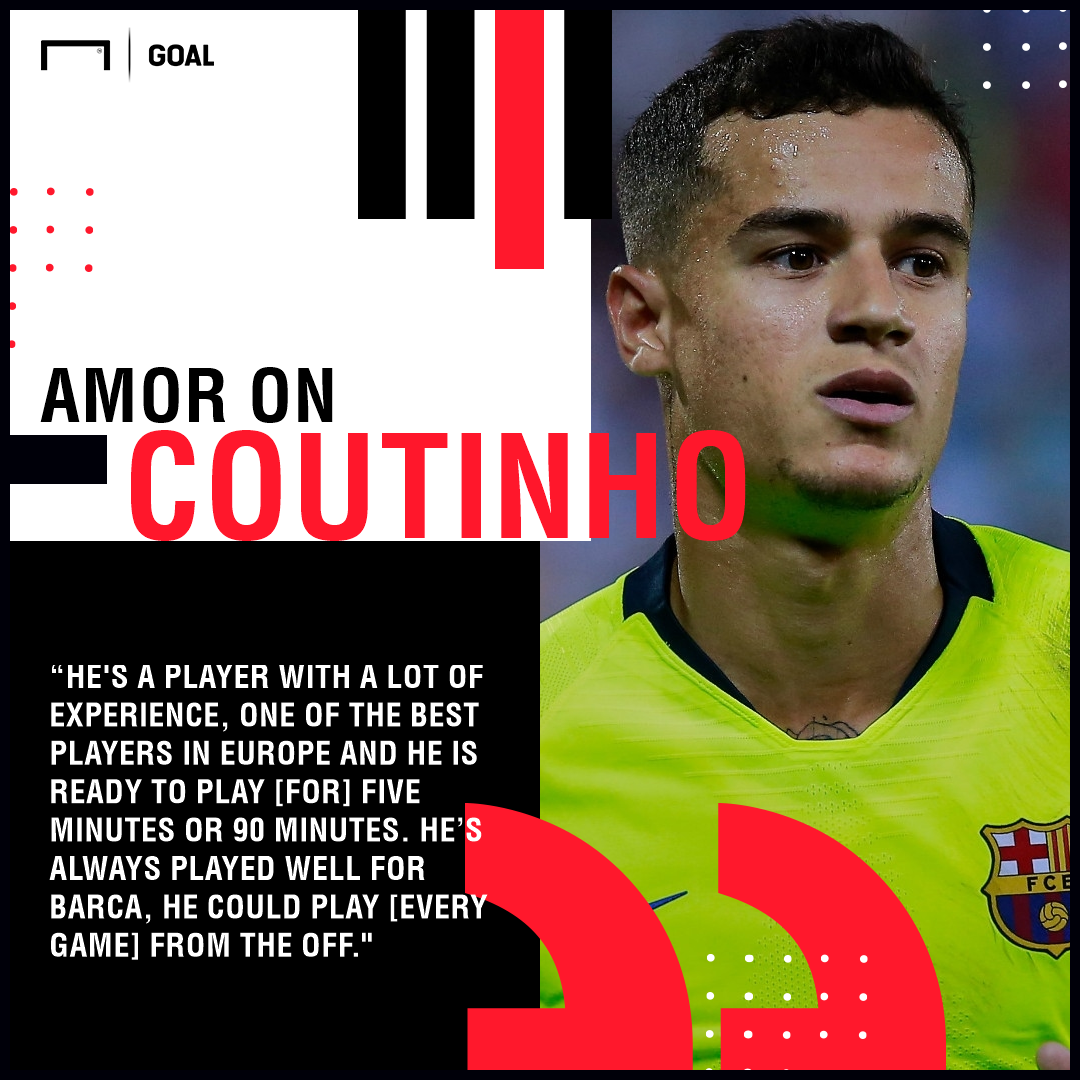 Within the club, however, those in charge will not countenance cutting their losses in the face of United interest. "Coutinho's a player with a lot of experience, one of the best players in Europe and he is ready to play [for] five minutes or 90 minutes," director Guillermo Amor explained to Movistar .
"He's always played well for Barca, he could play [every game] from the off. Barca signed him because he's one of the best in the world and he's going to give us a lot.
"He's got many years left on his contract and a lot to give to Barcelona."
There is no doubt that at his best, and in the right team, Coutinho can offer a great deal. He showed as much in his first six months at Barca, when all the concerns about losing Iniesta suddenly seemed less severe thanks to his brilliant introduction to life in La Liga.
The current season, though, has thrown up the most serious challenge in Coutinho's career since he struggled to make his mark as a youngster at Inter. It is up to him to adapt to Valverde's tactical alterations and prove he can make an impact, and not go down as an expensive failure at Camp Nou.
Let'