Barcelona manager Xavi has called on the club hierarchy to bring Lionel Messi back to the Nou Camp this summer, but says the move depends on the Argentina forward.
Sky Sports News revealed earlier this month that Messi is set to leave current club Paris Saint-Germain at the end of his contract, with Barcelona president Joan Laporta admitting that the club are looking into bringing the him back.
Messi, who scored 672 goals in 778 appearances for Barca between 2003 and 2021, has spent the last two seasons at PSG after Barcelona let him move for a free due to being unable to renew his contract.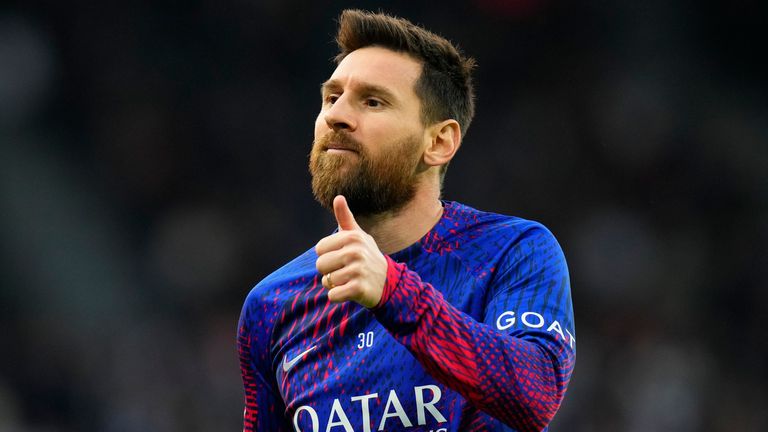 Asked about the impact Messi would have on this Barcelona team, who won the LaLiga title this season, Xavi told Barcelona-based newspaper SPORT: "I'm in no doubt that if Messi were to return, he would help us in what we are wanting to achieve with our football.
"I am in no doubt and I've told this to the president. He continues to be a determined footballer, he has the hunger still.
"He's still a winner, he's a leader and he's different. At Barcelona, we've not have the same level since what we reached as a pinnacle in 2010.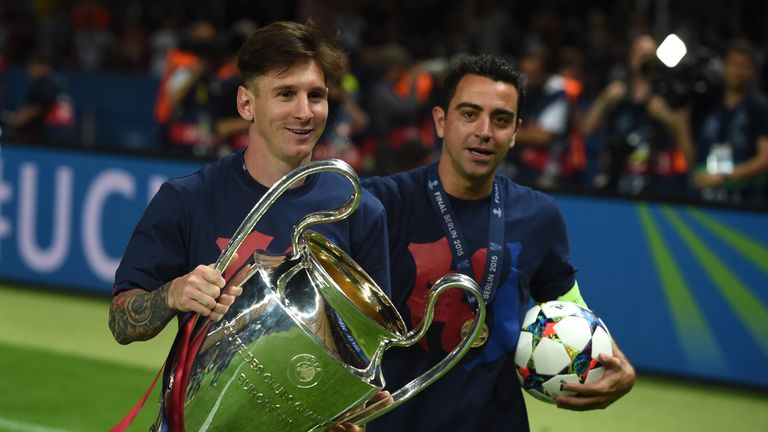 "Messi brings you the talent of being able to play the final pass, he opens doors, scores goals. In the final third he can provide the difference.
"There's no doubt that he would still help us a lot – but in the end it all depends on him.
"We're going to talk to him and his representatives. I think Leo has the upper hand, there is no doubt. Yes, it's true that we've already won in the post-Messi era and that has extraordinary merit, it's extraordinary, it's not valued anyway, but the fear that we had was when Leo leaves, what are we going to do?
"Well, Barca has survived, I think we have rebuilt the team and the group very well and this league title and this Super Cup have spectacular merit and without the best player in the history of football and this club has much merit.
"It's difficult to be in the skin of someone who has won it all. I'm not in his head, but I've been very clear about my relationship with him. We have the doors wide open. And if he wants to come, I'm in no doubt that it can happen and he would help us. But it's up to him. It's his personal choice."
Why is Messi leaving PSG?
Sky Sports' Kaveh Sohelkol outlines where World Cup winner Lionel Messi could be heading next after it was announced he would be leaving Paris Saint-Germain in the summer

Sky Sports News reporter Kaveh Solhekol:
Messi's representatives were in talks about a contract renewal with PSG and everything was looking positive during the World Cup in Qatar but the dynamic changed and his departure from Paris suits all parties.
PSG consider the move to sign Messi as a free agent in the summer of 2021 to have been a success on and off the pitch, but sections of the club's fans have turned on the player since they were knocked out of the Champions League by Bayern Munich last month.
Messi and the team have not been performing as well as expected since the World Cup and his departure in the summer fits in with the club's new strategy of focusing on young French players instead of signing superstar talents.
Messi still believes that he can play at the highest level in Europe and Barcelona have made no secret of their desire to re-sign him this summer.
It remains to be seen whether they can afford to offer him a new contract but he is much more likely to stay in Europe than move to Inter Miami – or any other MLS club – or Saudi Arabia at this stage of his career.
Adblock test