Sergio Busquets' departure from Barcelona marks the end of an era, perhaps the end of the era. The last man from the legendary Barcelona line-up that started the 2011 Champions League final has played his final game for the club at the Nou Camp.
His impending exit has already prompted eulogies from the great and the good, a chance to celebrate the fulcrum of that special side. "He was the best," said his former coach Pep Guardiola. "He read everything that happened. Anticipated the situations."
The most famous quote about Busquets remains the best, attributed to Vicente Del Bosque, the coach with whom Busquets won the World Cup in 2010. "You watch the game, you do not see Busquets. You watch Busquets, you see the whole game."
It is a satisfying summation because for all their highlights provided by Lionel Messi, that Barcelona were not really a highlights team. It was the relentless rhythm that left the opposition despairing, depriving them of the ball. Busquets helped set that rhythm.
His teammate-turned-boss Xavi Hernandez called him the best defensive midfielder in Spain's history when attempting to assess Busquets' status in the game but that phrasing feels incomplete. It describes his position but not his role.
Robert Moreno, who was his coach at Barcelona and with the Spain national team, is unsure holding midfielder works either. "It is not the right way to describe him because, for me, a holding midfielder is mostly a defender," he tells Sky Sports. "Busquets is not that."
The only reason that Moreno, still an analyst at heart, stops short of describing him as the greatest of all-time in his position is a lack of evidence. "I do not have information from 50 years ago," he says. "But during my time analysing football, he is the best."
Busquets' interpretation of what a midfielder could and should do in that position reshaped it. Claude Makelele had a role named after him. His was a place where opposition attacks went to die. Busquets' feet were where Barca's beautiful play was born.
It was a reset for football. Just as Johan Cruyff had done a generation earlier when identifying Guardiola as the man to help execute his vision, Guardiola's surprise decision to elevate Busquets to the first team in 2008 set the game on a different path.
Cesar Menotti, the great Argentine coach and aesthete, likened seeing Busquets to seeing an extinct species. This knock-kneed midfielder was no athlete but here he was operating in the age of athletes – and somehow contriving to play at a pace all of his own.
It should have been impossible. The game had become more physical, played on the turnover and transition. But Barcelona's passing game ensured he rarely needed to graduate beyond a canter. "He did not move much from the centre," said Guardiola.
"He could solve all the problems with his brain."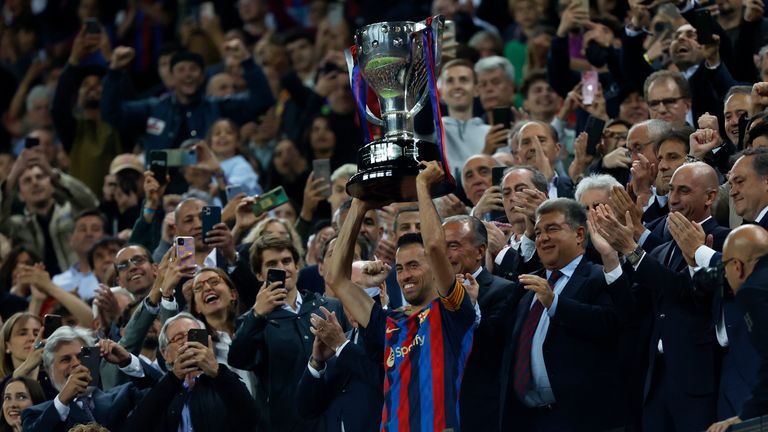 That wonders of that brain are best left for Moreno to explain.
"When I was at Barcelona, my responsibility was to do the analysis on the opposition. Before every game, I would ask him, 'Busi, what do you think?' He knew everything about the opponent. He would say, 'Well, I think we need to take care in that situation…'
"Even the referee, he would say, 'We need to take care with this referee because this referee is a little nervous.' He is incredible. It should be impossible with all the pressure on you, with all the difficulties you have around you, and be thinking about that.
"He was able to come to the bench during a match and say, 'They are doing this and we need to do that to stop them.' You are, like, what? I was in the stands with a good tactical view and he was explaining things that I was not able to analyse from up there."
His leadership was rarely vocal. He was no exhibitionist. "He was not making incredible speeches in the dressing room. That was not his way." But leadership takes many forms. Busquets was always available for his team-mates when and where it mattered.
"He is a singular case. A coach on the pitch. He understands everything. He has team-mates who do not understand the same as him but with him there you have an advantage because he helps them to decide what to do. They look at him and go with him."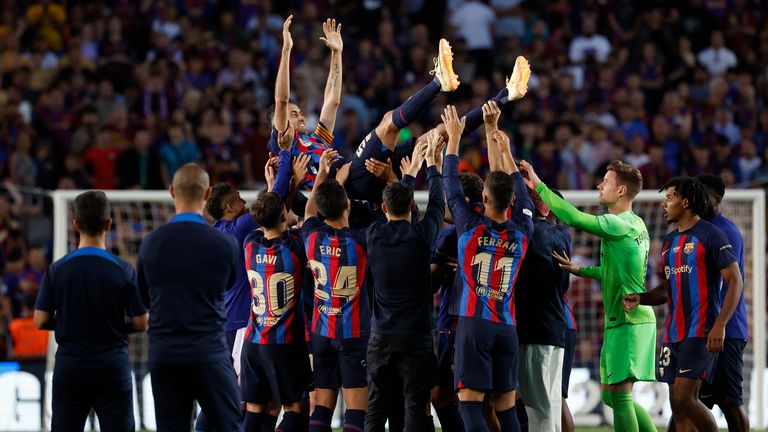 It is why Cruyff fell for him early. Busquets was only 27 when the man who built the Barcelona church died. Old enough for Cruyff to note that he had the mind of a veteran. As the great man always said, simple football is the hardest football to play.
Busquets, this player who looked like he had come from the past and from the future but would dominate the present, made it look easy.
He was Barca personified.
"He has had 15 years at Barcelona plus three years in the academy," says Moreno. "He feels a way of playing that is suitable for that team, that feels Barcelona. Maybe if he had played in another place he would not have had the same career. He is able to play that way.
"That is why I say there are not good or bad players, there are players who are adapted to that style or not. If you asked him to play for Liverpool it would be impossible for him because he is not prepared to run from one box to the other. It is not his skill.
"But if you want possession, build-up, high press after losing the ball, controlling the play on the pitch, he is the best."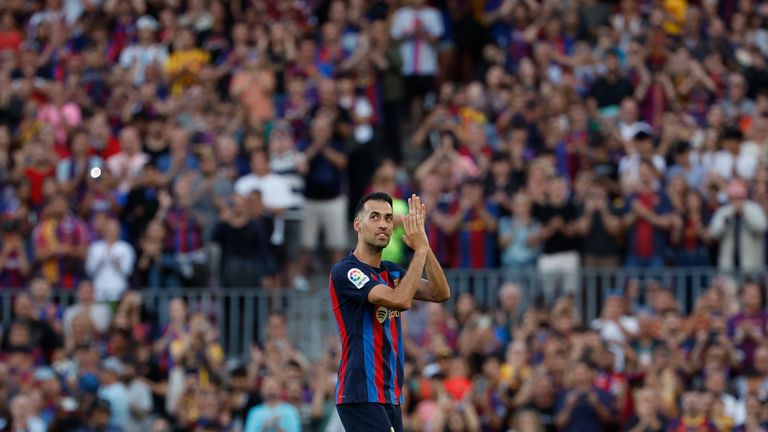 Perhaps it is his status as an outlier that explains the sense of loss. They called Messi an alien but even he seemed like an advancement on what had come before, a culmination of the increased speed of movement and mind. Busquets was different.
A little less different now than when he arrived on the scene? Possibly. "Rodri is the most similar," says Moreno. But even at a time when possession football appears to have won the argument so completely, the list of players of his type remains startlingly short.
At Barcelona, there is no obvious replacement. "Even if they had Joshua Kimmich or Aurelien Tchouameni, one of the best in that position, Barcelona would have a big gap now because it is impossible to substitute him," adds Moreno.
"That is the difference with Busquets."
Adblock test