We have been here before. Perhaps not this configuration but neither Barcelona or Wolfsburg are strangers to a Champions League showpiece.
Both sides hold European heritage but the Spaniards hold the most recent sway. They will be appearing in their third successive final, after beating Chelsea in 2021 and losing against Lyon in 2022.
Wolfsburg last featured in 2020, losing out to serial champions Lyon, but will be contesting their sixth final overall.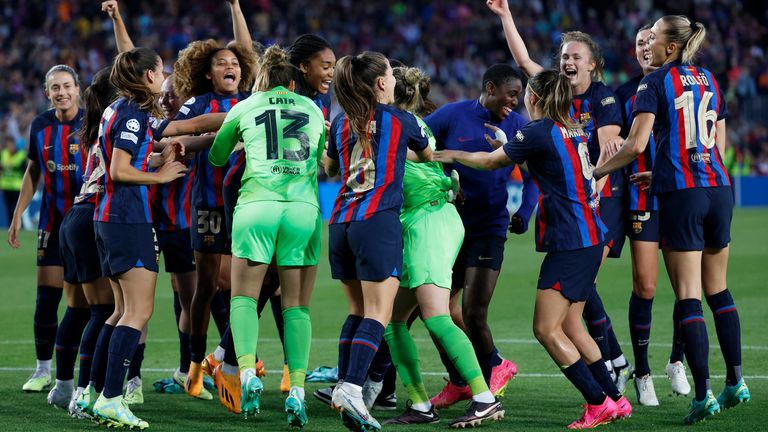 So, there's the brief overview, but the narrative is not quite as straightforward. Barcelona, heavy favourites last season and this, were stunned by Lyon in last year's final. They were 3-0 down inside 33 treacherous first-half minutes.
The key to European glory, apparently, is a blisteringly fast start. Barca were naive, picked off by the brilliance of Amandine Henry and the inevitability of Ada Hegerberg.
Some of the fault, though, can be attributed to Emma Hayes' Chelsea. Stick with it. The Blues began their 2021 final much the same way Barca approached last season's – which had a similarly devastating effect.
Barcelona blew the WSL champions away in just 36 minutes, scoring for times, with Chelsea trailing after just 33 seconds. Last year, Barca attempted to enact the same assault on Lyon, but failed to account for a much wilier, much more accomplished and adroit opponent.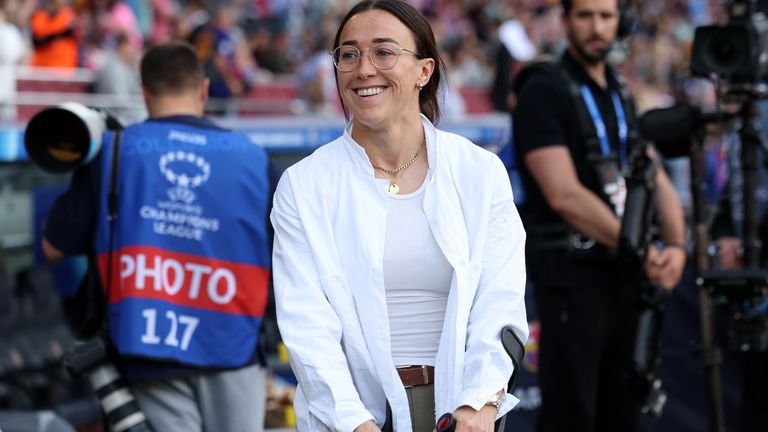 It's a mistake they can ill-afford to make on this occasion. Under-estimating Wolfsburg would be unwise. Expect a tempered start from the Germans, who will no doubt be mindful of the way the last two finals have unrivalled at such an alarming rate, and be far more pragmatic in their process.
Here's where it gets interesting. This is a game of contrasting styles. Barcelona, known for the best tiki-taka in the northern hemisphere, will not deviate from their aggressive style. They are masters of possession-based football and consider attack the best form of defence.
Record attendance expected
This season's Women's Champions League final is sold out for the first time in the competition's recent history and will set an attendance record in the Netherlands, as over 34,000 fans are expected to pack out PSV Eindhoven's Philips Stadion.
Wolfsburg, however, will attempt to do what they did against Arsenal in their semi-final tie. They tried to contain and stifle the Gunners before launching on the counter-attack, or striking from well-rehearsed set-piece routines.
There is, of course, much more fun and excitement in vibrant, energetic attackers who play at a frenetic pace, than there is in the more practical approach of setting up as hard to break down, with emphasis on being defensively robust – like the Bundesliga side do. But they too possess weapons, and Barca's backline are penetrable – their gung-ho approach allows for occasional gaps and frailties. Plus, will Lucy Bronze, who had knee surgery in April, be risked?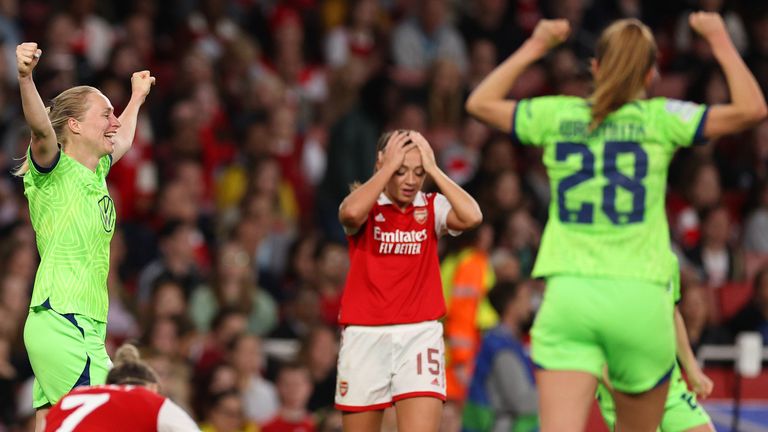 Sveindis Jonsdottir and Ewa Pajor can be explosive, while Alexandra Popp is a menace in the box. Wolfsburg can mix it up, much more versed at going direct than their Spanish counterparts, but needed a mistake from Lotte Wubben-Moy to edge past a severely weakened (thanks to injuries) Arsenal side in the last round.
Barcelona have spent this entire season figuring out how to account for the loss of captain Alexia Putellas – the midfielder has since returned from a lengthy knee injury but is not expected to start on Saturday – but have a profusion of riches in that department, including England's Keira Walsh.
Expect the midfield battle to be a key indicator of the outcome this time around – if Barca really have mastered how to compete effectively without their Ballon d'Or winner, expect there to be no stopping them.
The preamble…
Barcelona are in their third final in four seasons, their sensational 2021 4-0 defeat of Chelsea sandwiching losses to Lyon in 2019 and 2022.
Last season Wolfsburg lost 5-3 on aggregate to Barcelona in the semis, but after a heavy loss at the Camp Nou (with Graham Hansen among the scorers) did win 2-0 at home.
Giraldez: Wolfsburg are unique
Barcelona head coach Jonatan Giraldez:
"[Wolfsburg] have top-level players in every position, especially in midfield and up front.
"They are unique players at creating spaces, they are unique in one-on-ones, at playing that final pass, at shooting. They are a very difficult team to beat because of the way they defend."
Stroot: We can beat Barca
Wolfsburg head coach Tommy Stroot:
"Last year, we managed, [in one leg], to defeat Barcelona. We know what to expect and what challenge awaits us.
"Despite that, and due to our development from last season, we are capable of defeating Barcelona in a game. That will be our challenge. We know that it is the biggest challenge that we will face this year, but we also know it's possible because of the second leg we had.
"I know the stadium; it's a fantastic stadium, especially for a final and I'm incredibly excited [about] it. This is what you work towards your whole life."
Follow all the action live from Eindhoven in our dedicated match blog from 2pm on Saturday; kick-off 3pm
Adblock test