Keira Walsh may have only joined Barcelona last September but her connection with the Catalan club stretches back much further.
The world's most expensive women's footballer is targeting European success this season having been inspired by the Champions League legends of Barcelona's past.
"My dad always made me watch Spanish football because it was so technical and tactical and I was so small," she said.
"I think English football at the time was so physical and I couldn't compete in that way because I was one of the smallest on the pitch. So I think for him he tried to find a different way for me to be able to cope in the game".
It was lessons learned from Sergio Busquets and Xavi in particular that helped the Rochdale-born midfielder believe that she could thrive in the sport despite her height.
"I wasn't the biggest player so I had to find a different way of playing and I think at the time that wasn't appreciated in England. Especially when I was younger, I think people tried to change how I played and make me a little bit more physical and play longer.
"But I kind of always stuck to what my dad told me and it's worked out quite well that I'm now here playing for the team that I watched when I was younger. For me, it's an unbelievable feeling".
Follow the Women's Champions League on Sky Sports
Follow both Chelsea vs Barcelona and Wolfsburg vs Arsenal across Sky Sports digital platforms in our dedicated live blogs, including analysis and reaction.
Also follow updates from both semi-finals, plus all the latest reaction, across Sky Sports News.
Walsh is "super happy" in Catalonia following her record-breaking move from Manchester City as the Spanish giants aim to secure domestic and European silverware as the season nears its conclusion.
And there will be plenty of familiar faces in the opposition when Barcelona travel to Chelsea on Saturday for the first leg of their Women's Champions League semi-final.
Walsh and her compatriot Lucy Bronze – who also joined Barca last summer – will be looking to deny the prospect of an all-English final with Arsenal meeting Wolfsburg in the other last four tie.
Walsh said: "I think firstly, I've not played in a Champions League semi-final for a long time so on a personal note it's really exciting. Although it's good for English women's football if there was to be two English teams in the final, I think that me and Lucy will be doing our best to prevent that from happening.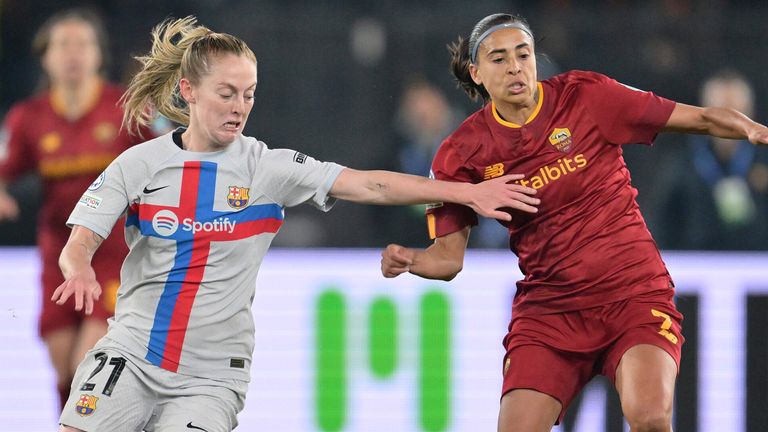 "Playing for Barcelona, the objectives we have here… we want to be in that game. Playing in those types of games is what you want and the reason I signed for Barcelona. I'm looking forward to it!"
Walsh believes she has made defensive improvements in her game since teaming up with Barca head coach Jonatan Giraldez, who is encouraging the England midfielder to become more aggressive on the pitch.
Last year, the Nou Camp hosted more than 91,000 fans for the Women's Champions League semi-final between Barcelona and Wolfsburg – setting the record for the highest ever attendance at a women's club game.
In this season's last eight stage, nearly 55,000 supporters watched on as Walsh and her team-mates thrashed Roma 5-1 in the second-leg to seal their semi-final spot.
The Lionesses star is impressed by the connection between the city and the team.
"When you are walking around the city, the fans and the people have a lot of respect for the women's team," Walsh explained.
"I've probably never felt that to this extent before and I think when you are playing at Camp Nou, it's such a special feeling. You do get goosebumps when you hear the fans and when they are banging the drums.
"I probably shouldn't watch when the game is going on but you can feel it. I think the atmosphere is incredible and I'm lucky to be a part of Barcelona".
In addition to Walsh and Bronze departing for Spain, fellow Euro 2022 winner Georgia Stanway left Manchester City following the tournament to join Bayern Munich.
Chelsea's Jess Carter reveals how she missed a day of school to make her professional debut at the age of 16 for Birmingham in the Champions League quarter-final

Manchester United forward Alessia Russo – subject of a world record bid from Arsenal on Deadline Day – is one of the WSL's current stars who could be on the move this summer, with a move abroad perhaps not as daunting as it once seemed.
"It's not easy the first few months, I'm not going to pretend that it was all plain sailing for me because it wasn't when I first come over," Walsh reflected.
"I did find it difficult but for me to improve as a person and as a player I needed to come out of my comfort zone and this is where I felt was the best opportunity.
"For me, it's hopefully going to take my game to the next level and I can feel myself improving and I think it was a great decision to come here and I'm really happy about it".
With a Barcelona tantalising close to sealing the Liga F title and with a Champions League last four tie and World Cup this summer on the horizon, there could be plenty more for Walsh to smile about soon.
Adblock test