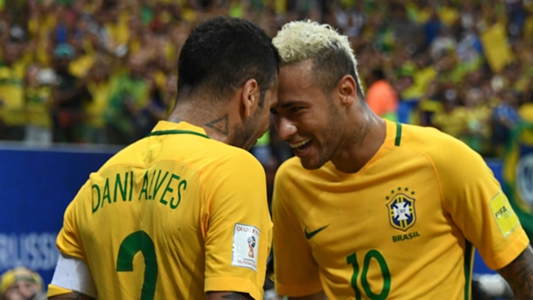 Neymar, Philippe Coutinho, Dani Alves and Gabriel Jesus have taken in a spot of foot tennis while away on international duty with Brazil.
Star turns from Ligue 1 and the Premier League decided to take a break from training to showcase their skills on a Teqball table.
Brazilian legend Ronaldinho helped to launch the sport back in 2016, with his fellow countrymen clearly fans.
With squad pride on the line as the current Selecao squad bring the curtain down on their 2018 World Cup qualifying campaign, Paris Saint-Germain forward Neymar teamed up with Liverpool playmaker Coutinho to battle with club colleague Alves and Manchester City striker Jesus.
Es viernes y @DaniAlvesD2, @gabrieljesus33, @neymarjr y @Phil_Coutinho saben cómo pasarlo bien. #FridayFeelingpic.twitter.com/o2Q8dUbj4E
— FOX Deportes (@FOXDeportes) October 6, 2017
On this occasion, Coutinho let his side down as he conceded a point by dropping a shot beyond the edge of the table.
All four men on show, though, will be hoping to make a telling contribution on Wednesday when Brazil take on Chile.
Brazil 3/4 v Chile
Tite's side are already assured of their place at next summer's showpiece in Russia, as they are to progress as table-toppers in the CONMEBOL section.
Let'