COMMENT: A return to form – and the bravery to try the outrageous – has helped the Brazilian and the Reds re-emerge as contenders in 2015

By Liam Twomey
For Brendan Rodgers, Sunday's pulsating win over Manchester City at Anfield must have felt like validation. After a five-month identity crisis followed by almost three months of solid progress, Liverpool's best performance of the post-Luis Suarez era finally yielded a statement result.
That Philippe Coutinho should be the one to score a brilliant winner was especially fitting. Only 11 months ago the Brazilian pounced on a Vincent Kompany error to vanquish the same opponents and set Liverpool on course for a first league title in 24 years with four matches left. A fortnight later Jose Mourinho intervened, glory slipped away and in the summer that followed, talisman Suarez departed for Barcelona.
The fortunes of Coutinho and Liverpool have been intertwined ever since. Shorn of Suarez, plunged into expensive rebuilding and deprived of the injured Daniel Sturridge, an attacking system founded on lightning transitions and relentless motion lost all capacity and conviction. Now Rodgers' men are back, the form team of the Premier League, and their Brazilian No.10 is the best and most exciting player in England in 2015.
Coutinho suffered as much as anyone during Liverpool's slump, creating just 10 chances from open play before the turn of the year for a side that netted just 26 goals in its first 19 Premier League games, compared to 44 at the same stage last season. The New Year has seen him create 16 chances from open play in just eight matches – a better total than Cesc Fabregas and Mesut Ozil and on par with Christian Eriksen and David Silva.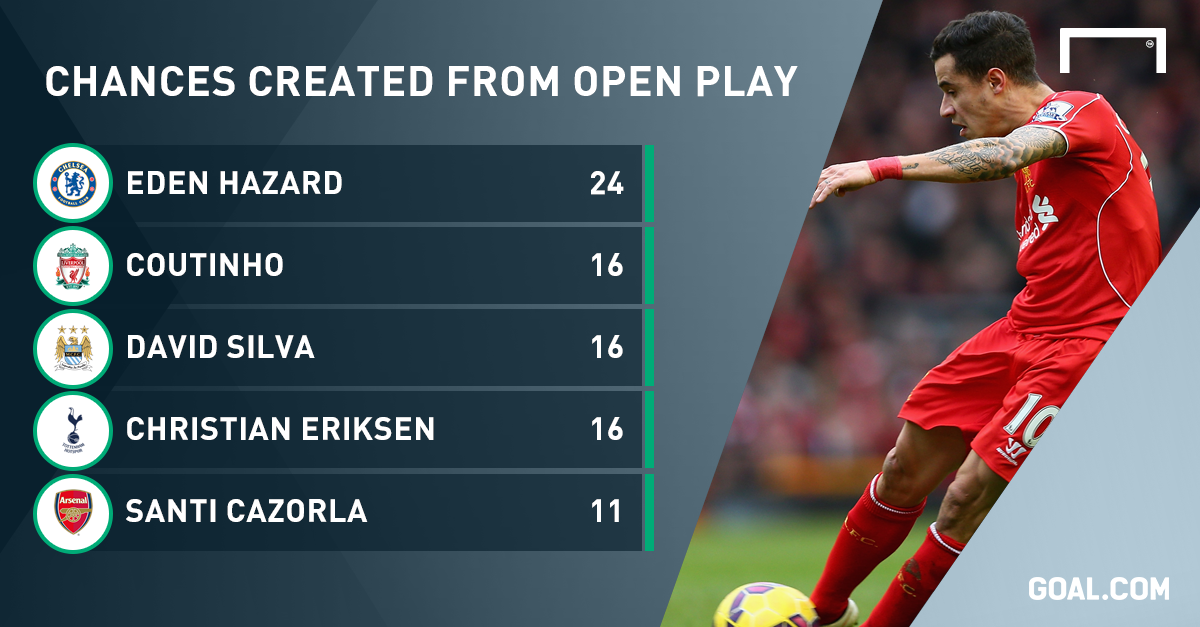 *Since January 1. Stats provided by Opta
Much of the credit must go to Rodgers for implementing a fluid 3-4-3 system that has again surrounded Coutinho with the pace and width he needs. "I think that period the team suffered at the start of the season, with our lack of penetration at the top of the field – he is the player that thrives on that," the Liverpool boss admitted earlier this week. "He is normally the player that makes the last pass for those players running in to score the goals.
"We didn't quite have that in the opening months. He had to stay longer on the ball and wasn't as effective, but now the dynamics in the team are very good, with the pressing and the movement off the ball."
Coutinho is not a possession footballer. He is a gambler in the most thrilling sense, one whose first thought is to commit defenders with a clever feint, driving run or incisive pass. It is telling that as his best form has returned and his productivity in terms of chance creation has increased, his pass accuracy in the final third has significantly dipped. After all, there is no reward – and precious little entertainment – without risk.
Passion and industry command instant respect in English football but it is the audacity of flamboyant talent that truly wins hearts. Gianfranco Zola and Dennis Bergkamp had their legacies defined more by the moments their genius created on the pitch than trophies won or other more tangible achievements. Coutinho is already known around Anfield as "The Little Magician" and, at 22, has plenty of time and room to grow.
"He offers that gold dust to how we play," Rodgers added. "If you see videos of him playing futsal when he was 11 or 12 in Brazil, he's playing the same game now only as an adult. We knew he had ability, it was just about trusting that ability and allowing it to grow. He has a beautiful arrogance on the ball, his touch is magical but he's effective and efficient with it. Playing here at Liverpool, with the dynamics of how we want to work, is perfect for him."
One obvious area of improvement is goalscoring. Coutinho has never netted more than five in a season and last month revealed he routinely stays behind at Melwood after training to work on his finishing. Two sensational long-range strikes in a week – taking his season's tally to four – suggest progress is being made.
"He is a player that has always assisted and made the final pass in his career," Rodgers insisted. "He is a very selfless player and a very humble young guy and would rather create for others. But his technique is at a high, high level so he is going to score more goals."
If he does, Coutinho shows every sign of becoming a genuine superstar, and the new contract keeping him at Anfield until the summer of 2020 is an even better business move than the £8.5 million that brought him from Inter in January 2013. "It's frightening to know what he could be worth now," Rodgers admits.
One can only hope the moments he goes on to create remain every bit as priceless.
Follow Liam Twomey on