Philippe Coutinho has finally secured his dream move to Barcelona, signing from Liverpool for a club record fee of €160 million.
The Brazil international is a brilliant signing for La Liga's leaders, but gives manager Ernesto Valverde a selection headache when deciding where best to play the 25-year-old.
Similarly, FIFA 18 gamers have a Coutinho conundrum on their hands if they usually play as Barcelona in Online Seasons or Career Mode.
To make it easier for Valverde and eSports players, Goal investigates what you should do with Coutinho at Barcelona.
---
Coutinho's best position at Barcelona in FIFA 18
---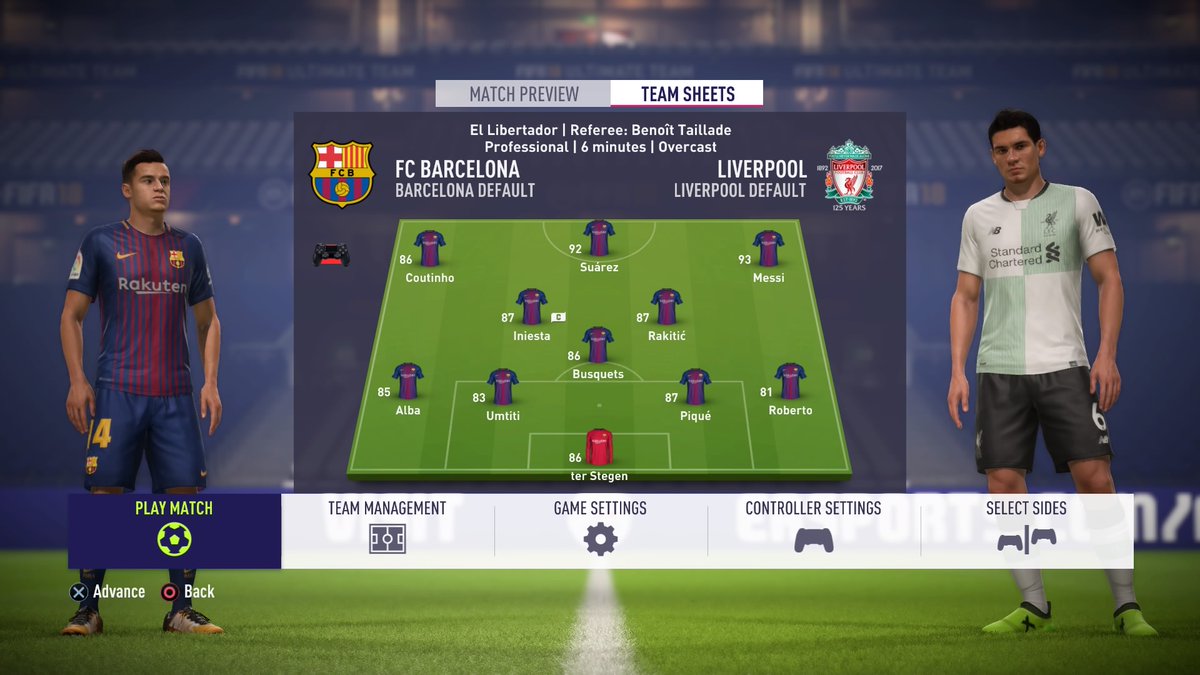 The simplest and most obvious role for Coutinho is the one his in-game version is assigned to automatically. In FIFA 18, Coutinho is a left-winger by default, and is Barcelona's highest-rated player in that position after his January transfer.
Gerard Deulofeu currently occupies that role in the default Barcelona 4-3-3 formation, but Coutinho is a big improvement on the former Everton wideman overall. This will give the Blaugrana an unstoppable attacking trio of Coutinho, Luis Suarez and Lionel Messi.
With Ousmane Dembele now available after injury for Valverde (and always available in game for FIFA 18 players), another option is to have a front three of Coutinho, Suarez and Dembele, with Messi dropping back into midfield to dictate the game from there.
Alternatively, Coutinho's excellent passing and dribbling ability mean he could be used as part of Barcelona's midfield three or else on the left in a four-man midfield. With Andres Iniesta, Ivan Rakitic, Sergio Busquets and Paulinho competing for central midfield spots, there is an abundance of choice in the middle of the park.
A 4-1-2-1-2 or 4-4-2 approach would allow for Messi to partner Suarez in attack so depending on your playstyle, it could be an excellent formation with Coutinho wide left or in central midfield. If you really want to pack the midfield, Barcelona have enough quality centre-backs to even play a three-at-the-back formation with Gerard Pique, Javier Mascherano and Samuel Umtiti protecting Marc-Andre ter Stegen's goal.
---
FIFA 18: Coutinho's Barcelona stats
---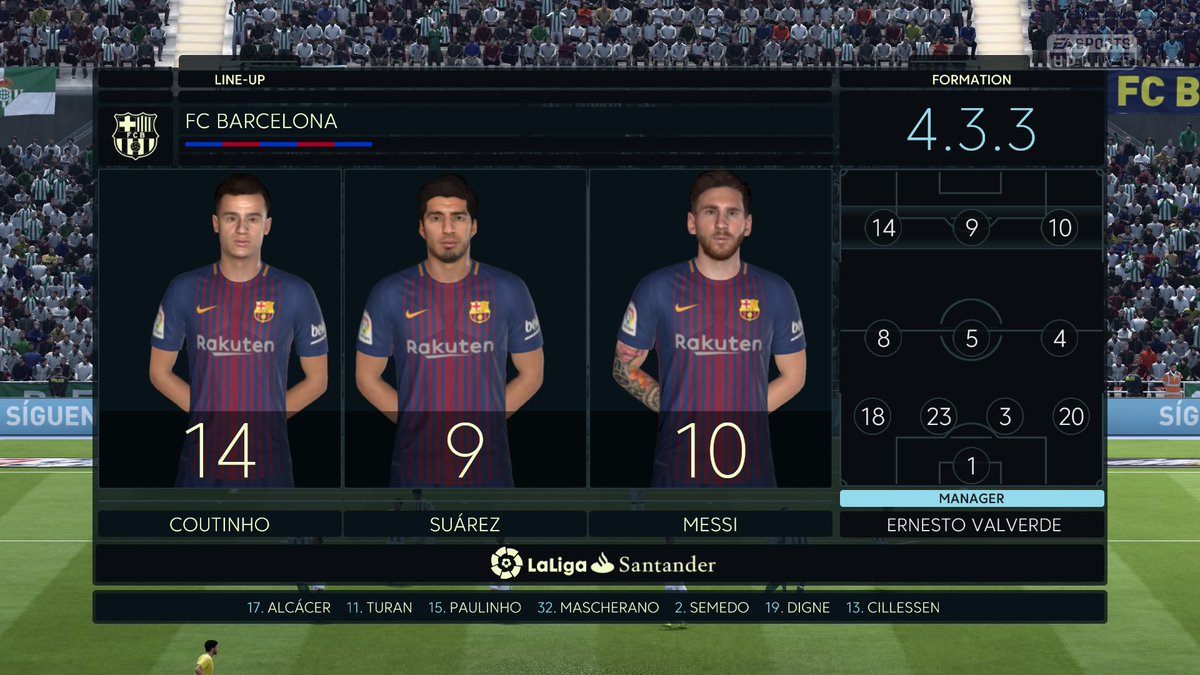 The only drawback about playing Coutinho as a left-winger in a world-class three-man attack is his pace rating compared to some of Barcelona's forwards. As always, pace is important in FIFA 18.
Neither Suarez nor Messi have over 90 pace, and Coutinho's 82 pace is much less than the 93 score of Deulofeu or Dembele's 91 pace stat. However, the former Liverpool attacker makes up for his lower pace stat with higher shooting and passing scores than both Deulofeu and Dembele, and the same dribbling rating as the latter.
He also has a four-star weak foot meaning he can pass and shoot from both sides, as well as four-star skill moves which ensure he can do almost every trick and flick in FIFA 18. Only Dembele has five-star skill moves from the entire Barcelona squad.
| Player | Pace | Shooting | Passing | Dribbling |
| --- | --- | --- | --- | --- |
| Philippe Coutinho | 82 | 78 | 83 | 88 |
| Gerard Deulofeu | 93 | 70 | 75 | 87 |
| Ousmane Dembele | 91 | 76 | 75 | 88 |
| Ivan Rakitic | 65 | 84 | 86 | 82 |
| Andres Iniesta | 71 | 70 | 87 | 90 |
| Sergio Busquets | 40 | 59 | 79 | 74 |
| Andre Gomes | 68 | 71 | 78 | 78 |
| Arda Turan | 71 | 73 | 81 | 84 |
| Paulinho | 76 | 74 | 74 | 77 |
| Denis Suarez | 79 | 74 | 81 | 83 |
Coutinho's in-game workrates are also fantastic with high attacking and high defending, meaning he will track back to help out in midfield or defence and then burst forward quickly to build counter-attacks.
His pace may be less than Barca's other attackers, but is higher than all of their central midfielders, including Denis Suarez, Rafinha and Andre Gomes. Only Iniesta has better dribbling than him, and his four-star weak foot easily allows him to spread the play from the centre of the park.
Coutinho's 88 long shot rating means he is a danger from outside the box, and he also offers another option from free-kicks when Barcelona are awarded a set-piece within shooting range. His shot power, free-kick accuracy and curve ratings are all above 80, meaning he can take frees from anywhere – and score.
---
FIFA 18: Coutinho's Barcelona potential
---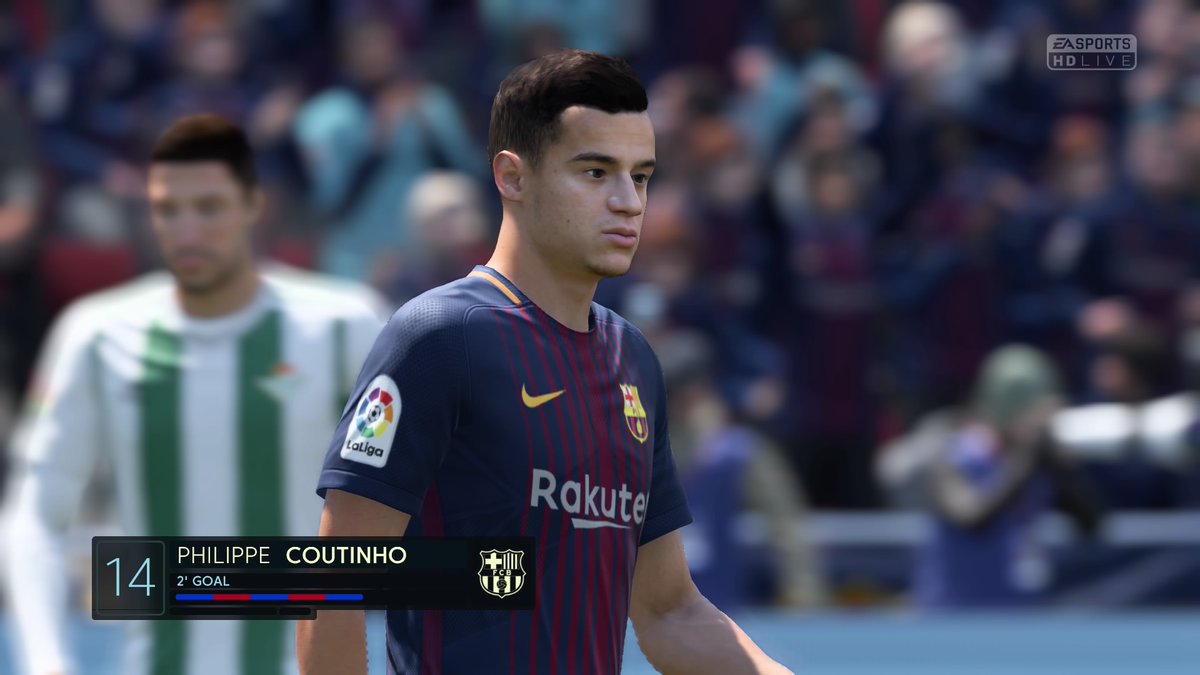 As well as experiencing the joy of playing with Coutinho at Camp Nou in Online Seasons, many FIFA 18 players will want to see how the Brazil international develops at Barcelona in Career Mode.
How will Coutinho do at Barcelona? Will he help them to La Liga and the Champions League? He played in six different seasons with Liverpool, but won no trophies at Anfield, so is eager to bag some team honours to go with the individual honours he has to his name like being named Liverpool's player of the year twice and his inclusion in the Premier League Team of the Year and the Europa League Team of the Season.
Coutinho is currently rated 86 overall in FIFA 18, but has the potential to reach 89 in career mode using the current database. EA Sports release updates to the database throughout the year, which means that current and potential ratings can fluctuate depending on their real-life performances. His transfer to Barcelona could increase his potential rating further. For example, Dembele has a current rating of 83 but a potential of 92, which is a big increase on his 78 current and 90 potential ratings when he was with Borussia Dortmund.
Deulofeu has an 89 potential rating in FIFA 18, having already got a one-point increase from when the game was released in September. Nobody would believe that Deulofeu will end up being a better player than Coutinho in the short or long term, so EA Sports will surely update the Brazilian's potential rating to reflect his status as the current second most expensive player ever.
Let'