Philippe Coutinho's Barcelona dream is close to being fulfilled. After failing to sign the Brazilian from Liverpool in the summer, the Catalan club are back in for the 25-year-old in the winter window and a transfer should be completed some time this month.
Ever since Neymar left Barca in the summer, Coutinho was the top target for the Blaugrana along with Ousmane Dembele. The latter did arrive in a deal that could rise to €150 million, but the former was made to wait as Liverpool played hardball.
Negotiations went to the wire on deadline day, but the Reds refused to budge. Six months on, however, talks are set to take place once again and the player is keen on a transfer, even though he would not be able to feature in the Champions League until next season after already playing in the competition for Liverpool this term.
So how would he fit in at Barcelona? Will he be used as an attacker in Neymar's vacant role on the left? Will his signing signal a return to 4-3-3? Will he play in Andres Iniesta's position? Or could he feature in a four-man midfield for the Catalan club?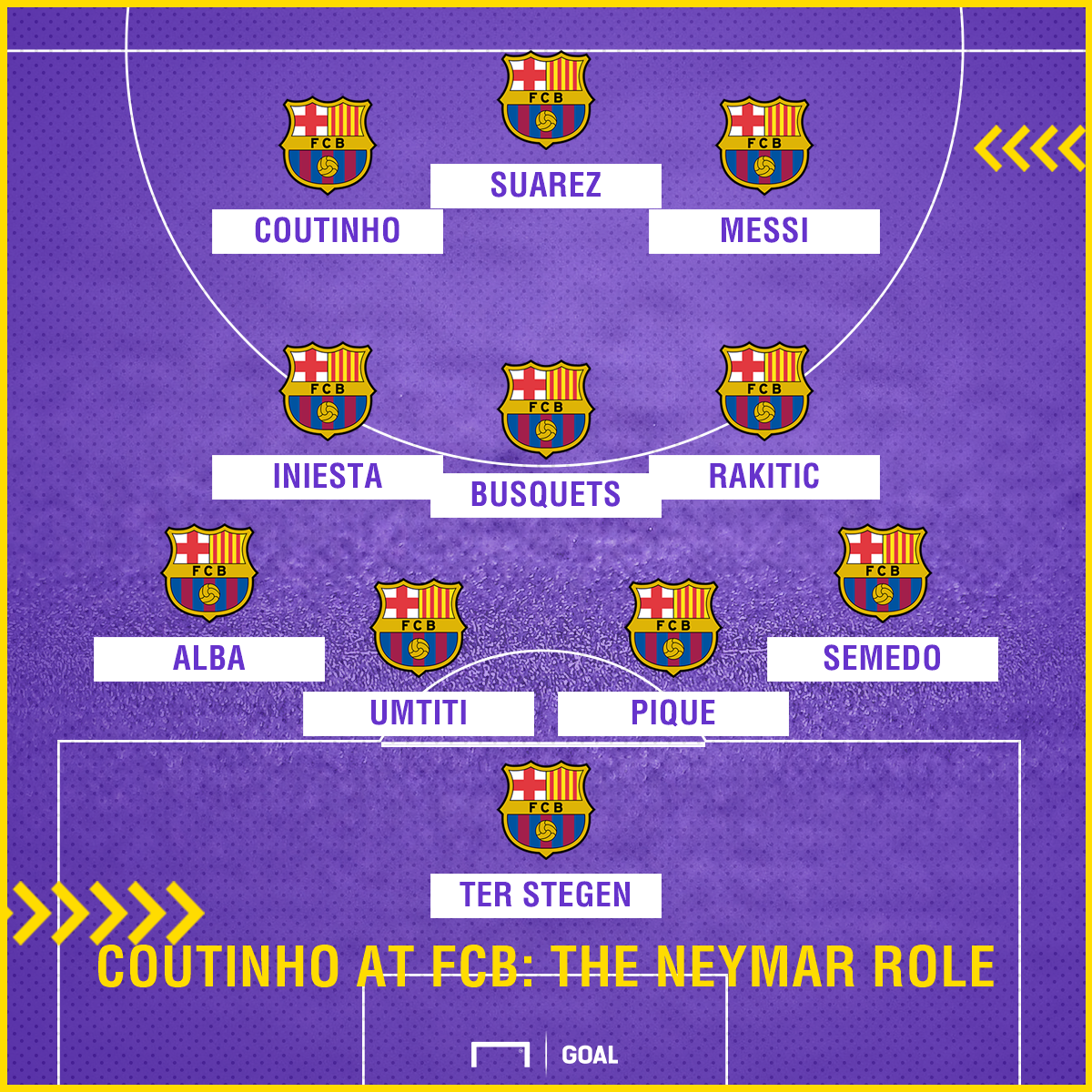 The answer, quite probably, is "yes" to all of those questions. Barca boss Ernesto Valverde has utilised several systems already this season, including 4-3-3. 4-2-3-1, 3-5-2 and above all 4-4-2, and he will see Coutinho as a player who can slot into any of those formations.
If selected in Neymar's vacant role as a left-sided forward, Coutinho would start alongside Luis Suarez and Lionel Messi. The MSN may be long gone, but this strikeforce has the potential to be devastating too and it could also operate with the Argentine in a deeper role and Dembele on the right, or without Suarez at all if necessary.
Coutinho often plays on the right for Brazil to allow Neymar to operate in his favoured position, but the Liverpool attacker prefers to play on the left and could yet be a like-for-like replacement for the Paris Saint-Germain forward at Camp Nou.
Neymar revealed back in September that Coutinho was in a "moment of great sadness" after his move to Barcelona failed to materialise and another former Brazil and Blaugrana icon, Rivaldo, has tipped the Liverpool man to shine at Camp Nou.
"Coutinho is a very good player and if he ends up signing for Barcelona, he will succeed easily," he said recently. "I think he has the characteristics that a footballer needs to succeed in Barcelona. The style of play will suit him and fans will give him time to adapt. I think he will succeed."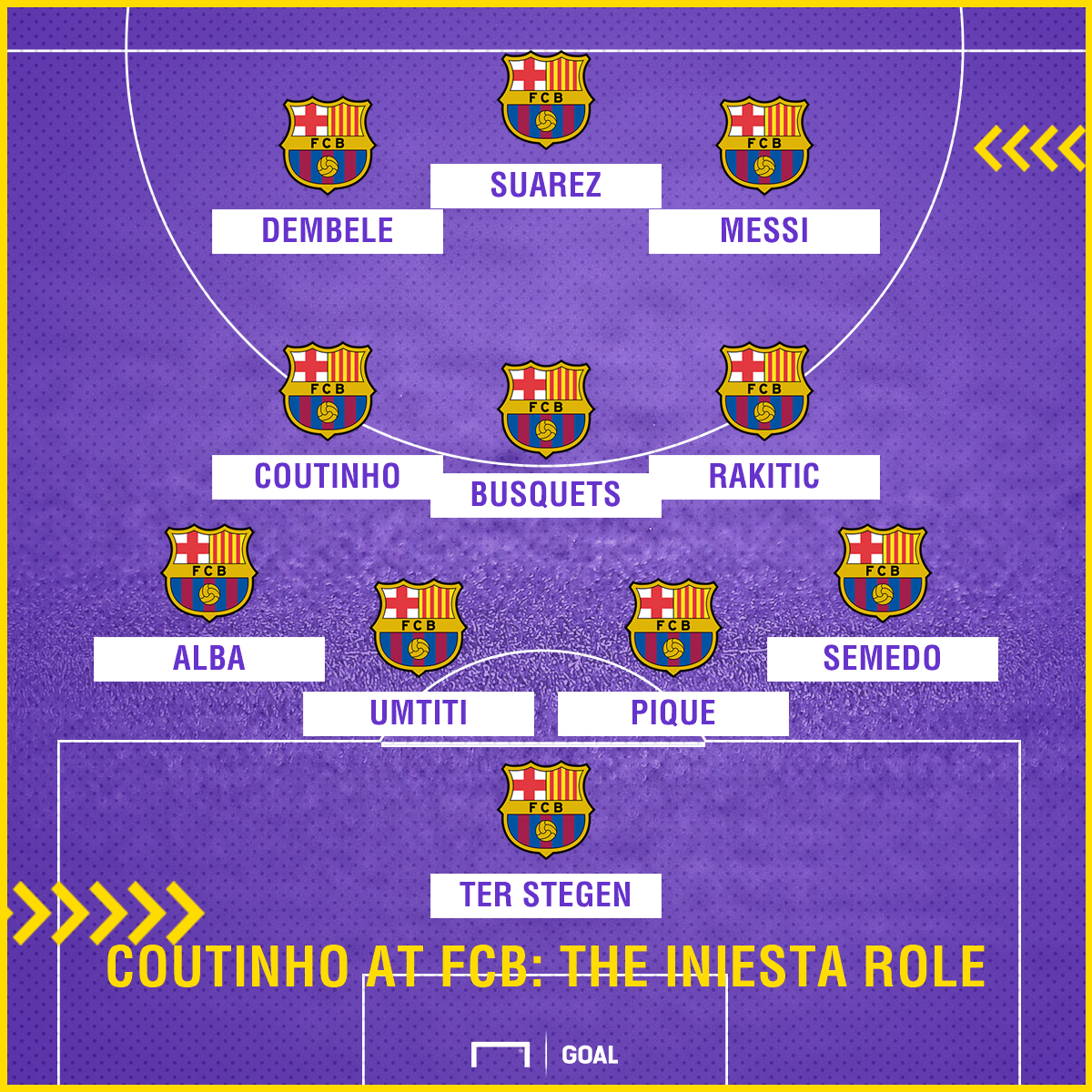 Time will tell, of course, but following the signing of Dembele, it seems Barcelona see Coutinho as more of a long-term replacement for Iniesta in a midfield role like the one he has excelled in this season at Anfield, and in the meantime a player who can alternate with the Spain star in his twilight years.
Iniesta has already featured heavily for the Catalan club in the current campaign and that has surprised many given that he can no longer play every week over a long season. However, with Coutinho on board, he could be kept fresh for the biggest tests later in the season (notably the Champions League, for which the Brazilian would be cup-tied anyway).
"I see him as a great link-up player, with so much talent," Iniesta said in December. "He uses both feet, he scores goals, he combines up really well, he can link between the midfield and the attack.
"He is a player with a profile that fits well with ours and he would be a great signing if he arrives. I don't see him as competition for me, but as a boost for the club."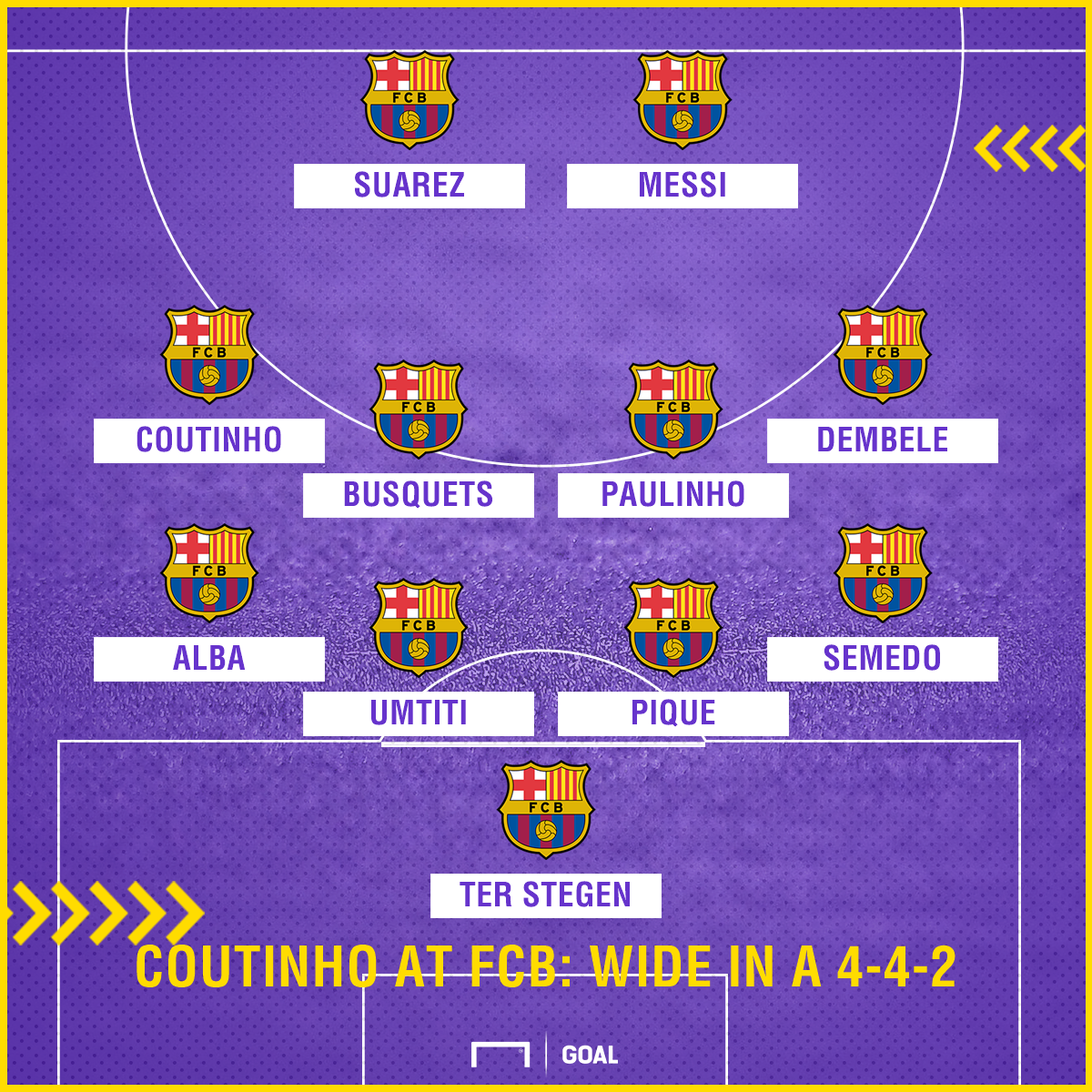 That is the thinking for Valverde as well and one of the conclusions from last season, when Barca missed out on La Liga to Real Madrid and exited the Champions League at the quarter-final stage, was the need for a larger and stronger squad.
When Neymar left, Barca decided to go for two top players (Dembele and Coutinho) instead of one, while Paulinho and Nelson Semedo have also added to the quality of the group since arriving in the summer.
Another alternative for Valverde is to stick with 4-4-2 and utilise both Coutinho and Dembele as wingers, something he has tried with other wide players already this season, with Suarez further forward and Messi dropping deep to link between midfield and attack.
"We will see if he comes or not," Valverde said on Wednesday when asked about Coutinho ahead of his side's Copa del Rey clash against Celta Vigo. "He is a great player. We respect Liverpool and we respect the player."
That was a suitably diplomatic response from the Barca boss, but it is likely that the 53-year-old already knows he will arrive and also how he will fit in at the Catalan club. And wherever he is used, Coutinho will make this team stronger for the remainder of this season and also in the years to come.
Let'