Lionel Messi is said to be "shocked" and "surprised" at the dramatic revelation on Thursday that Barcelona could not re-sign him.
The Argentine is at his home in Barcelona, taking time with his father and agent Jorge to come to terms with what has happened and analyse his options for the future.
On Thursday night, on the same day that Messi returned to Catalonia following his post-Copa America holiday, Barca announced that Messi is to leave the Nou Camp and conclude his 21-year association with the La Liga giants.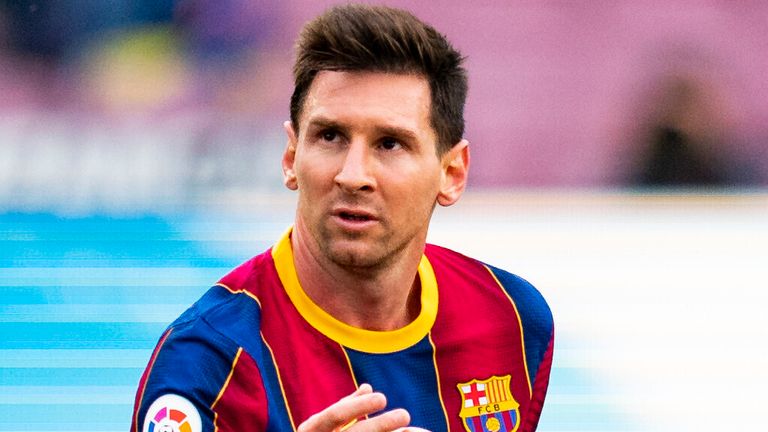 Messi travelled to Barca on Thursday expecting to agree on the details of the announcement of his new five-year deal, which would see his salary reduced by 50 per cent and discuss preparations for the Joan Gamper trophy game on Sunday.
Messi thought everything was agreed and ready to go forward – but instead he was told it was not possible to register him in line with La Liga financial rules. President Joan Laporta, speaking in a press conference on Friday morning, laid out the deep financial mess that has meant they cannot afford a new contract for the 34-year-old.
Barcelona's record goalscorer offered to reduce his wages further and renegotiate other terms in discussions with the club on Thursday.
However, even under Messi's proposed salary in their wage structure, they are still spending 95 per cent of the club's income on player wages.
Messi wanted to stay at Barcelona and has not considered any other clubs this summer. He has had no plan B.
But Messi and his father are now open again to joining another club and they will begin listening to offers in the coming days.
Barcelona must renegotiate the contracts of other high earners, and sell others, to balance the books.
This is a clear indication that there appears to be no way back for him at Barcelona.
Messi became a free agent on July 1 after his previous deal expired on June 30 and Paris Saint-Germain are currently leading the race for the forward's signature.
PSG are making progress in talks to sign Messi, believe they have a good chance of completing the deal and can afford to sign him without breaking any financial fair play rules.
They have already signed free agents Gianluigi Donnarumma, Sergio Ramos and Georginio Wijnaldum this summer.
Good Morning Transfers takes a closer look at the timeline of events which has led to Lionel Messi leaving Barcelona

A move to PSG would see a reunion with his former team-mate Neymar, the prospect of challenging for trophies, and being part of a new 'project' at the Parc des Princes under manager and compatriot Mauricio Pochettino.
The PSG boss spoke to the media on Friday and said: "Regarding Lionel Messi, we all saw what happened yesterday.
"But I won't say anything other than that we are focused on beating Troyes [on Saturday] and starting the season well.
"At the same time, our sporting director and president are working hard to improve the team in whichever areas we can."
There are other clubs along with PSG considering making Messi an offer.
As well as PSG, Manchester City, Argentinian side Newell's Old Boys, and a move to the MLS in the USA have been touted as the most likely potential future destinations for Messi.
Messi has won the Ballon d'Or six times and is Barcelona's record goalscorer with 672 goals in 778 appearances.
The Argentina international has won 35 major titles at club level since making his debut in 2003 – 10 La Liga titles, four Champions League crowns, seven Copa del Rey trophies, three Club World Cups, three European Super Cups and eight Spanish Super Cups.
The developments come a year after Messi handed in a transfer request with 12 months of his Barca deal remaining, but was stopped from leaving at the time because of the €700m (£629m) buy-out clause in his contract.
South American football expert Tim Vickery thinks it does not make commercial sense for Barcelona or La Liga to let their biggest asset depart in the shape of Lionel Messi

Laporta: Messi wanted to stay | La Liga rules prevented new deal
Barcelona president Laporta says La Liga's Financial Fair Play regulations prevented the club from offering Messi a new contract, despite the fact that the forward wanted to stay at the Nou Camp.
Messi had agreed terms over a five-year contract extension with a wage reduction of 50 per cent, but the club said the two parties failed to reach an agreement because of "financial and structural obstacles" which prevented the offer from being fulfilled.
Barcelona president Joan Laporta has played down the chances of Lionel Messi staying at the club

Laporta also took aim at the previous Barcelona hierarchy's economic management of the club prior to his re-election as president earlier this year, their total debt is now estimated to be over €1bn (£849m).
The level of debt has worsened because of the economic impact from the coronavirus pandemic, and the club is operating on a restricted budget ahead of the new season.
He told a press conference on Friday: "The inheritance we have received is awful. The salary mess is 110 per cent of total income of the club. No margin in terms of salary.
"Rules and regulations of La Liga is regulated by financial fair play. We knew we didn't have any margin when we came in.
"When we got here, the numbers presented after the first conclusions of the audit, those numbers are a lot worse than those exposed initially and those we were working with.
"That means that losses are bigger than what we expected, and what we are spending is more than expected. The current contracts mean we have a salary mess of great magnitude. That is why we could not fit in with the first contract agreed with Leo Messi."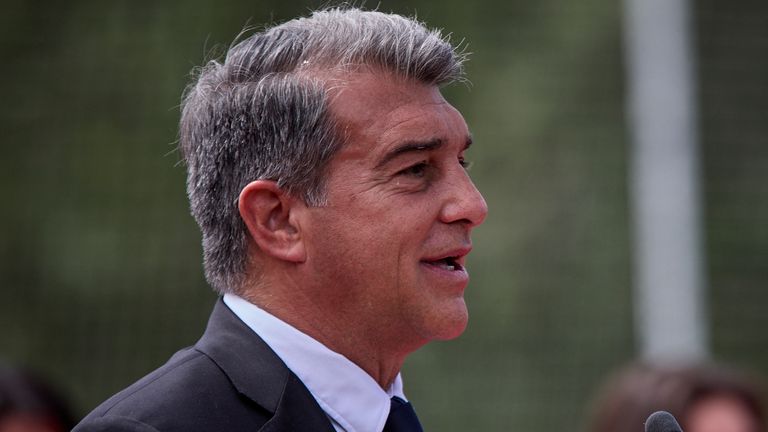 Barcelona joined rivals Real Madrid on Thursday in denouncing a proposed multi-billion-dollar investment and revenue-sharing deal between La Liga and private equity firm CVC.
The Spanish football league on Wednesday announced that CVC would inject 2.7 billion euros (£2.3 billion) into La Liga in exchange for 10 per cent of its revenue and a 10 per cent stake in most of its business, with 90 per cent of the injection going to clubs.
However, Laporta said the club could not agree to this deal because of the impact it could have on Barca for the next 50 years.
"Barca had to agree to an operation that would affect the club for the next 50 years in terms of TV rights. I cannot make a decision that will affect the club for the next 50 years," he said.
"The club is over 100 years old and above everyone – coaches, players, presidents – including the best player in the world."
Barca have signed three free agents so far during the summer transfer window, Sergio Aguero, Eric Garcia, and Memphis Depay, along with right-back Emerson Royal who has joined for £8m from Real Betis.
The club have held talks with vice-captains Gerard Pique, Sergio Busquets, and Sergi Roberto about reducing their salaries by 40 per cent in return for contract extensions.
They have also been trying to sell several high earners including Antoine Griezmann, Ousmane Dembele, Philippe Coutinho, Samuel Umtiti and Martin Braithwaite.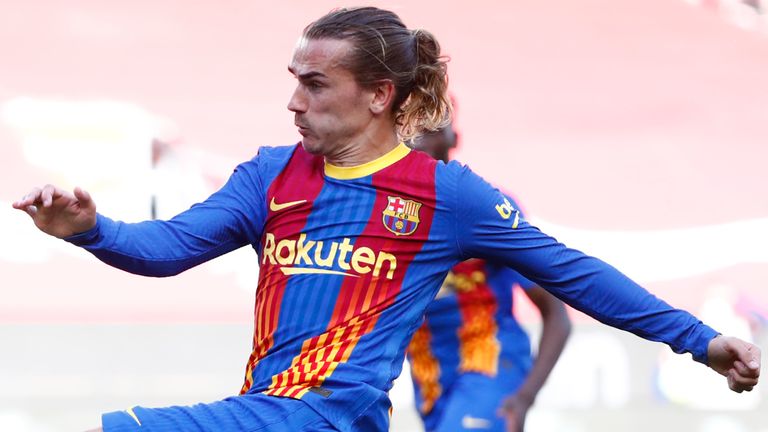 Why Barcelona can't afford a new deal for Messi
Analysis from Sky Sports News reporter Kaveh Solhekol…
Under La Liga's Economic Control rules, each club has a set total operating budget for the season (depending on their circumstances) which includes wages and money spent on transfers, including signing-on fees.
It may be convenient to blame La Liga for Messi "leaving" but the Spanish league would say that Barcelona signed up to the Financial Fair Play rules in 2011/12 and the rules have been effective in helping to stabilise club finances.
Barca have been trying to sell players to raise funds and to lower their wage bill, but simultaneously they have signed free agents like Memphis Depay and given them big contracts and signing-on fees.
One solution would be for Messi to accept a smaller signing-on fee and lower wages which would fit into the operating budget Barcelona must stick to.
Manchester City and Paris Saint-Germain are likely to be among the leading clubs that Lionel Messi may join after his departure from Barcelona, says Spanish football expert Alvaro Montero

Relations between the two largest clubs in Spain and La Liga are at an all-time low. There has never been much love lost between Real Madrid and Barcelona and La Liga president Javier Tebas.
Tebas has a near-impossible job because many would argue that Real Madrid and Barcelona have more financial clout and are more powerful than the Spanish league and its other 40 member clubs.
Tebas said last month that there would be no leniency shown to clubs when it comes to Financial Fair Play regulations.
"The rules are what they are and everyone must comply with them, from Barcelona to (second division side) Alcorcon," he told Spanish network La Sexta.
El Clasico rivals Barca and Real Madrid are in an ongoing dispute with La Liga about the formation of the so-called breakaway European Super League.
French football expert Jonathan Johnson believes Neymar, Angel Di Maria and Leandro Paredes could help PSG to persuade Lionel Messi to join the club on a free transfer

They are also at loggerheads over plans for private equity firm CVC Capital Partners to invest £2.3bn to buy a 10 per cent stake in La Liga.
While other clubs are broadly in favour of the plans, Real Madrid and Barcelona do not want to "give away 10 per cent" of their broadcast income to outside investors.
They are also concerned that the new money pouring in would strengthen La Liga and render their own dream of forming a Super League even less likely than it appears at the moment.
Messi has played his last game for Barcelona game unless A) He negotiates a new contract which Barcelona can afford, or B) La Liga somehow change their economic control rules to accommodate Barcelona and Messi which is extremely unlikely.
Adblock test