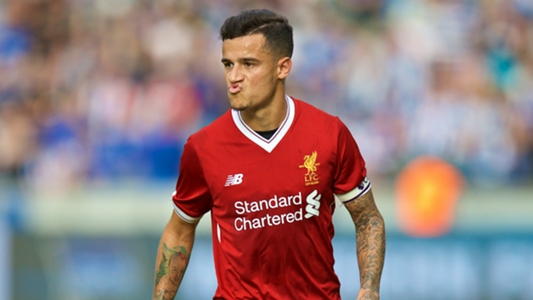 Liverpool should sell Philippe Coutinho to Barcelona for £130 million next summer and reinvest the funds on a new defence, says Dean Saunders.
The Reds spent much of the most recent transfer window fending off advances from Camp Nou as their Brazilian playmaker became a top target for the Liga giants.
Reds beat Burnley, Firmino FGS – 9/2
Several offers were knocked back, with Liverpool making it clear that they would not be sanctioning a sale in 2017.
They have already shown that they can cope without Coutinho at the start of the current campaign, but their defensive frailties remain and Saunders believes a big-money departure could actually help the club in the long run – with as many as five fresh faces required at Anfield.
The ex-Reds striker told talkSPORT: "If Liverpool want to win trophies, if they want to get to that next level, they need to improve their defence.
"One way around that would be to sell Coutinho next summer for £130 million and buy three new defenders and a defensive midfield player…and maybe a goalkeeper as well.
"Liverpool's front three are already brilliant, so I'd take the money for Coutinho and that's one way you can get the back-four better.
"I wonder if the manager is sitting there this morning thinking, 'is my back-four good enough to go where I want to go with this team?'
"Would Loris Karius get in Manchester United's team? Would Joe Gomez? Would Alberto Moreno? Would Joel Matip or Dejan Lovren or Ragnar Klaven?
"Go through the seven best teams in Europe, none of those players are getting in those teams, so as a manager you sit there and think, 'are they good enough, and if not what can I do about it?' He could change the way they play to protect them a little bit more, or change the personnel.
"They are not far away, Liverpool. But again, great teams can win games 1-0, and at the moment Liverpool can't do that against the top teams."
Liverpool's latest struggles at the back saw them held to a 2-2 draw at home by Sevilla in the Champions League, with a number of former players having been quick to question Jurgen Klopp's side.
Dietmar Hamman has suggested that the Reds are "top heavy" and "unbalanced", while Manchester United legend Roy Keane says the European elite will be "laughing at Liverpool" if they make the latter stages of continental competition.
Let'