Philippe Coutinho is a happy man. Left frustrated as his prospective move to Barcelona from Liverpool failed to materialise in the summer, the Brazilian finally completed his transfer to Camp Nou on Saturday. And he made all the right noises at his official presentation on Monday.
Not so long ago, it was Neymar trying to persuade his international team-mate to join him at the Catalan club, and although the two men will not be colleagues at Camp Nou after the former Santos forward left for Paris Saint-Germain in August, it is that transfer that ultimately led to this one.
When Neymar departed in a world record €222 million move, Barca immediately set their sights on Ousmane Dembele and Coutinho. The French forward arrived in the summer for an initial €105m, Coutinho on Saturday in a €160m package.
The Brazilian was picked up at the airport by a close friend, former Liverpool team-mate Luis Suarez, and watched on television as Barcelona beat Levante 3-0 in La Liga on Sunday afternoon.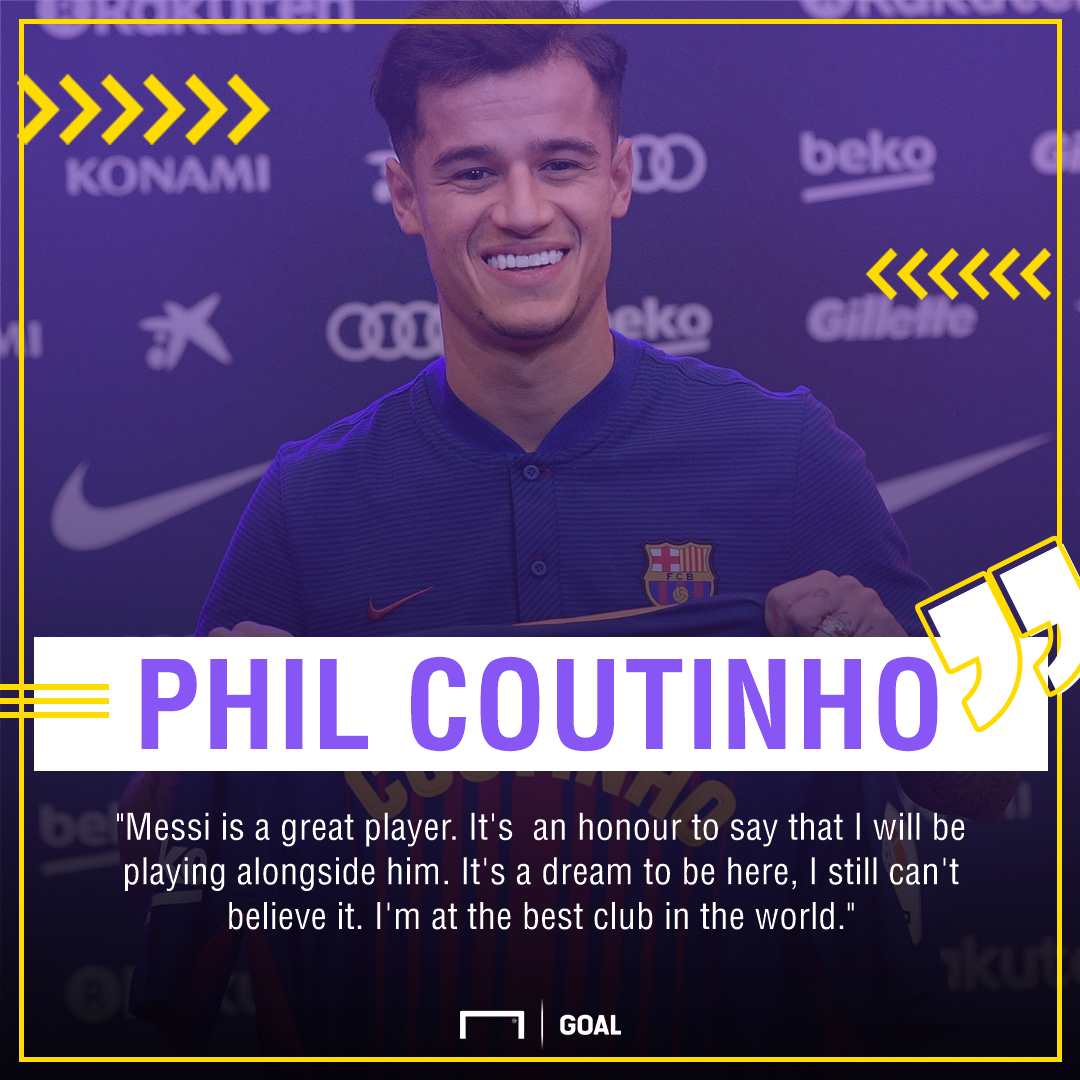 Monday was dubbed 'Coutinho Day' by the Blaugrana and it started early, with a thorough two-part medical examination starting at 7:30am, a transfer to Camp Nou at midday, the signing of his contract half an hour later, followed by a photoshoot on the pitch, his unveiling in front of the fans and finally a meeting with the press.
The 25-year-old will be out for around 20 days with a thigh problem and although he was pictured with his new Barca shirt on Monday, there was still no number.
Mischievously asked by a journalist if he would like to wear the number 10 at his new club, he replied, in reference to Lionel Messi: "There's only one number 10 in Barcelona. He's the best player in the world, the ultimate number 10." Barca later revealed the Brazilian will wear the number 14 made famous by Johan Cruyff.
Coutinho will be the 33rd Brazilian to play for Barca and arrives in a deal that eventually be worth €160m, making him the most costly player in the history of the Catalan club and the third-most expensive of all time. He signs for this season and five more, while his release clause is set at €400m.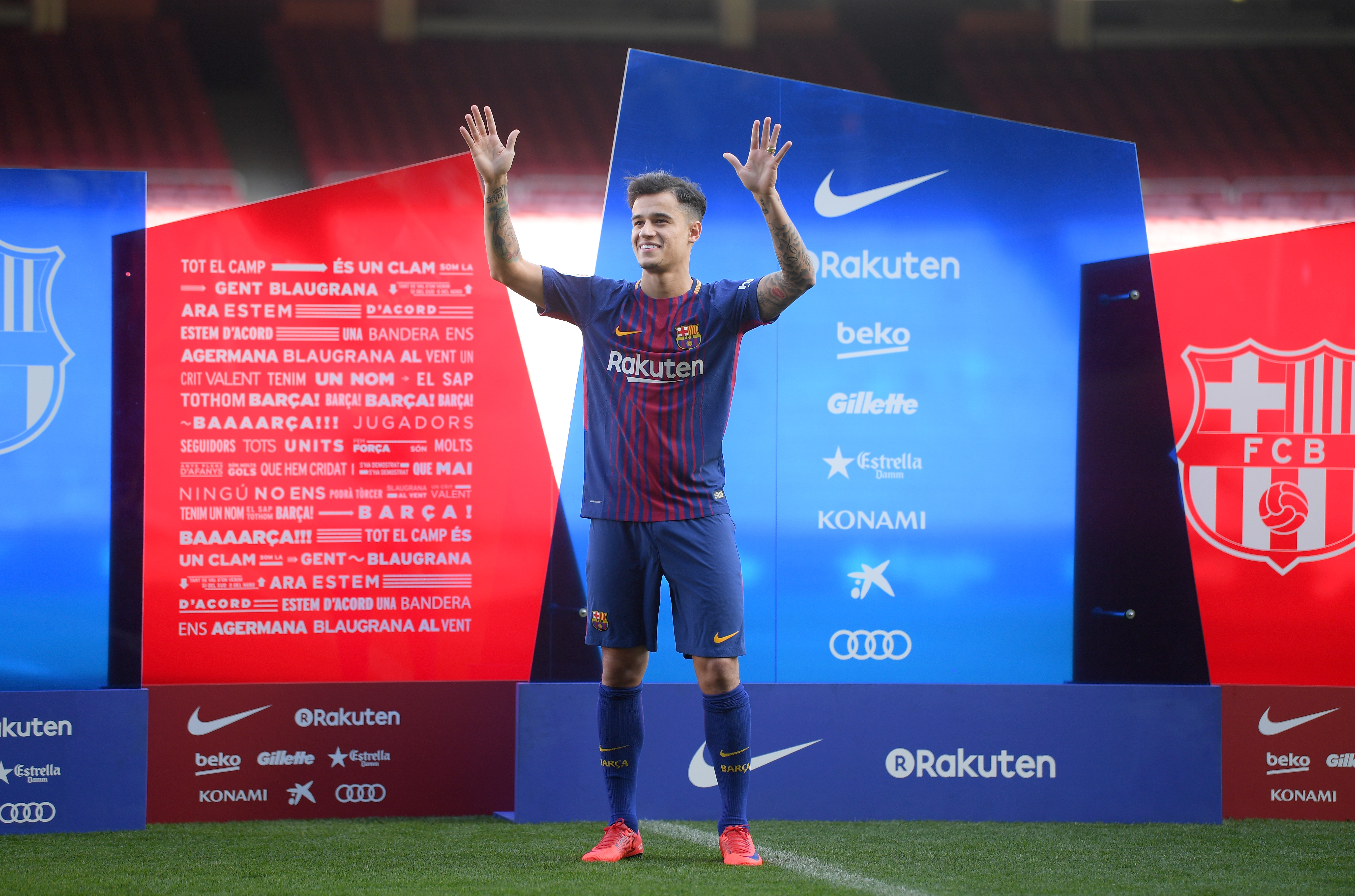 One of the talking points surrounding his signing has concerned his role on the pitch, with some saying he will operate as a forward and others seeing him as a long-term replacement for Andres Iniesta in midfield.
"Iniesta is a genius and it is a great honour to be able to spend time with him and learn from him," the Brazilian said. And he added: "I don't mind which position I play – that's up to the coach."
Coutinho revealed that he had spoken to Neymar after the transer was completed. "He congratulated me," the 25-year-old said. And he also said that Suarez had played a key part in his decision. "He didn't stop writing to me," he told the media. "He sent me so many messages and he helped me find a house."
Barcelona is now Coutinho's new home and it is a familiar one as he had a spell on loan with Espanyol earlier on in his career. However, there is no doubt where his allegiance lies now as he described the Blaugrana as "the greatest club in the world".
The idea is that he will help to make the team even greater on the pitch (although he will not be able to play in the Champions League this season) too. And he is clearly excited to be here.
Let'