Brasil Global Tour look back at the key talking points from the Selecao's 7-1 Copa America demolition in Orlando on Wednesday
---

ANALYSIS
---
After kicking off their Copa America Centenario campaign with a disappointing stalemate against Ecuador, Brazil roared back into life on Wednesday as they demolished Haiti by a historically significant 7-1 scoreline.
The Selecao were in desperate need of a good performance to get their tournament off and running. Two years on, they are still living a post-World Cup 2014 existence.
But, last night, when people referenced 'the 7-1', Brazil could ask, 'which one?'.
---

READ MORE:


Report: Brazil 7-1 Haiti | WATCH: Coutinho's stunning hat-trick | PROFILE: New Brazil star Walace
---
Liverpool midfielder Philippe Coutinho, in the first team thanks to the absence of Neymar, delivered on his promise with a stunning hat-trick against a Haitian side who simply couldn't contain the five-time world champions.
Below, Brasil Global Tour looks back at five talking points from the match.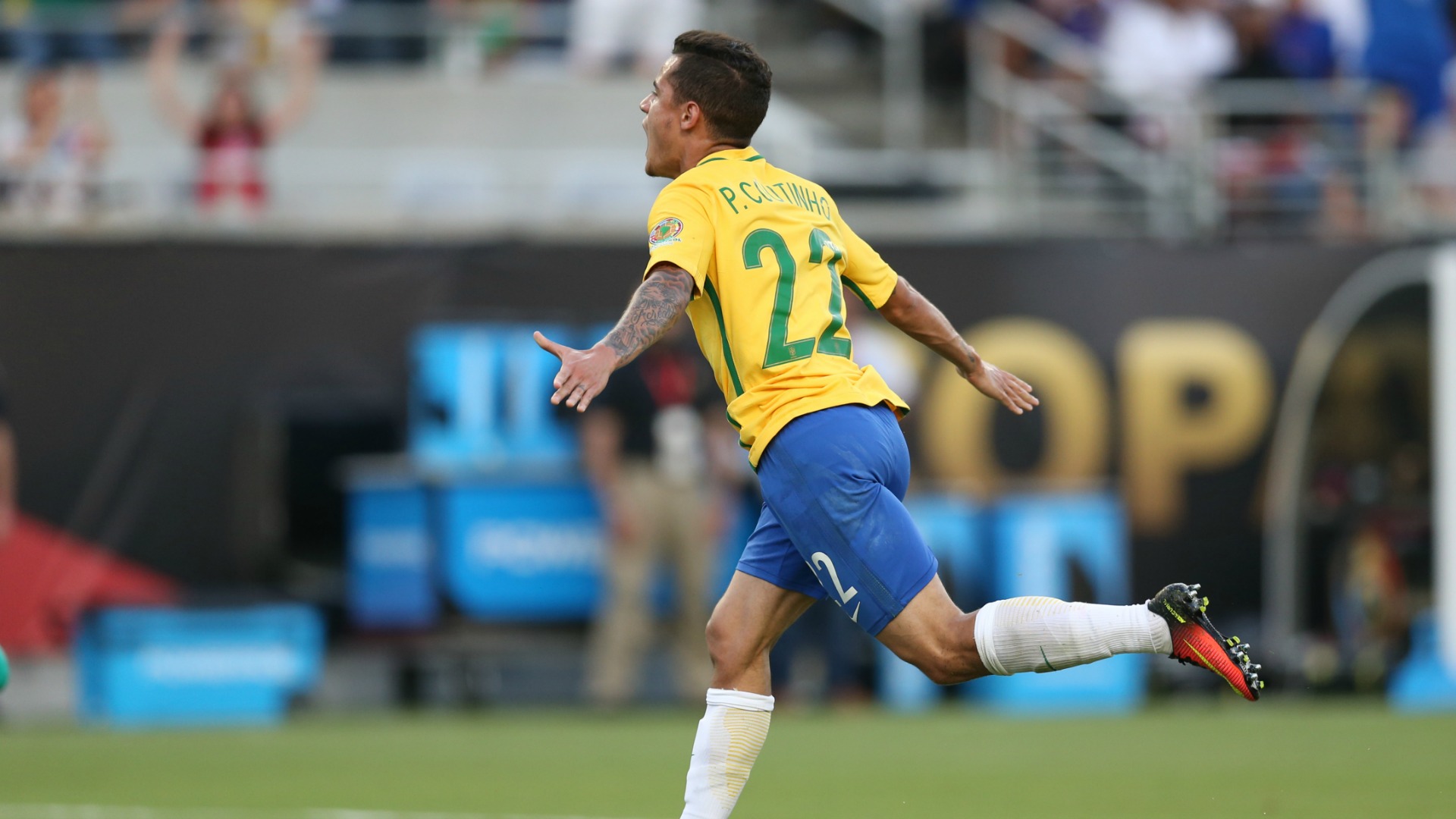 Dunga revealed he had spoken to Coutinho prior to the match to make it clear the time had come for Brazil to see the player who has starred for Liverpool, urging the midfielder to take more responsibility in the attack. The 23-year-old duly obliged. Back in the first-team this month and desperate to improve on a showing at last year's Copa America that initially cost him place in the squad, Coutinho starred from the outset.
Floating from his position on the left, he twice jinked inside to hammer shots past Haiti goalkeeper Johnny Placide, and ghosted in for a tap-in after some fine approach play from Willian and Jonas. Coutinho quadrupled his previous international tally and now looks set to play a major role in Brazil's fortunes at Copa America.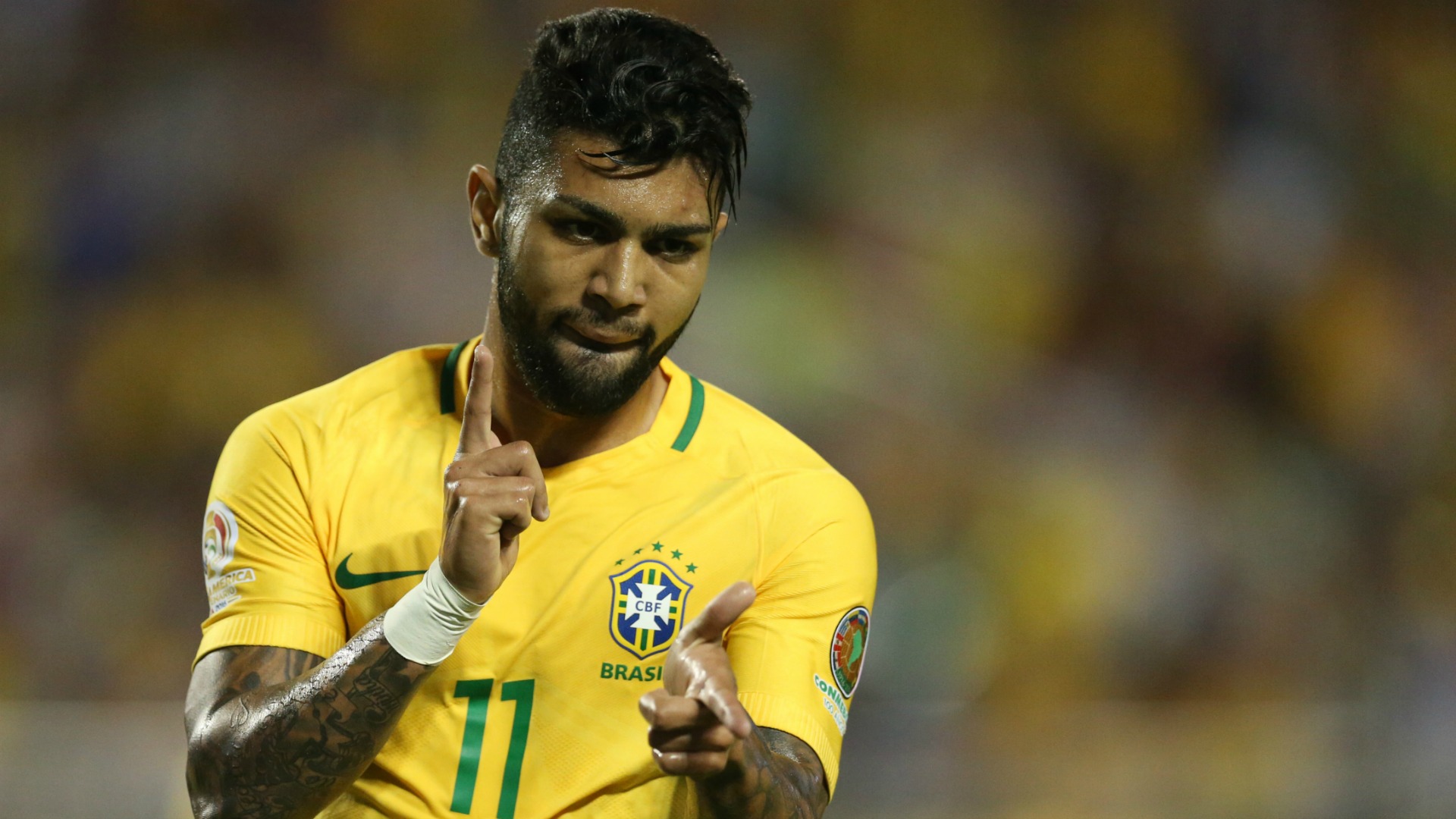 Despite the excellent first-half performance, Dunga shuffled his pack at the break by withdrawing lone striker Jonas for the second consecutive match. Jonas had been unfortunate not to score, with Willian uncharacteristically playing a sloppy pass when he should have provided Jonas a tap-in.
Once again, Gabigol came in and this time made an immediate impact, taking his goal superbly. The 19-year-old Santos star offered Brazil another dimension: his endless desire to run in behind the defence not only provided a cutting edge and a vertical outlet ball, it also stretched Haiti to provide a talented Brazil midfield more space to exploit. Gabigol now his two goals in just three appearances for Brazil (all as a substitute) and appears to have dislodged Jonas from the first-team.
Another revolutionary 10 minutes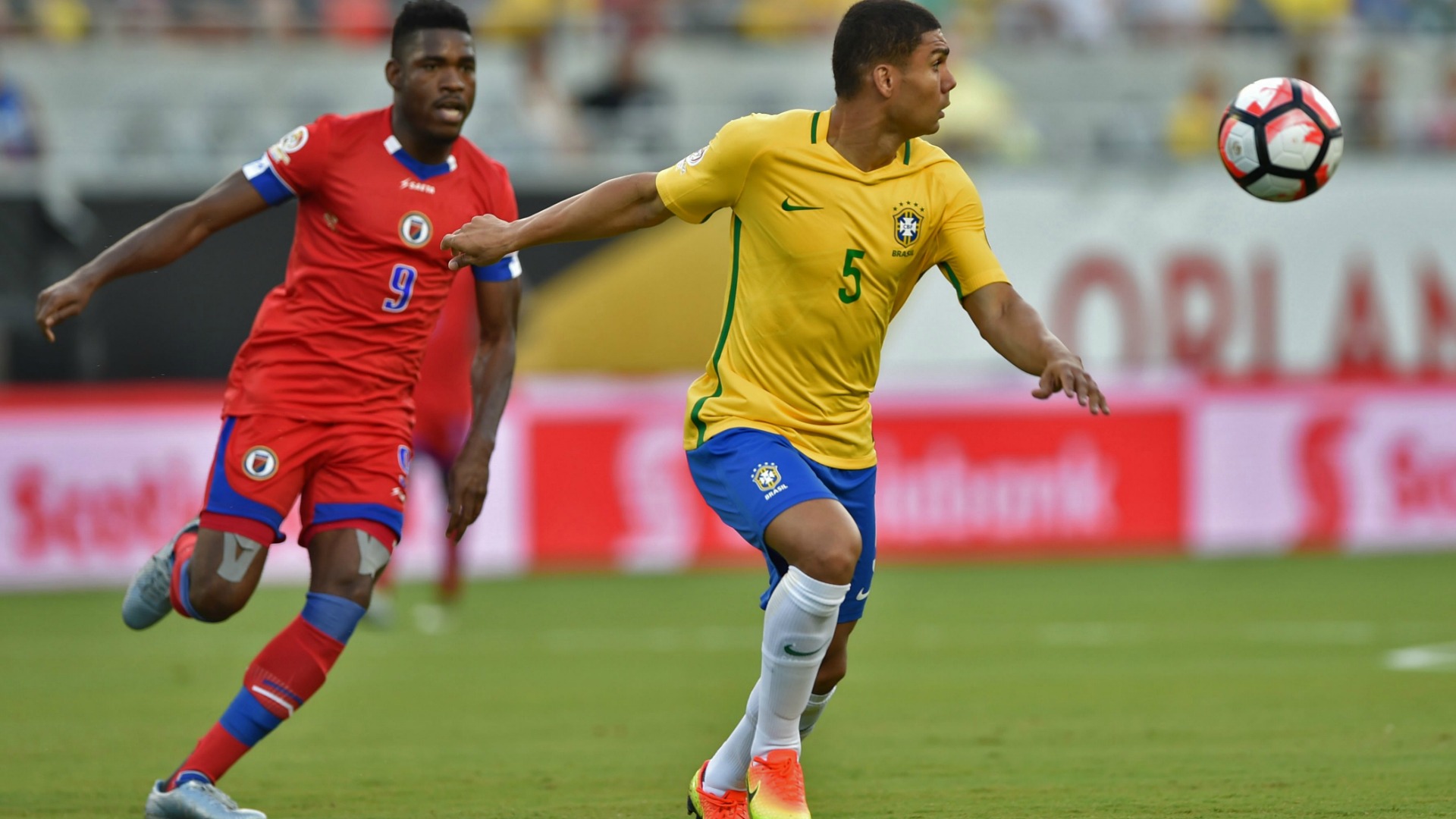 The only sour point of a fine first-half showing from the Selecao was the yellow card to Real Madrid midfielder Casemiro. It was his second in two matches, meaning he will now miss Brazil's final group game against Peru on Sunday. He operated as the pivot in the midfield three, with Elias shuttling and Renato Augusto charged with adding the guile.
Casemiro was replaced by Lucas Lima after an hour as Dunga shifted to a 4-2-3-1. This was significant because, for the second time in three games, Brazil lined up without a single specialist defensive midfielder – a ploy previously unimaginable for a nation who has always depended heavily on its volante; for the past 30 years, there's usually been two of them. As in the match against Panama, however, the experiment didn't last long. Haiti pulled one back and Dunga instantly responded by handing Walace his debut and restoring the natural order.
Walace to restore the natural order?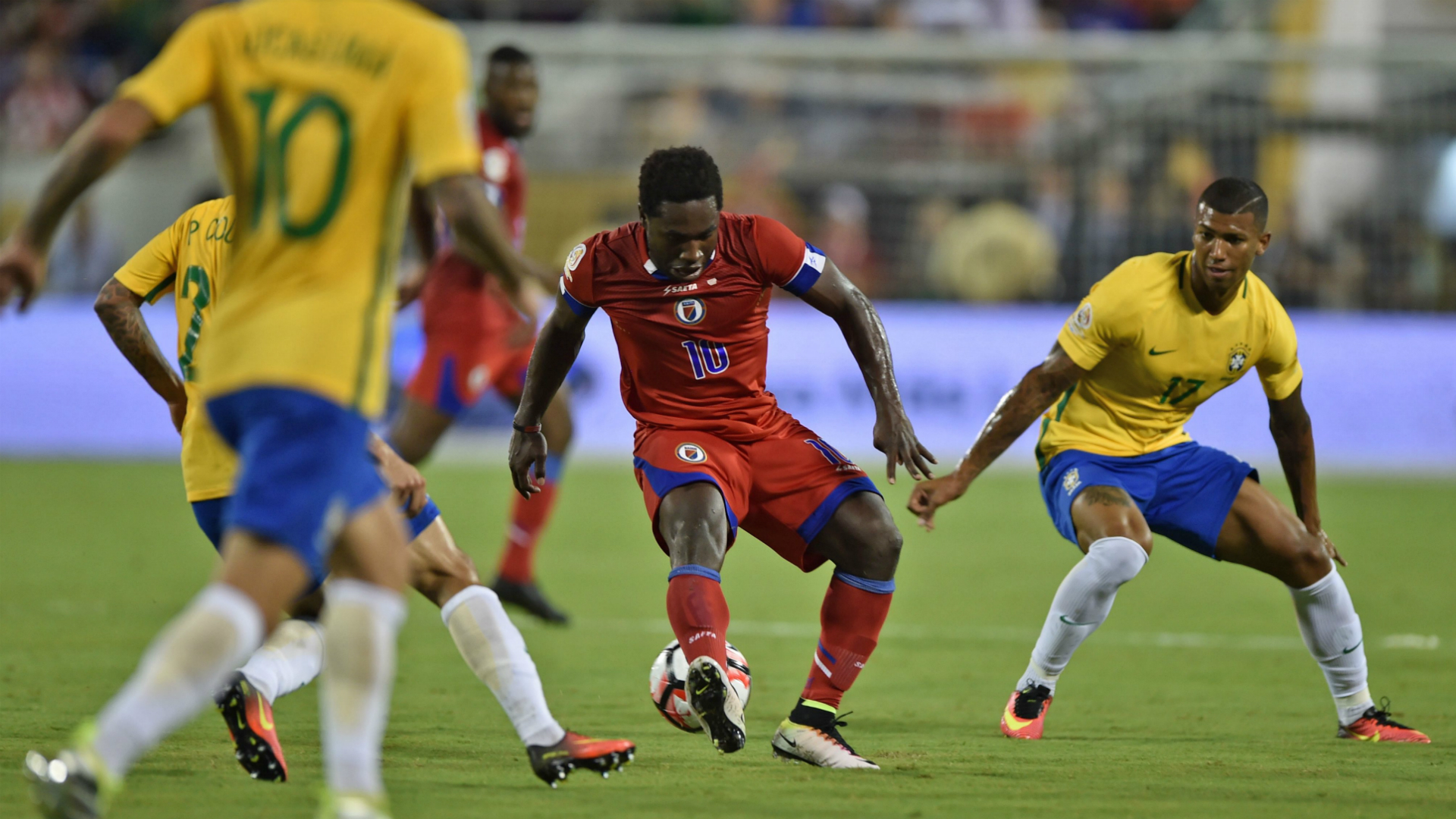 Dunga's July 2014 arrival disappointed some in Brazil who had called for a complete overhaul of the national game following the infamous defeat to Germany. The ultimate pragmatist, Brazilian football was reverting to type, they said. Indeed, though he introduced a false no.9 and worked his team hard in training on possession-based drills, Dunga's style up until this month was still fairly conservative, with the team looking to do damage in transition.
The last month has seen a departure from that, but will Dunga remain bold? Twice now his volante-less approach has received just a cameo. Casemiro's suspension is most likely to result in a like-for-like replacement. Did Walace do enough? Or will Sao Paulo's Rodrigo Caio come in as he did against Panama? Lucas Lima will hope fortune favours the brave.
Renato Augusto, sharpshooter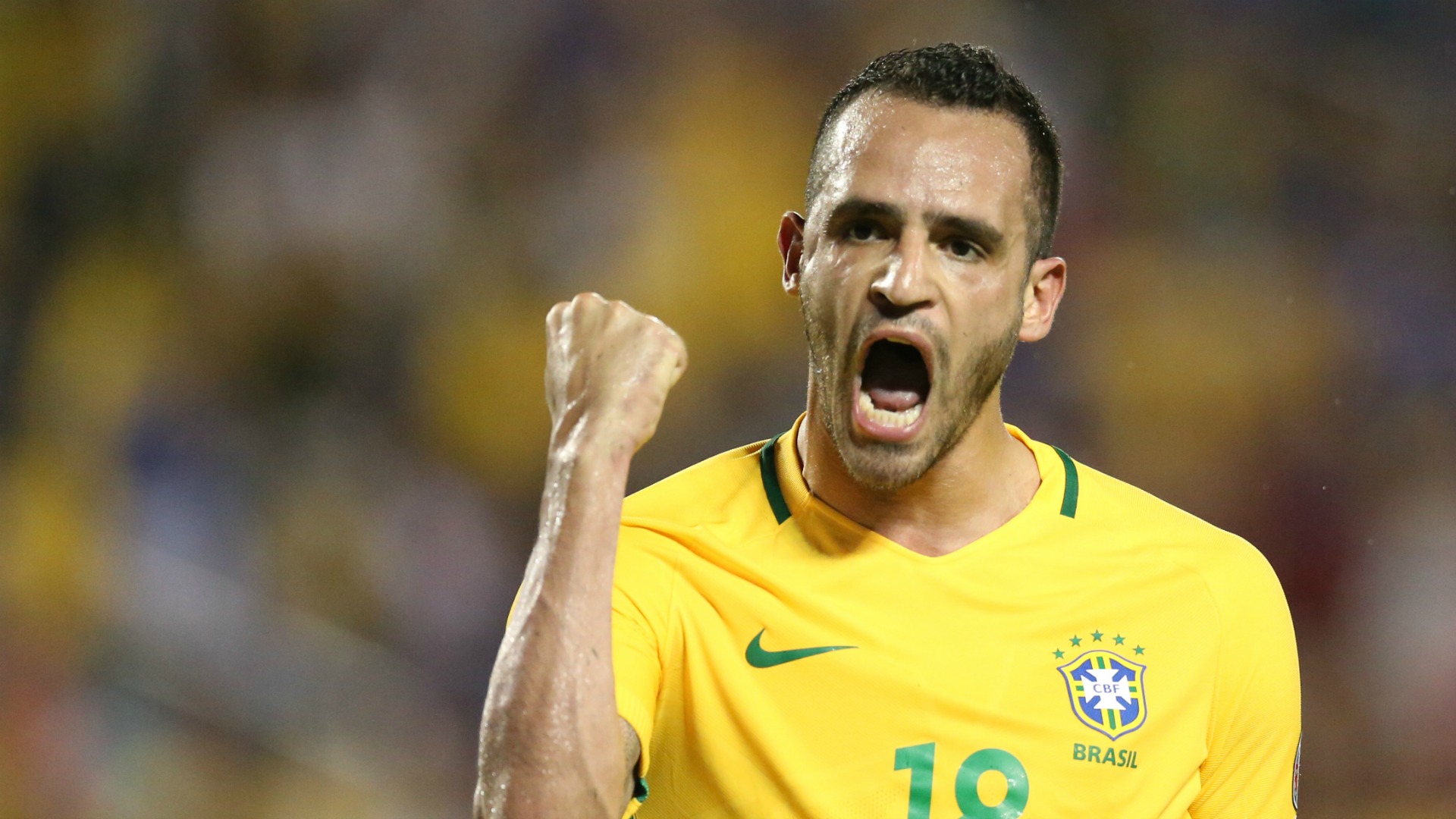 Renato Augusto has become something of a joker in Dunga's pack, with the coach telling Brasil Global Tour last month that the former Corinthians man's ability to operate in a number of different central midfield roles provides the side with great flexibility.
Of the midfield three, Renato Augusto was once again tasked with playing furthest up the field, but dropped a little deeper when Lucas Lima arrived as a second-half substitute. Renato Augusto fonud the net from both roles and now has four goals in his last six appearances for Brazil. A worry ahead of the tournament was where the goals were going to come from. On Wednesday Renato Augusto provided an answer.