Ousmane Dembele will make his comeback for Barcelona against Atletico Madrid this weekend.
The winger has missed 13 games after picking up a hamstring problem in January but is back in training this week in a huge boost to their LaLiga title hopes.
Sky Sports News understands that manager Xavi wants to play him in what could be a decisive fixture at the Nou Camp, with Barca having the chance to extend their lead at the top of the table to 14 points.
Barca have clung on to their league form without Dembele but his absence has affected them, especially striker Robert Lewandowski, and they were knocked out of the Copa del Rey by Real Madrid earlier this month.
With Dembele on the pitch, Lewandowski has scored 22 goals in 23 games this season – a ratio of 0.96 per match – but, without him, Lewandowski has scored just five in 13 (0.38pg).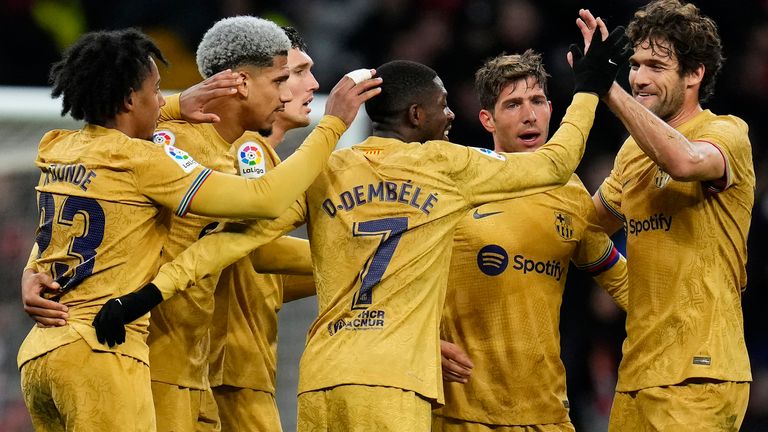 The Spanish press believe Dembele is the key to unlocking Lewandowski's best form – and he has directly assisted three of Lewandowski's goals while, vice-versa, the Poland forward has set up two for Dembele.
Two of their team-mates who were also injured in the last few weeks – Pedri and Frenkie de Jong – have also returned to training this week and are in the frame to play on Sunday evening.
Dembele has been dubbed the 'assist king' in Spain since his return to top form under Xavi at the end of last season and the first half of his term.
He has eight goals and seven assists in all competitions this season, and 40 and 41 for Barcelona since joining the club in 2017.
Lewandowski's form with and without Dembele
Dembele has made more goals (3) for Lewandowski this season than any other Barca player apart from Alejandro Balde (3).
Lewandowski has provided the most assists for Dembele (2) this term.
With Dembele next to him, Lewandowski scores an average of 0.96 goals per game.
Without Dembele, Lewandowski's strike-rate drops to 0.38 goals per game.
Lewandowski's xG with Dembele is 16.08 goals in 23 games.
Without Dembele, it is 6.78 goals in the same number of matches.
Lewandowski with Ousmane = 1.13 chances created per game.
Lewandowski without Ousmane = 0.92 chances created.
Adblock test