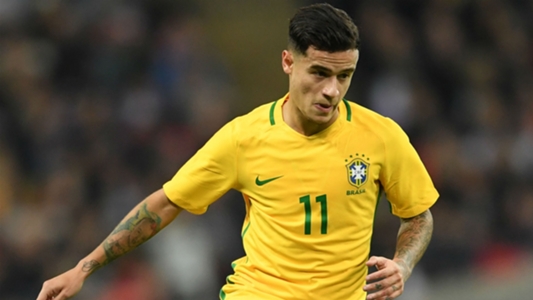 Dani Alves is not worried about Neymar's current absence from the national team, as he believes Philippe Coutinho is every bit as good as his Paris Saint-Germain team-mate.
Coutinho has established himself as one of the world's most talented midfielders since narrowly missing out on Luiz Felipe Scolari's 2014 World Cup squad.
Playing regularly in a Liverpool side renowned for their attacking fluency under Brendan Rodgers and then Jurgen Klopp has played a major role in his development, before eventually sealing a £142 million switch to Barcelona in January.
And while he has made a somewhat slow start to his Barca career, Alves insists that he has to be considered in the same breath as Neymar, who misses out on Tuesday's clash with Germany due to a fractured metatarsal.
"I think that Coutinho is a player who is on the same level as Ney, he has a massive influence on our game and in his teams," the full-back stated in a press conference.
[embedded content]
"When he was in Liverpool and now in Barca, he has improved a lot and learned to read the game better, to make the right decisions. 
"That is great to see, to play with such a good footballer who has that ability. There are others who are similar. We are lucky to play with great players and have them on our side is fantastic. We have to get the best out of them and build a solid team.
Brazil coach Tite echoed Alves' words, affirming that the Barca man has become a "very strong" player as he prepares for his first World Cup.
"What qualities do you think are important in a footballer? He has it," Tite told reporters.
"The whole of Coutinho's work is very strong. He has passing, competitiveness, effectiveness at medium distance, speed of thought and execution, assists, and now a greater maturity, which is also important.
"He and Willian understand that they are offensive players. Douglas Costa is taking this in, [Roberto] Firmino is looking to convert what he has done in Liverpool – being aggressive, going for the goal, not heading out wide."
Brazil's meeting with Germany on Tuesday, marks the first time the two sides have faced off since Joachim Low's men incredibly ran out 7-1 winners on Brazilian soil in the semi-finals of the 2014 World Cup.
Let'