Questions were asked when Barcelona spent £142 million ($192m) on Liverpool's Philippe Coutinho in January. Was he good enough to be the world's third most expensive player? Could he possibly replace legendary playmaker Andres Iniesta? Those questions went unanswered last season.
In fits and starts Coutinho showed his quality, most often with his trademark curling strike after cutting inside on the left.
However, the Brazilian also went unnoticed in several games as he bedded in to life at Camp Nou, establishing himself as a presence in the team on the pitch and also in the dressing room.
Coutinho is at home in a team boasting several other South American stars and in Barcelona's rampant 8-2 victory over Huesca on Sunday, put in his finest performance to date, combining effortlessly with Lionel Messi to devastating effect.
Win over Messi and you have a home at Barcelona – and Coutinho has done just that.
The Argentine alone is a nightmare for defenders but with Coutinho feeding him bullets Huesca's defence did not stand a chance.
While no player could replace Iniesta, Coutinho offers something different. Less control on the speed of the game, but a higher ceiling for mayhem in attack.
Iniesta had problems scoring goals, netting just 57 goals in 669 games. And although Coutinho didn't score against Huesca, he got in dangerous positions to shoot and was denied when sent through by a fine stop from Axel Werner.
Where the attacking midfielder shone was in creating chances for the forwards around him, in particular Messi. Coutinho put Barcelona's sixth goal on a plate for the No.10, with a through-pass that split the Huesca defence and left Messi clean through on goal.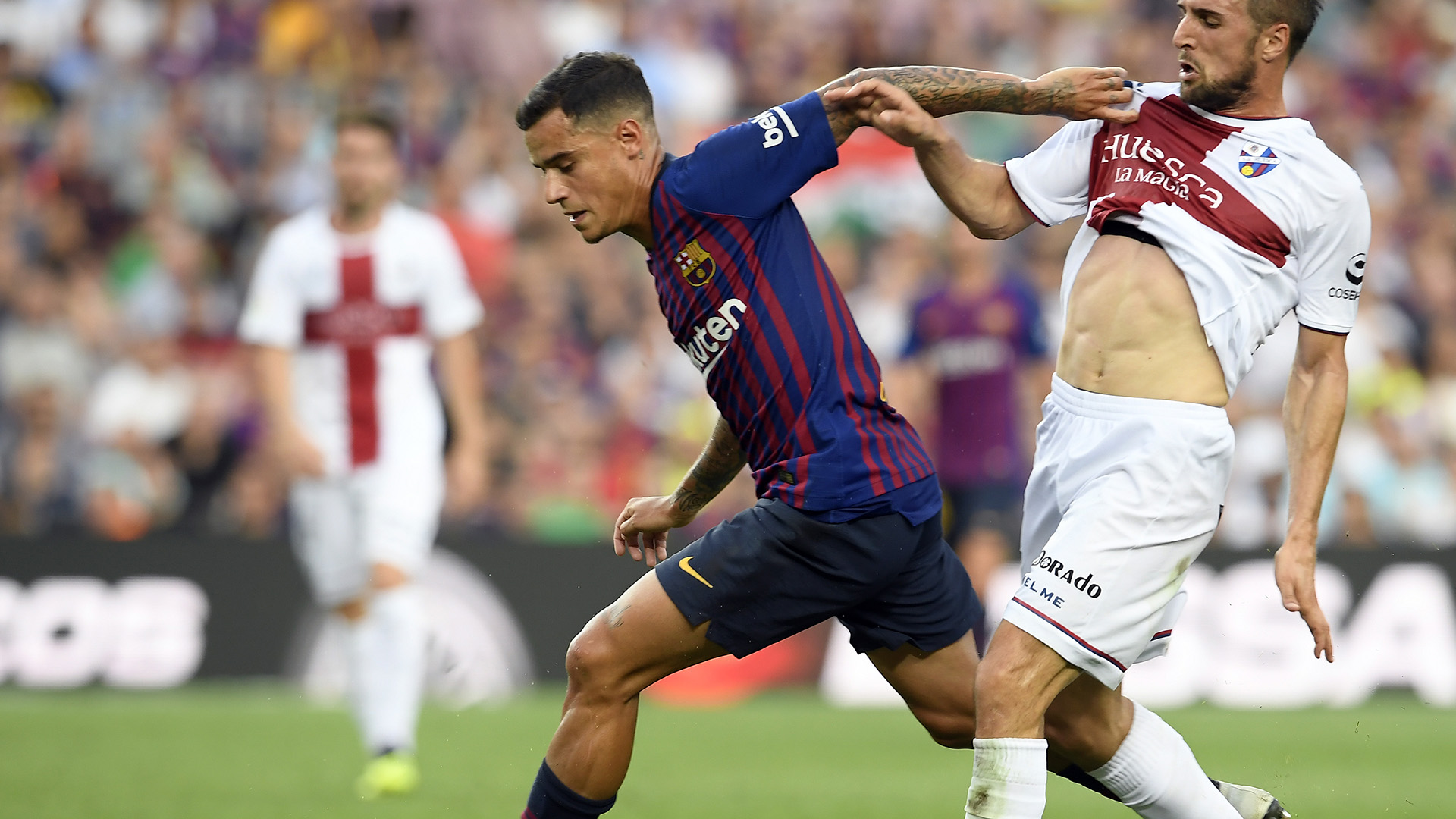 On other occasions his cunning and precise passing helped Messi and Suarez evade defenders like jewellery thieves dodging laser beams in a heist.
While Barcelona fans sometimes bemoan the team moving away from the possession football which won them the treble under Pep Guardiola, Coutinho offers technique, passing ability and thrills, with audible gasps coming from supporters at his wizardry.
With Ivan Rakitic and Sergio Busquets working hard behind him, the Brazilian has license to join the attacking trident as a fourth forward, appearing in the gaps to receive the ball.
Even though his first half season at the club started slowly, Coutinho has made himself an essential component of Ernesto Valverde's first choice side.
His huge transfer fee was in the news again recently as Barcelona paid a £5m bonus to Liverpool for his 25th appearance last weekend. But his 26th was his finest so far and if the Brazilian maintains this career-high level then Barcelona will be only too happy to give the Reds the next instalment early next year.
If Coutinho is still flying by that time, Barcelona, who moved top of La Liga on goal difference after the brutal win over Huesca, may be dreaming of another treble.
Let'