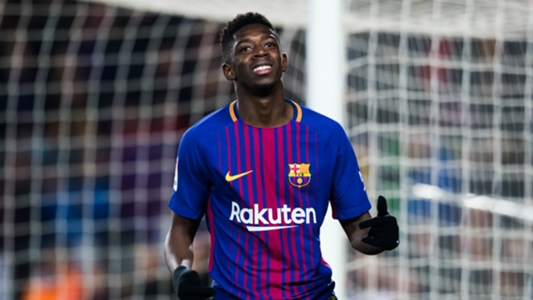 Barcelona boss Ernesto Valverde was proud to see Philippe Coutinho and Ousmane Dembele contribute to his side's 6-1 win over Girona on Saturday and feels the pair are progressing well.
Valverde started Coutinho, Dembele, Lionel Messi and Luis Suarez together for the first time and he was buoyed by the efforts of this season's two blockbusting signings.
Coutinho opened his La Liga account with an excellent long-range strike, while both he and Dembele set up Luis Suarez on his way to a hat-trick, with Lionel Messi netting twice.
And while Messi and Suarez took most plaudits for turning the result around after Girona's early opening goal, Valverde feels things are coming together with Dembele and Coutinho.
"When a player scores as Coutinho did he gains more and more confidence, which is what a player is always looking for," he told reporters.
[embedded content]
"They are players who have to help us and who are already doing it, each with their own characteristics.
"Dembele has a more extreme profile, he brings more depth [to Barcelona's play] but he has had problems with injuries and skipped that period of adaptation. That's why he's still getting used to the team.
"Coutinho plays very well in the inside game. I think both have taken a step forward today."
As well as his goal scoring heroics, Suarez's actions towards the end of the game became the subject of debate.
Some observers alleged Suarez was trying to get a yellow card that would have resulted in a suspension for Thursday's trip to Las Palmas, clearing his disciplinary slate for Atletico Madrid's crunch visit to Camp Nou next weekend.
Referee Javier Alberola showed leniency with Suarez but Spain left-back Jordi Alba will miss the Las Palmas game after he was carded for bringing down Pablo Maffeo.
Asked about the events during the final minutes, Valverde said: "They are moments of the game and the referee decides.
"I have nothing to say about that. If we have a setback due to an accumulation of bookings, another player will play. We'll decide what we do."
Let'