Barcelona moved 12 points clear of Real Madrid at the top of LaLiga thanks to Franck Kessie's injury-time winner in Sunday's Clasico at Camp Nou.
The significance of the 2-1 win was downplayed by Xavi Hernandez, but not by the club's supporters, who chanted "campeones, campeones" after full-time, or by club president Joan Laporta, who joined the post-match celebrations in the Barcelona dressing room.
"Ecstasy," screamed the front page of Mundo Deportivo on Monday morning, adding that the title was "practically decided". "Delirium," read that of Sport. Madrid-based AS, meanwhile, conceded the crown. "That's that," read their headline.
Beneath it all, though, there is a far bigger and more sinister story bubbling away, one which threatens to undermine Barcelona and tarnish Spanish football as a whole.
The Catalan giants are facing charges of corruption over alleged payments totalling €7.3m (£6.4m) made to high-ranking Spanish referee Jose Maria Enriquez Negreira between 2001 and 2018.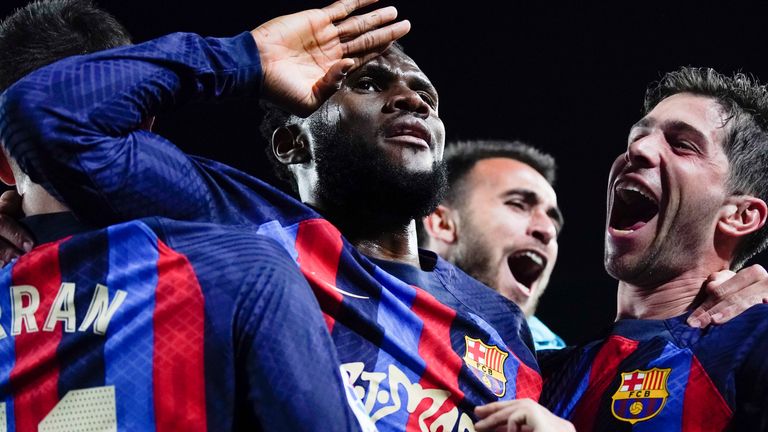 How did the charges come about?
The charges are the result of an inspection by Spanish tax authorities into the company DASNIL 95, owned by Negreira, who served as the vice-president of Spanish football's refereeing committee between 1994 and 2018.
The tax inspectors identified three payments of between €300,000 and €550,000 made by Barcelona to DASNIL 95 and, finding no evidence that Negreira did anything in return for the money, they decided to pass the information to state investigators.
Their investigation began in May 2022 but news of the allegations against Barcelona were only made public in February, with Spanish media outlet Cadena Ser first to reveal the details in February.
The three payments initially unearthed by tax inspectors were just the start, with investigators finding payments from Barcelona to Negreira, some of which went through NILSAT, a second company owned by Negreira, totalling €7.3m and taking place over a 17-year period during which Barcelona won 10 league titles and four Champions Leagues.
What are the charges and what might happen?
Barcelona, as club, have been charged with the crime of 'continued corruption in business' and are alleged to have made attempts to 'pre-determine or alter in a deliberate and fraudulent manner the result of a match or competition'.
The word 'continued' reflects that the crime is alleged to have taken place repeatedly, over a sustained period of time, and means potential punishments are more severe.
Back in February, Sky Sports News Chief reporter Kaveh Solhekol gave an insight on the investigation into Barcelona's alleged payments to a former referee in Spain

Prosecutors accuse the club, former presidents Sandro Rosell and Josep Maria Bartomeu, Negreira and two other former Barcelona officials, of corruption in sports, unfair administration and falsehood in mercantile documents.
Prosecutors claim that under a secret agreement and "in exchange for money", Negreira favoured Barcelona "in the decisions taken by referees in the games played by the club, as well as in the results of the competitions".
Punishments could include up to four years in prison for individuals such as Bartomeu, president from 2014-2020, or Rosell, who held the position between 2010 and 2014.
On a sporting level, however, Javier Tebas, LaLiga president, has said there will be no sanctions against Barcelona as the alleged crimes happened outside of LaLiga's statute of limitations.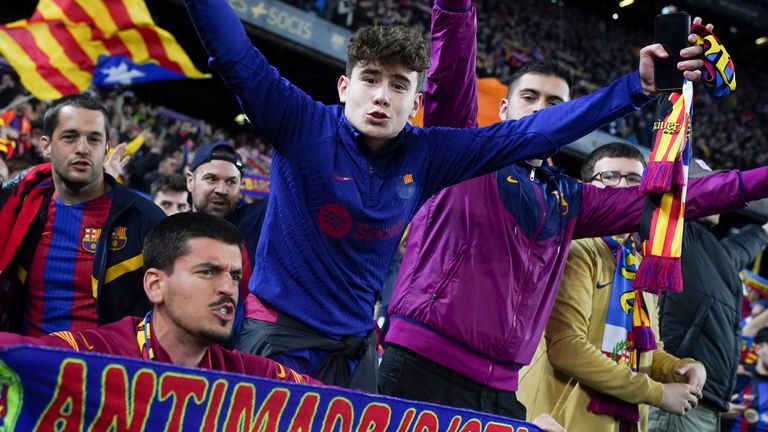 The league can only investigate complaints up to three years after the alleged rule-breaking occurred, but the payments are said to have been stopped by Bartomeu in 2018, the same year Negreira left his post at the referee's committee.
Tebas said: "It is clear that these services should never have been provided. It won't be possible for Barcelona to receive disciplinary sanctions, but it may be on a criminal level."
Tebas has subsequently said he feels "ashamed" by the case and, while LaLiga are unable to intervene, there is a chance UEFA and FIFA could step in. Both organisations have requested information on the case, according to Tebas.
How have Barcelona responded?
The club initially declined to comment but once the story was out, Laporte, in his second tenure as Barcelona president having also been in charge between 2003 and 2010, recorded a video confirming the payments, but insisting that Negreira worked as an adviser.
He said Negreira was paid to prepare reports and guide Barcelona's players on refereeing issues, describing the practice as "very normal" and denying any wrongdoing on the part of the club.
"Let it be clear Barca have never bought referees and Barca have never had the intention of buying referees, absolutely never," added Laporta at an event in Barcelona earlier this month, before seeking to cast doubt on the motivations behind the allegations.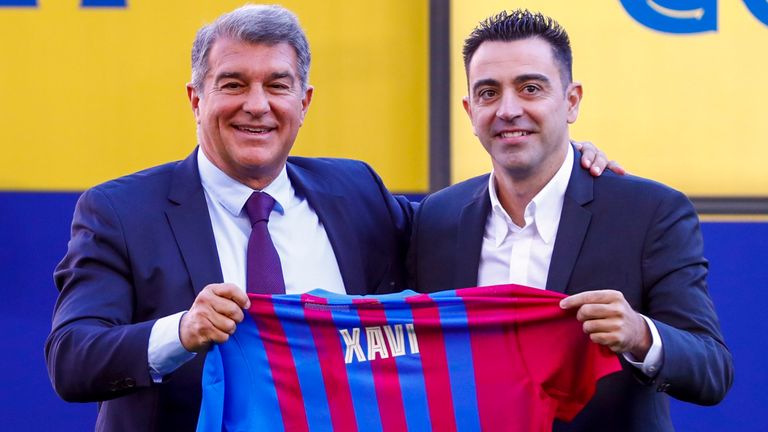 "It's not chance that this comes out now, when Barca are doing well," he added.
Xavi has towed a similar line. "They will not destabilise us," he said ahead of the Real Madrid game. "We are more stable than ever. And they have been trying [to destabilise us] now since day one."
Laporta then railed against the supposed "campaign" against Barcelona for a second time.
"Its objective, in the short term, is to destabilise the team, and in the medium term, to control Barca, to keep it. I will have time to explain who, why and how they want to orchestrate this campaign.
"I have no doubt that we will defend ourselves. And we will not only defend ourselves, we will attack."
Meanwhile, Spanish newspaper El Mundo have reported on conversations they have had with some of Barcelona's former directors in confidentiality, in which they claimed that the payments to Negreira were made for protection against perceived bias in favour of their rivals Real Madrid.
What have Real Madrid said?
Real Madrid were surprisingly slow to comment on the allegations but they finally broke their silence on the matter last week, almost a month after the story broke.
On Saturday March 11, they announced their president, Florentino Perez, would chair a board meeting to discuss Real Madrid's stance, after which they released a statement confirming their intention to take part in the court case.
"Real Madrid expresses its deep concern about the seriousness of the facts, and reiterates its full confidence in the action of justice," it read.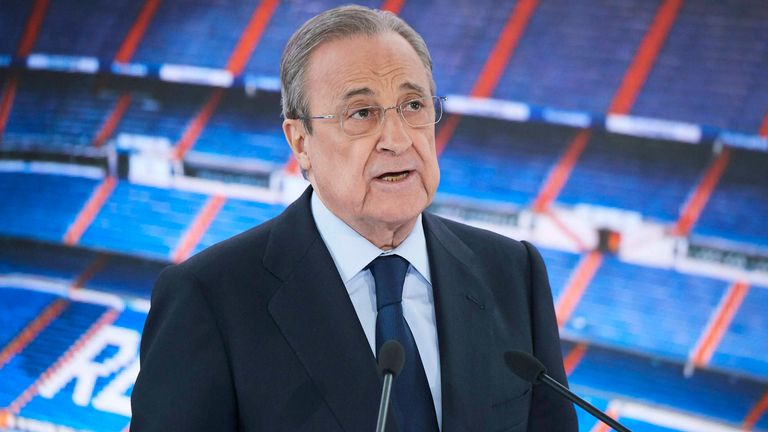 "It has agreed that, in defence of its legitimate interests, it will appear in the procedure as soon as the judge opens it to the affected parties."
Barcelona and Real Madrid were united in their attempts to set up a European Super League but, predictably, the Negreira case has caused boardroom relations between the two clubs to sour.
The customary pre-Clasico lunch shared by the presidents of the two clubs was cancelled, with Perez also deciding not to attend the fixture at Camp Nou in person.
Instead, he was pictured at Real Madrid's basketball match back in the Spanish capital, with AS reporting it was the first time in 20 years the 76-year-old has missed a Clasico.
What happens next?
The case has been accepted into the Spanish courts, with former Barcelona managers Luis Enrique and Ernesto Valverde expected to be called to testify in addition to Laporta.
It is not yet known when the court proceedings will start but what is certain is that the repercussions are being felt right across Spanish football, heightening the tribalism that already exists between supporters and increasing paranoia over refereeing decisions.
Opposition fans have already voiced their disapproval, including Athletic Bilbao's, who held a protest over the scandal during their recent 1-0 loss to Barcelona at San Mames, with fans throwing around fake bills with "MAFIA$" written on them.
The game included a goal by Athletic's Inaki s which was ruled out by VAR for a handball in the build-up, with the Ghanaian posting laughter on Twitter after the game in response.
The allegations in the Negreira case only go up to 2018, but the seeds of doubt sewn by the scandal mean scrutiny of refereeing decisions around Barcelona's games is sure to be heightened for the foreseeable future.
It matters little to Barcelona in the wake of a Clasico win which effectively clinches the Spanish title, but the true cost of the Negreira case will become clear soon enough.
Adblock test